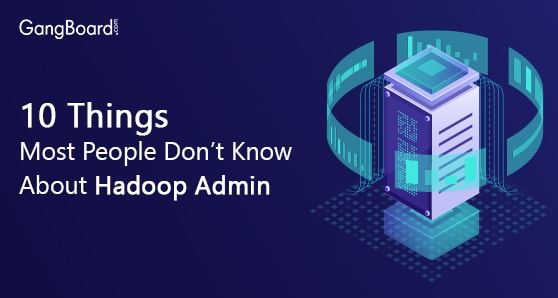 10 Things Most People Don't Know About Hadoop Admin
Have you ever wondered how big cat such as Google and Facebook handles their numerous amount of big data? As per the sources, millions and the billions amount of data has been just generated from the past couple of years. The social media sites have been considered as the main sources of their origin. The question here arises is, how big or small scale of businesses is going to utilise such a massive amount of big data? Are they daring to handle it manually or they are going to adjoin hands with technology. Well, manually it might consume time and money in a long run, but with technology and especially getting the advantage of Hadoop Admin Online Training, they can certainly conquer the success. It becomes easier to sort the data and process it in an accurate manner with the help of a big data handling tool.
What is Hadoop?
Hadoop is an open-source Java based programming platform, which effectively handles your big data in a meaningful way. For day to day data sorting process to provide authentic and relevant data only, all these sorts of works are done by this software. Some key features of Hadoop are a cost-effective system, scalability, parallel processing of distributed data, data locality optimisation, automatic failover management and guide large cluster of nodes. It's a smart working system which provides you with the best data sorting and distributing option.
How Hadoop function Appropriately?
The Hadoop frameworks contain two main core ingredients which are HDFS and MapReduce framework. It bisects the data into tiny pieces and stores each part of the data in the numerous nodes within the batch. By practicing this, the time period, storing the data onto disk automatically reduces. In a case to provide high availability, Hadoop stimulates every part of the data on to other machines that are available within the batch. The perk of appropriating this data across the batch is that while processing process it reduces a lot of time period.
Some Foremost Things You Might Be Missing About Your Hadoop:
HDFS (Hadoop Distributed file system)
Aggregate your data warehouse
Conclusion
Big data is becoming a quite challenging task to accomplish these days for many businesses. It's a believe that the right amount of time has embarked on taking steps to handle it such a way that purpose serve smoothly without hampering the functionality of the business. Handling big-data are considered as the utmost skills in today's age. This skill needs to be developed by every single organizations exist. To get profound results, Hadoop Online Training can be taken from the reputed & recognised institute for the fruitful results. Hadoop is simple to learn and understand and doesn't require plenty of your time. It gives you more business & potential to handle a large amount of data in an easy and secure manner especially if you get it learn from recognised institute.