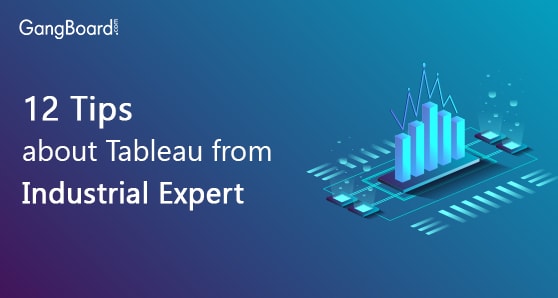 12 Tips about Tableau from Industrial Expert
Data is a driving force in every organization. You cannot function as a company successfully if you are not confident about analysing and interpreting the data. However to interpret the data you need to analyse it first and the question is which software to use to do that. This question wouldn't have stood a chance a few years ago however now things have changed. Excel for many years have dominated this space but in last few years Tableau has emerged as a strong and competent contender.
Even the experts in Excel are now tuning in to Tableau Training to learn and apply the skills of this software. So, let's read more into it and see what makes Tableau so special. These are some unique techniques given by Industrial experts who are enjoying the benefits of this software to the core.
You can literally create magic: Time is a crucial constraint in any organization and if you are in IT sector you have this luxury even less. However, if you are working with Tableau you can really create interactive plots at a mighty quick time. Many experts working on this software admits that there are some special drag and drop features available in this tool that makes the task simpler and easier. This helps them meet the demand of multiple stakeholders all at the same time.
You can make your data talk: This is one feature that all the experts admit had changed the way data is viewed and analysed. Tableau offers great interactive GUI, which helps experts showcase their data using more interactive and visually alive dashboards. The best part about these dashboards is that they are completely responsive. A good Tableau Online Training covers all such features and skills.
It gels well with R: Nothing excites experts more then to club different software's together and get the best result. Tableau allows you to do just that. Imagine a scenario where you can run one command in R and import it to see it visually on Tableau, how comprehensive that report or analysis will be. This is what this software can do and achieve. Learn R Programming Online Training at GangBoard to achieve your career goal.
Passionate Community: Tableau has been named leader in business intelligence in year 2016 and this speaks volume about its growth and utility. However an interesting thing than many industrial experts point out here is the passion the community members have for this tool. They testify that the zeal and enthusiasm of tableau experts is unmatchable. No wonder this tool is doing so well in the market.
Not hard to learn: Unlike most other business intelligence tool this one is extremely easy to pick and understand. Experts believe that with a good Tableau Training this tool can be learned and put into use within 7 to 8 hours. Yes, this is how incredibly easy it is. Though most features on this tool are self-explanatory still it is a good idea training that supports your cause.
Price is just right: When it comes to Industrial expert's price just has to be right. Most experts feel that Tableau is ably priced. Keeping in mind its features and utility it is moderately priced. They feel that this software offers great value for money and is worth every penny.
Good to look at: I agree that when it comes to a business intelligence looks are not of such prime important. However, if you can great features with great looks, it just adds to the kitty. From font size to its colour this is a beautifully packaged tool that offers everything for everyone. Another good why experts love to use and talk about it.
Offers great insights: Once you configure a Tableau desktop you don't have to keep looking at its usage time and again. Rather this tool will do that for you. After every 8 hours this tool will send you a complete usage report without any dependence on server. Experts feel this gives them better understanding and control over the tool.
It is fast and easy: Speed in IT is everything. Ask experts one thing they cannot compromise on and the answer will be straight: Speed. Tableau had upgraded its tool tremendously to boost up the speed in calculations. Not only in calculations but you can also save time by taking your data across multiple screen without any limitations. Also split feature has made it easier to convert text into column in a blink of an eye. Every few months new features are added to this tool and all these features are only pumping this software up.
Super cool subscription feature: Once you have a data ready in form of visuals you would want to share it as many people as possible, especially with the higher groups. Tableau allows you to do that with its super cool subscription feature. You can send emails with visuals with your name on it, so that people can acknowledge your efforts. You can use this feature wisely to stand out amongst the rest in your organization.
Great features: If data is an emperor of the business, it is imperative that it is presented that way and experts believe that Tableau allows you to do that. Features such as: tree map, word cloud and bubbles are elegant and classy to use. You can use these features to create dashboards that are exciting, informative and stylish. Always remember this important tip that it isn't what you have collected but how you have presented will make all the difference to the final outcome.
Keep learning and upgrading: You cannot end any discussion or blog without mentioning about this important tip. Tableau is fresh, fast and growing, so it is imperative to keep yourself updated with all its latest functions and features. A good Tableau Online Training will set you right; however, what you do with this training further will determine your future in this field. Make sure you are aware about latest editions and updates and implement them immediately. It's not the software but your skills with it make all the difference in the end.