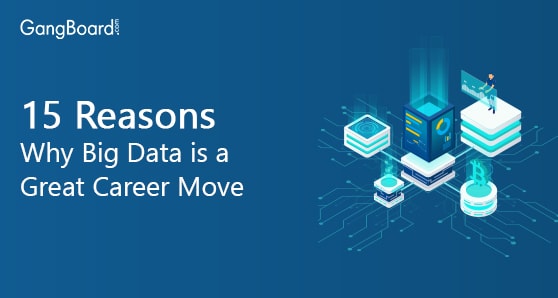 15 Reasons Why Big Data Is a Great Career Move
Every few decades, the business world witnesses a revolutionary technology that compels them to rethink the way they operate. Big Data is one such technological marvel that has taken the world by storm and has pushed a majority of industry stalwarts towards its early adoption in order to remain at the top of their game.
Big Data is a technology-driven approach to gathering, sorting, and analyzing complex data sets to arrive at key business insights for decision making. It is ubiquitously applied across multiple industries for a wide range of business functions.
Now, what is the big hype surrounding Big Data? Why has it attained a supreme god-like status in the world of technology and business? Let's put those questions to rest by simply saying that every business is looking to enhance its operational efficiency, cut down its costs and reduce the level of risks taken. And, Big Data is an answer to all that!
With all the noise encompassing Big Data, don't you think it is the right time for you to take the plunge and master this new, in-demand technology?
Okay, let's take a deeper look at the bottomless sea of opportunities that is out there for you to grab once you enter the world of Big Data. We will help you figure out why it's the best career move to make.
Rising demand for data analytics professionals

With the volume of data generated reaching gigantic proportions, there is a huge demand for data analytics professionals adept at deriving meaningful insights from raw, unstructured data. Without a proper structure and in-depth analysis, the tumultuous amount of data that a company produces becomes useless and does not yield financially lucrative business results.
Due to the factors discussed above, there is an unprecedented demand for data analytics professionals at the moment. The demand trend has been climbing uphill over the past few years and will continue to do so in the near future as well.
So, with that kind of unimaginable demand, do you need to think twice before investing your time and effort in learning Big Data tools such as R and Hadoop.

Expanding industry size

If we were to believe the CEO of Fractal Analytics, Mr Srikanth Velamakanni, "The size of the analytics market will grow consistently and it will constitute 1/3rds of the total global IT market, in the next three years. Currently, it contributes to 1/10th of the total global IT market."
The phenomenal growth projected for the analytics markets bears testimony to the fact that learning big data tools such as R and Hadoop would be a wise choice to make.

Paucity of analytics professionals

According to the results of a comprehensive study performed by McKinsey Global Institute, by 2018, the US alone will be falling short of 1.5 million analysts as well as 190,000 data scientists.
The startling numbers demonstrate that despite the rising demand for analytics professionals and the expanding industry size, the supply of skilled professionals remains low. So, go ahead, grab the right skill set now by mastering R and Hadoop and join the big data analytics bandwagon.

Tempting Pay Cheque

If the industry numbers don't appeal to you, the six-digit figure on the cheque sure will. The rising demand and falling supply imbalance has significantly contributed to the increasing wages of data analytics professionals.
According to Randstad, a talent acquisition firm, the annual pay hikes of data analytics professionals in Asia is much higher than that of other IT professionals, sometimes touching even 50 percent.
It is clear that organizations are ready to pay the escalating cost of employing big data analytics professionals.

Organizations realize the true potential of Big Data Analytics

A recent survey conducted by Deloitte brings to light that senior level executives now see the value of adopting analytics in their business processes. As per the survey, nearly 65.2% of respondents use analytics in some form for their business needs.
With more and more organizations opening doors to big data analytics, the future of analytics professionals looks bright and shiny. All you need to is the right level of R Programming Training and Hadoop Training then your career is set!

Unstoppable Adoption of Big Data Analytics across industries

A lot of studies conducted in the recent past only go on to prove that companies across industries are slowly and steadily adopting big data into their day-to-day business operations. While a majority of the companies have already integrated big data into their business models, the remaining few are chalking out a strategy to implement it.

Big Data plays a key role in business decision-making

Most top level business executive from a diversified range of industries agree that application of big data analytics has led to improved decision making, better customer relationships, enhance financial performance, better risk management and enablement of long-term strategic initiatives.
The benefits to be reaped from Big Data are aplenty and business decision makers are not questioning it anymore. This is the very best time to join best Hadoop Training and Big Data Analytics Online Training to change your career.

Unstructured and Semi-structured data analytics is here to stay

With the advent of social media and blogging, there has been a consistent rise in the amount of unstructured and semi-structured data that a company needs to analyze in order to reach important business conclusions.
Analysis of emails, weblogs, social media, videos, and image data has become a common trend leading to the emergence of unstructured/semi-structured data analytics.

Ubiquitous Presence

Big Data has found numerous applications across a wide range of industries. Some of the industries that thrive upon big data include banking, technology, manufacturing, healthcare, energy sector, and consumer industry.
Now you know that there are a vast number of industries you can pick from when deciding to work in the big data analytics space.

Big Data has broken all growth records

According to a survey, 'The Future of Big Data Analytics – Global Market and Technologies Forecast – 2015-2020', the global market of Big Data Analytics will grow by 14.4% CAGR over the period 2015-2020.

Limitless choice of titles

Once you have decided to learn big data tools such as R and Hadoop and made a place for yourself in the growing industry, you will be bombarded with plenty of job titles to choose from. Some of the roles you can pick are big data analyst, big data solution architect, analytics associate, big data engineer or big data business consultant.

Choose a field of study that intrigues you

Just like the varied titles, you also have multiple options when it comes to choosing your field of analytics study. There are primarily three areas of study namely Prescriptive Analytics, Predictive Analytic, and Descriptive Analytics. There is a huge demand for skilled professionals in each of these disciplines.

Big Data Analytics tools are powerful and open source

A large number of big data analytics tools, such as Hadoop and Python, exhibit impressive horsepower when it comes to storing and crunching large volumes of data. The terrific data analyzing capacity has made them absolutely indispensable for most businesses.

Hadoop is growing at lightning speed

A report by Markets and Markets Research shares that the Hadoop and Big Data Analytics market will touch $13.9 billion by 2017. It is considered to be one of the fastest growing technologies in the big data space. Such impressive numbers are reason enough to learn the new technology and be part of the growing team of influential analytics professionals.

Innovative tools like R lead the way forward

Being one of the most flexible big data tools, R enjoys the privilege of spearheading new developments in the field of statistics. Adoption of this technically advanced data analytics tool by businesses leads to increased operation efficiency and reduced cost structures.
Closing Thoughts
It is pretty evident from our discussion that by choosing the right tool and the right institute, you can be an expert in big data analytics and join the GangBoard for the opportunities to grow. It will truly be one of the best career moves you would have made in a while.