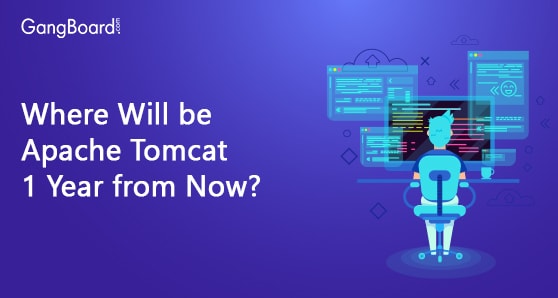 Where Will be Apache Tomcat 1 Year from Now?
Apache Tomcat is also known among the techies a Java Server and it is popular because it implements quite a few Java EE specifications like Java EL, JavaServer Pages, Java Servlet, and Websocket. It also provides an exclusive Java HTTP web server environment that can run codes written in Java.
What are the prospects of Apache Tomcat?
Apache Tomcat has come a long way from its birth in the hands of James Duncan Davidson. Thanks to its number of features and benefits. One of the biggest benefits is the Java-centric environment. Moreover, it is an open source platform. This will let you change anything that you discover is not working or can be done in certain other ways. If you need to deploy Servlets, it is always good to choose something that is small and lightweight.
Who is Apache Tomcat online training for?
If you are aiming to grow in the IT field as an application server administrator it is important to take Tomcat training from a reputed institute. Such courses are generally done by people who are either in the profession or are students. If you too are one of them, you can enjoy all the benefits through an Apache Tomcat online training from a reputable institute like GangBoard. If you are a developer who feels that a greater understanding and knowledge of administration and deployment will help you in attaining your professional goals.
What can you expect to learn from Apache Tomcat online training?
There are quite a few good institutes that provide online training to the professionals. GangBoard is one of them. From an online training course in Apache Tomcat you will be able to do the following:
You will be able to install and configure Apache Tomcat.
You'll get a better understanding of the Java Enterprise Edition architecture.
An online training in Apache Tomcat will help you to deploy applications.
If you choose to be in administration, you will be able to use it both manually and with a Tomcat Manager.
An online course will help you to understand load balancing as well as clustering.
In addition to all these, you will be able to monitor and tune in the performance of the application.
Choosing an institute
If you feel the need to undertake training for Apache Tomcat, you need to choose a reputable institute that is not just offering basic, but professional level courses. Choose an institute after checking the following:
Make sure that the faculty of the institute comprises experienced industry experts. Only skilled and professional teachers will be able to help you learn Tomcat the best possible manner.

If you are opting for Apache Tomcat Online Training, you need to choose an institute that offers learning facilities at flexible time schedules. Thus, you will be able to learn this new technology in your spare time.

An institute with positive feedback and reviews is always a good choice. You should visit the website of the institute and check the comments and ratings by previous students of the institute.
Last, but not the least, choose an institute that offers 24 x 7 support in case you need any help with your studies.
If you learn to use and manage Tomcat, you will be able to take advantages of the huge opportunities that Apache Tomcat is creating. And, in another one year's time, you can see yourself in the desired position professionally.