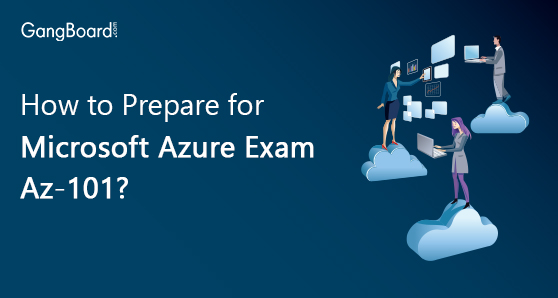 How to Prepare for Microsoft Azure Exam AZ-101?
How to Prepare for Microsoft Azure Exam AZ-101?
Today, IT professionals with vast knowledge, expertise, and experience in Microsoft Azure are in relatively high demand as compared to other professionals. If you want to explore your career as any MS Certified Azure Administrator and/or Associate, you are in the right flow with the latest technological trend. Microsoft today offers a wide range of role-based certifications in Azure, so that you may easily decide your specific type of certification in accordance with your role in AZ.
Especially, if you want to make the most, you should definitely think about studying for Microsoft Azure AZ-101 Certification. AZ-101 examination intends to test the knowledge of any candidate on security and integration of Azure and hence, forms an important step to explore a career as an Azure Administrator.
Any candidate appearing for AZ-101 has to work hard on securing identity, advanced networking, VMS migration and a wide range of app services. This means, any Azure Administrator not only requires managing varieties of cloud services, like security, storage, computation, and networking but also should possess deep perception about the functions of each service on the IT infrastructure. Moreover, AZ administrators should essentially give valuable recommendations on the application of infrastructure services according to different measures. These include performance, scale, provision and size and many more
Read this Blog : Azure Certification
Preliminary Skills and Technological Knowledge Required to Prepare for AZ-101 Certification Exam
Candidates willing to clear AZ-101 Examination should possess outstanding skills in Windows PowerShell and various command-line interfaces.
Candidates should well aware of advanced technologies, which include the cloud infrastructure, the concept of virtualization, operating systems, storage structures, ARM templates, networking, and the Azure portal.
Examination Pattern to Prepare for AZ-101 Examination
Before you should start with your preparation for the AZ-101 Examination, you should stay aware of the examination pattern. Accordingly-
1.Numbers and Types of Questions Asked
Each Microsoft AZ-101 Certification Examination has a minimum of 40questions to a maximum of 60questions. However, the types of questions asked to vary largely. This is because; you have to answer a few of the questions in only one word, while in others, you require long yet explanatory answers. Hence, regardless of the type of question, you have to read the instructions carefully for it. This is because; in some cases, a question requires answering in only 2 or 3 points, but candidates try to explain in detail with more points and hence, the answer (even though logically is correct) becomes incorrect at the time of its evaluation.
2.Time Limit of the AZ-101 Examination
You get a total of 3hours or 180 minutes to complete your examination. However, from this, you have to reserve your 30minutes for reading instructions and comments. In other words, you have to use your remaining 150 minutes effectively to answer the questions. Other than this, you will get various types of questions on build lists and active screens. Moreover, you should keep in mind that a few of the questions carry more marks as compared to others. To secure more marks, you should attempt such questions. However, at the same time, you should make sure not wasting too much time in a particular question; instead, you should skip it or mark it to answer afterward.
3. Case Studies and Perspectives in AZ-101 Examination
Once you complete with your question-answer session, you will get a case study in the Azure AZ-101 administrator exam, towards which you have to give the utmost importance. Here, you will get a scenario related to both Azure security and Azure integration, while you have to define specific environmental characteristics by considering both the available time and involved cost. You will get answer choices accordingly, from which you have to pick the right one. In some cases, you may get an answer to satisfying the business needs of an organization. Simultaneously, another option has a sharp dip in the technical or performance perspective of the respective system. Hence, while picking your answer, you should never overlook either of the requirements.
Valuable Resources and Tools to Start and Boost Your Preparation
1. Microsoft Resources
If you are looking for resources to start your AZ-101 preparation, you should visit the Microsoft learning portal powered by Microsoft. The portal is specific to its certification examinations. Hence, you will find tons of valuable resources to prepare your AZ-101 exam, which includes the options to schedule your examination, examination syllabus, preparation tips, pricing chart and many more. The best part of Microsoft Learning portal is that in case of any change in any of the MS examination structure, you will get details about it from the portal itself.
2. Practice Tests
Microsoft Learning portal provides you with large numbers of practice tests to let you prepare for the examination in a better way and boost your confidence.
3. Study Materials Online
You should look for online study materials, like for instance provided by our GangBoard to get a professional approach and in turn enhance your performance in the Azure 101 examination.
Related Blog:  How to prepare for Microsoft Azure Exam AZ 102?
Topics to Cover to Prepare for AZ-101 Certification Examination
Based on our expertise and knowledge in training you for the AZ-101 examination, we recommend you covering the following important topics to prepare for your examination.
1. Evaluation and Performance of Server Migration to Azure
You will get approximately 15percent to 20percent of questions from this main question, which further has two different subsections. Here, the first subsection uses Azure Migrate to evaluate the specific migration scenarios to search and gain access to the environment, locate any type of deployment problems, identify suitable ports you require to open, the configuration of various credentials and domain accounts, identification of network variations, search for destination environment and many more. On the other side, the second subsection involves the migration of servers to the Azure portal with the help of Azure Site Recovery. Here you have to perform several other important tasks, such as creating a virtual network, configuration of storage, ASR agent deployment and many more.
2. Implementation and Management of Application Services
You will get approximately 20percent to 25percent of questions from this section. Accordingly, candidates have to configure serverless computing systems, manage varieties of app solutions and app service plans and similar others.
3. Implementation of Advanced Virtual Networks
The section comprises of implementation of advanced virtual networks that have the highest weight while preparing for your Azure AZ-101 Certification Examination. This is because; about 30percent to 35percent of questions come from this section, where candidates have to accomplish the task of implementing any app load balancing and load balancer of Azure. In addition, candidates have to perform various other related tasks, like networking, monitoring, and integration of the on-premises network with the virtual network of Azure.
4. Security Identities
You will get approximately 25percent to 30percent of the questions from Security Identities. Accordingly, you need to implement multi-factor authentications, manage varieties of role-based access controls and successfully manage Azure AD privileged type of identity management.
Related Blog:  Microsoft Azure Certification Courses & Relevant Exams
Additional Tips to Pass Your Azure AZ 101 Examination
Other than the aforementioned resources and topics to cover, our experts at GangBoard have shared a few of the additional tips to pass your AZ 101 Examination.
1. Understand Well and Analyze Whatever You Study
Rote learning does not help you to secure a good percentage in your AZ examination, as it never encourages the ability to think and analyze in detail. Moreover, as each section of your Azure 101 certification exam judges your ability to think and solve problems in an analytical manner, it is essential for you to study by thinking and analyzing in a good manner. For this, you should prepare a summary or short note about what you have studied and if possible, read the same loudly. Reading loudly helps you sharpening your understanding ability while you listening to the same property.
2. Think Deeply about Everything You Read
Another effective way to make sure your strong preparation is to ask various questions to yourself about different contents present in the chapter. You have to analyze whether you disagree or agree with the highlighted information. In addition, you have to find out the topics, which appear to be confusing in front of you or seem to be at odds with other related pieces of information. Positively, our tutors and other professionals at GangBoard always remain available to resolve your doubts. However, we still recommend you to go with a detailed exploration of your subject materials, as these discussions will help you to develop expertise in different Azure related concepts in your mind.
3. Use Suitable Videos to Boost Your Understanding and Learning
You should give time to watch YouTube and other relevant videos on the topic, which you learn. Especially, you should make sure about aiming to picture the elements and concepts in your mind while you watch videos.
4. Repeat the Quiz to Practice 4 to 5 Times Each Question of a Total Set of 100 Questions
You should repeat the quick session or quiz learning to practice each question belonging to the set of total 100 questions for 4times or 5times to develop expertise in it. Later on, you should step ahead doing all of the 100 questions in one sitting. You have to repeat practicing until and unless you obtain 100percent on your practice test. Especially, you have to start your quiz learning before 3weeks to 4weeks of your real examination.
5. Study Properly and Steadily at least for One Month
You should make sure of avoiding studying one or two days before the day of your examination. Instead, you should start studying at least one month of the due date. In addition, you have to select a quiet and well-lit location to study, where you do not get any type of distraction or interruption. You have to stay regular as well as consistent with your preparation and for this, you should follow a specific study timetable. Other than this, you should switch off your phone device and remove other electronic devices while you study. Along with studies, you should take a break after every 15minute to refresh your mind.
6. Practice in Well Manner
Other than regular studies and question sets, you should download copies of the previous few years' question papers. You should take such tests to judge whether you are able to solve them or not. Even you should ask an expert to evaluate them. In this way, you will gain enough confidence and in turn, remove all sorts of examination fear.
Related Blog:  How to Prepare for Microsoft Azure Exam AZ-100?
Frequently Asked Questions
As an aspirant of the AZ-101 Certification Examination, you may likely come across various queries while preparing for your exam. For this, we have shared some of the frequently asked questions with their appropriate answers.
1. What is the minimum score required to clear the AZ-101 Examination?
Even though we cannot say that the minimum cutoff score to clear your AZ-101 Examination, you have to score approximately 700 marks to clear the cut off for the Azure Certification examination.
2. What is the difficulty level of the Azure 101 Certification Exam?
You may determine the difficulty level associated with your allocated questions while you start your exam. Considering this aspect, our Gangboard experts can say that the questions will be neither easy nor difficult once you start attempting the questions one after the one.
3. Shall I get a few of the introductory questions before I start my exam?
Yes, at the beginning of your examination, you will come across various introductory questions, in which you need to mention your experience level related to your basic concepts required for appearing for AZ-101 examination, like security, computation, and networking.
4. Why Microsoft asks me to mention my mastery level before appearing for the examination?
You will come across introductory questions to specify your master level simply to let Microsoft pre-exam survey to know whether you are actually appearing for the exam or simply a beginner want to appear after you understand various technological concepts related to AZ-101 examination.
5. Do Brain Dumps help me in passing the Azure 101 Certification Exam?
We know that Azure 101 is one of the role-based examinations, because of which you may not get any guarantee related to your success if you blindly follow any brain dump type of preparation method. Instead, you have to show your skills and expertise to deal with any real-time Azure environment.
Get Microsoft Azure Exam AZ-101 Certification  with 100% Practical Training