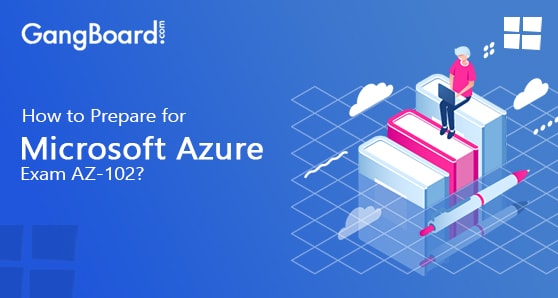 How to Prepare for Microsoft Azure Exam AZ-102?
How I Should Prepare for Microsoft Azure AZ-102 Certification Examination
Microsoft is consistently evolving its learning programs to help career aspirants to stay pace with today's frequently demanding IT environment. The main aim behind the evolution of Microsoft learning programs is to provide better things, which you need to boost your skills, prove your high level of expertise to peers and employers, while simultaneously, let you earning a huge recognition and pool of opportunities.
Azure 102 Certification is Helpful for IT Career Aspirants
If you want to build your career in the Information Technology sector, you should definitely think about clearing Microsoft Azure 102 Certification Examination. A prime role of any Azure Administrator is to monitor and implement varieties of Azure systems and at the same time to maintain a wide range of services pertaining to networks, storage, and security.
Helps You in Building Bright Career in the Domain of Cloud
With a consistent increase in the numbers of clients associated with Microsoft Azure, the demand for AZ-102 certifications also increases consistently. This results in enhancing the value of skills accumulated by individuals in the sector of Microsoft Azure. Hence, if you want to build your career in cloud domain, you should make sure availing Azure AZ-102 certifications as soon as possible.


Gateway to Play Different Roles in IT Sector
By acquiring Microsoft Azure Certifications, you will get the change to play latest yet trending job roles in the IT industry. Based on broad classifications, role-based AZ certifications focus on basic job roles in the entire cloud domain. These include-
Cloud Developer
Cloud Administrator
DevOps Engineer
Cloud Solutions Architect
Microsoft Azure Certifications Let You Get Lucrative Salary
While working any of the Azure certified job roles, especially AZ-102, you will get the opportunity to earn an average salary from approximately $150,000 to $250,000 yearly.
Objectives of Microsoft Azure 102 Certification Examination
Each of the concepts or topics included in Microsoft Azure 102 Certification is meant to fulfill the following prime objectives-
To configure and deploy the Microsoft infrastructure
To implement the required level of security and various workloads
To build and deploy various Microsoft applications
To implement the data security and authentication
To develop applications for Azure storage and cloud platforms
Must Read: Azure Certification
Syllabus to Prepare for Azure 102 Certification
The syllabus of your Microsoft Azure 102 Certification includes the following topics, where the percentage indicates the probable numbers of questions, which will be asked from each section of your examination. Accordingly-
Management of Azure subscriptions and its resources with 5% to 10% weight
Under this category, there will be different questions related to analyzing the utilization and consumption of available resources.
Implementation and Management of Storage with 5% to 10% weight
Here, the questions will be related to the configuration of various Azure files to come up with the best possible implementation and management of available data storage.
Configuration and Management of Virtual Networks with 15% to 20% weight
We know that IT engineers often require to deal with virtual networks. Because of this, the certification has included a section of the virtual network's configuration as well as its management. This section will ask different questions on creating connectivity among various virtual networks. In addition, you will find a few questions on the configuration of the name resolution.
Management of Identities with 15% to 20% weight
Next section of Azure 102 Certification examination consists of various questions asked about the management of Azure Directory, abbreviated as AD. Moreover, some of the questions are also related to the implementation and managing of hybrid identities.
To Evaluate and Perform Server Migration to Azure with 15% to 20% weight
Questions under this category aim to judge the ability of a candidate in evaluating the latest migration scenarios with the help of Azure Migrate. In simple words, the questions aim to judge the way, in which students will be able to migrate servers to the latest Azure.
Implementation and Management of Application Services with 5% to 10% weight
Under this category, candidates have to justify their skills in the configuration of serverless computation systems.
Implementation of Advanced Virtual Networking Systems with 5% to 10% weight
These questions mainly identify the ability to manage and monitor networking systems among IT career aspirants.
Securing of Identities with 5% to 10% weight
The questions related to securing of identities are to implement MFA i.e. Multi-factor Authentication.


Other Skills or Competencies Required to Pass the Examination
If you are an IT aspirant willing to prepare for Microsoft Azure 102 Certification, you should possess the following competencies
Basic knowledge about the Azure platform
Familiarity and good knowledge about different IT concepts, which include networking, database applications, and web applications
Click Here: AWS Vs Azure Vs Google Cloud
Who all are eligible to take the Google Certified Cloud Architect exam?
Quick Tips to Pass Microsoft Azure 100 Certification Examination
If you want to appear for AZ-102 Examination, you have to take the preparation steps seriously. For this, our GangBoard team suggests you should strictly follow a few quick tips to make a strong influence on the completion of examination successfully.
Work with Microsoft Azure Regularly
One of the prime keys to achieving success is to make your habit to work with Microsoft Azure on a regular basis.
Use the Learning Platform of Microsoft
Microsoft learning portal or learning platform has tons of valuable pieces of information, which may help you a lot in your preparation of AZ-102 examination. Especially, the platform lets you find details about the options related to examination schedules, information about exam pricing, preparation tips, examination modules and links to various online resources. You will obviously regret if you fail to check this section properly before appearing for the examination.
Stay Aware of the Examination Module
Even though you cannot skip any of the examination modules for your Azure 102 certification exam, you should give priority to those modules, which have relatively higher weight while your exam preparation. In this way, you will secure good marks in your examination.
Practice Tests via Online Sites
The practice is one of the best ways to crack your examination. Hence, we at GangBoard should suggest you to give mock tests or practice tests with the help of online sites to develop your expertise and increase your speed. Even you will find many online sites, which provide you detailed references and answers once you write your practice exam. What would be better than getting an instant score report to track your performance?
Look for Updated Questions and Answers Set for Preparation
Our experts at GangBoard provide you with 100percent updated, real and verified exam questions and answers set to make you competent enough for cracking the examination.
Experience the Real Examination Scenario
Once you gain knowledge and skills related to different sections and questions to be asked in your Azure 100 certification, it is essential for you to experience the scenario of a real examination. For this, our GangBoard experts provide you with real exam interface-based AZ-102 practice test, so that you understand the scenario of real AZ-102 examination clearly. Even we allow you adjusting your time in appearing for these special mock examinations so that you understand the time management for your examination.


Related Blog

How to prepare for Microsoft Azure Exam AZ 301?
Frequently Asked Questions while Preparing for Azure 102 Certification
Even though we have provided you valuable preparation tips, you may often come across various queries once you start with your AZ-102 certification exam preparation. Considering this fact, we have shared a few of the common FAQs i.e. frequently asked questions to resolve your doubts in the best possible way.
Shall I have to clear any of the compulsory certifications exam/exams to Clear prior to appearing for AZ-102 certification?
Yes, before you should appear for Microsoft AZ-102 certification examination with GangBoard, you have to clear your Microsoft 70-533 Examination. Otherwise, you will not get benefits from your Azure 102 certification.
What is the procedure to schedule for my Microsoft Azure AZ-102 certification examination?
The procedure to schedule for your Microsoft Azure AZ-102 certification examination is simple as 1,2,3. For this-
You only have to visit the learning portal of Microsoft and locate the respective examination.
On doing this, you get various options related to scheduling your AZ-102 examination.
You have to click on AZ-102 exam while the website will take you to a registration page, where you have to fill your personal, educational and previous certification details.
Even you get the option to select your examination centers, such as at your home or your office.
Once you choose it, you have to move ahead for scheduling the time and date of your certification examination.
However, you should keep in mind that charges associated with appearing for the examination is variable and is according to your preferred location as well as the date of your registration.
The best thing is that both GangBoard and Microsoft gives you enough flexibility to select your examination slot. In this way, you remain available with enough time for the preparation of your AZ-102 examination.
Other than the compulsory Microsoft 70-533 certification, what are the additional requirements to fulfill to crack the Microsoft AZ-102 examination?
Similar to the case of any other Azure administrator examinations, aspirants of AZ-102 certification should possess enough competencies in managing cloud solutions, which span around computation, storage, networking and security abilities under Azure.
Any candidate willing to clear AZ-102 examination should possess good knowledge and awareness of a complete IT lifecycle.
An AZ-102 certification aspirant should have enough proficiencies in Command-Line Interfaces and Windows Power Shell.
IT professionals seeking for Microsoft Azure AZ-102 Certification should stay familiar with various IT concepts, which include virtualization, ARM templates, storage structures, operation systems, and ARM portal and so on.
What are the study materials I can expect to get from your GangBoard to prepare for Azure AZ-102 Certification examination?
Other than basic study materials, our GangBoard provides you additional study guide to our students. Our preparation materials for Azure certification examination includes the purpose and scope of AZ-102 examination, preparation strategy and so on.
Shall I get the opportunity to undergo real-world and industry-based training courses to prepare for my Azure AZ-102 Certification?
Yes, our GangBoard instructors offer you well-structured and industry-based training courses in AZ-102 certification. Specialties of our training include-
We design our courses by considering the latest requirements of the majority of IT companies and other similar types of organizations dealing with the cloud platform or cloud infrastructure.
Our training also incorporates hands-on projects of the real world and latest case studies to help you working on enhancing your existing AZ knowledge and skills drastically.
What is the Examination Pattern of AZ-102 Examination? Does it possess any similarity with the one, which I have cleared in advance i.e. Microsoft 70-533?
Based on the detailed analysis of our experts at GangBoard and valuable pieces of information shared on Microsoft online portal, we should say that the examination pattern of AZ-102 has somewhat similarity with 70-533. However, the exam pattern of Azure Az-102 has much more similarity with AZ-101 and AZ-100 certification examination powered by Microsoft.
What are the total numbers of questions to be asked in Azure AZ-102 examination?
Microsoft Azure AZ-102 Certification Examination consists of about 50questions to 60questions in total.
What are the types of questions to ask in the certification examination?
You will get multiple-choice questions, arrangement tasks, case studies, active screens and several other types of questions in your Microsoft AZ-102 Certification Examination.
How much time I will get to complete the AZ-102 examination?
Depending on the exact numbers of questions, you will get 220minutes or between 3hours and 4hours time in hand for completing your examination. According to this, we at GangBoard recommend you to focus on your time management, as it is a significant factor for determining the overall effectiveness related to your AZ-102 examination preparation.
How can I get benefits while preparing for Microsoft AZ-102 examination if I have already passed the 70-533 examination?
Yes, you will definitely get benefits by taking 70-533 examination. This is because; you already have strong background knowledge on the basic concepts of Azure.
May I know the difficulty level of the Microsoft Azure 102 Examination?
While talking about multiple-choice questions, they are relatively easy ones. On the other side, you will find a few of the case studies as slightly difficult. However, our GangBoard experts advise you to check each of the questions carefully before you should answer any question. This is because; even though a few of the questions appear as simple, it may not be simple actually.
Shall I need to give concern to the weight of questions asked in different sections while preparing for the AZ-102 certification exam?
Yes, you should do so, as if you have a look at the previous trends related to the questions asked in AZ-102 exam, the questions' pattern is less likely to change.
What are the essential technological terminologies under Azure label I should learn to increase my chances to clear the AZ-102 examination?
Based on our experience in providing study materials and the necessary guidelines to our students, we should suggest you grasp the following major technological terms related to Azure, as you will expect various questions related to their concepts and/or implementations.
Azure Site Recovery
Log Search in Azure
Azure DNS
Migration in Azure and so on
I have already started working on Azure IaaS, how this can be helpful in my Azure-102 examination preparation?
If you have already started working on Azure IaaS or possess professional knowledge on it, your chances related to cracking the Azure-102 increases by about 2times than other aspirants.