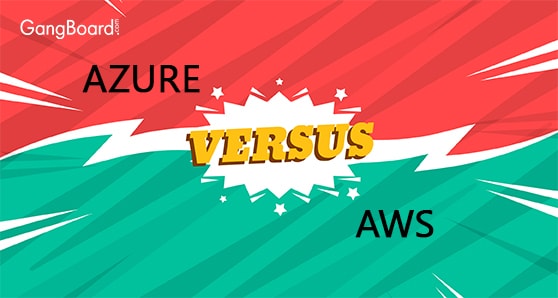 AZURE Vs AWS
Azure Vs AWS
With the arrival of cloud computing, & AWS in actuality the chief investor, Amazon Web Services have become one the most desirable skills in the industry. Similarly, Azure is another growing cloud computing services from Microsoft. In this blog post, you will discover their services difference.
If you just started learning about cloud computing, you must know you better select a perfect cloud platform easy to learn as there are many leading services of cloud providers. Before you even make a decision regarding AWS or Azure, let us first understand what they are and how they differ?
Cloud computing is getting big, indeed very big. Every year more and more companies are opting for it to cut down their cost and increase their utility. In 2015, this segment accounted for approximately $16.5 billion and in 2016 this figure is bound to get bigger.
Two top players that dominate this niche comprehensively are Amazon AWS and Microsoft Azure. Though Azure in last few years have made a great stride in this market, Amazon AWS still leads the way with a big margin. Let's compare both these platforms and see what separates them:
At Surface level
Amazon has divided its service into four categories such as: content delivery, compute storage, database and networking. Users can check their usage using tools such as Amazon cloud watch and AWS cloudtrail. To put in simpler words, it is easy to manage and control.
Microsoft on the other hand offers more or less the same services. Like Azure, all the resources are secure and easy to track. To give its users more transparency they provide them with number of services that allows them to check in-depth detail of their resource usage and prompts them with timely alerts.
In terms of pricing
When it comes to pricing both the companies have slashed down their prices in 2016 to attract more customers. Where AWS had always maintained low prices to acquire new customer base, Azure had made is always competition with their rivals.
Customer base
Since AWS are the pioneers in this field they naturally enjoy a much larger customer base, they host profiles like Netflix, Nike, Nisa retail, Airbnb, Channel 4 and many more. Azure on the other hand has found its liking among IT sector. Some big IT enterprises have moved to this platform in last few years and their numbers are spiking up every year.
What is Microsoft Azure ?
Microsoft Azure is Microsoft's cloud computing platform for public. It delivers a wide range of cloud services, like for computing, storage etc. Users can choose amongst the services and develop application on the cloud.
Azure or Microsoft Azure is a Microsoft creation for cloud computing. It is used for constructing, testing, installing, and handling applications and facilities through Microsoft-managed centers of data. It delivers software as a service i.e. SaaS and platform as a service i.e. PaaS. Infrastructure is delivered as a service known as IaaS besides supports many diverse programming languages, blocks and frameworks, comprising both Microsoft and third-party systems.
Microsoft Azure is correspondingly functioning to construct an end to end stand that can supply to the requirements of its clients. Nevertheless, what you can understand with Azure, in comparison to AWS, is that heritage of Azure inattentiveness computing has actually very much promoted them concerning building desired solutions.
This also includes creation of EA i.e. Enterprise Agreements. There are around 600 services by Azure.

Services of Azure
Computing:
Computing services are valuable for management of virtual machines. They can also be used for batch processing and to access remote applications.
Storage:
Storage services include storage and retrieval of data on and from the cloud respectively. Programs can store their structured text in portioned groups accessible by primary key. Cloud storage is scalable for both types of data whether structured or not. Big data applications can also benefit from this service.
Integration:
It provides hybrid integration. It is useful for backup, recovery etc..
Development:
Development services come handy when developers want to share code or test applications and find issues or bugs in it.
Security:
These services are mandatory to identify potential threats on the cloud and management of security keys.
Containers:
Using a common platform many containers can be created and managed with these services. Platform could be Docker, Kubernetes etc.
Database:
It provides Warehousing, caching, database integration and relocation features. It is part of DBaaS which means Database as a Service
DevOps:
This collection delivers project and teamwork tools, some of these are Visual Studio Team Services which enable DevOps software progress processes. It also deals with traits of application diagnostics, test labs to build tests, DevOps tool integrations and experimentation.
Relocation:
This set of tools aids an organization guess workload relocation costs, in addition to achieve the real relocation of assignments from native data centres to Azure cloud.
Mobile:
Collecting analytics of real-time users highlights their preferences. It also helps in providing push notifications to the device.
These products benefit a developer form cloud applications aimed at mobile devices, offering notification services, provision of back-end responsibilities, tools for constructing APIs and the capability to combine geospatial framework with data.
Data management:
These facilities deliver a range of backup, retrieval, acquiescence, computerization, planning and monitoring gears that can support a cloud supervisor to achieve Azure deployment.
SQL warehousing is used to manage computational or data queries when database exceeds 1 TB. Azure Data Lake is another scalable storage for data for big-data analysis workloads that require parallel queries.
Event hub:
It provides event ingress to cloud at large scale with high reliability.
Queues:
They are used for one directional messaging. Sender sends the message to service bus's queue. Receiver reads from this queue. Multiple readers can be there for the queue but only single process can process the message.
CDN:
It stands for Content delivery network. It is designed for video, audio, images etc. It helps in increasing performance of users.

What is AWS?
AWS or Amazon Web Services is a service provided by Amazon, which is mainly cloud service with essentials of building blocks that could be used to produce and organize any type of application on the cloud. These building blocks work together, and resulting application becomes scalable and erudite.
AWS is a subsidiary of Amazon delivering cloud computing platforms on-demand to individuals, corporations and governments, on a pay-as-you-go base. It stands for Amazon Web Services. In total, this cloud computing service delivers a set of basic, abstract practical infrastructure in addition distributed computing tools. One of these facilities is Elastic Compute Cloud of Amazon, which permits users virtual cluster of computers at their disposal.
The AWS expertise is applied at server farms all over the world, preserved by the Amazon subordinates. Charges are built on a blend of use time and other features chosen by subscriber like operating system, networking etc. Subscribers are allowed to pay for virtual or physical computer or groups of either. AWS functions from many worldwide areas.

Some of the features of Amazon Web Security are:
IAM:
It stands for identity and access management. It gives you the privilege to allow or refuse access of certain users to AWS. This is done by providing unique credentials.
VPC:
It stands for virtual private cloud. It helps you have complete control over network traffic whether inbound or outbound. It secures application by limited access of Internet.
ACL:
It stands for Access Control List. It is active on subnet level of network. They prevent DDOS attacks. You can also blacklist traffic of some IP addresses.
Security groups:
This feature allows you to build a firewall rule to control traffic at the present level. TCP, ICMP and UDP kind of protocols can be used here.
Trusted advisor:
This facility inspects AWS environment, recommending improvement in system performance or reliability or saving money.
Services of AWS
Workloads:
It includes computation of workloads with the help of services like EC2, Elastic Beanstalk, Lambda etc.
Database:
This is also associated with workloads but more of database related. It includes services like Aurora, RDS, RedShift, DynamoDB etc.
Storage:
It deals with data storage services using S3, Amazon Glacier, Elastic block store, AWS snowball.
Relocation:
It includes relocating data from one AWS infrastructure to another AWS infrastructure. It provides services like AWS database migration, and SnowBall.
Management tools:
These tools are used to handle all other tools and services of AWS. These services provided by management tool are CloudWatch, CloudFormation, CloudTrail etc.
Network:
Network domain deals with separating your network from other networks on the cloud with fast delivery and quick response of content. It comprises services viz. Route53, CloudFront etc.
Security agreement:
These services are necessary for authentication and security of AWS resources. It includes services like AWS IAM, KMS and Shield.
Messages:
AWS also provides provision for messages, queuing, emailing and notification for messages using services like SQS, SNS, SES and Pinpoint.  
AWS is a subsidiary of Amazon delivering cloud computing platforms on-demand to individuals, corporations and governments, on a pay-as-you-go base. It stands for Amazon Web Services. In total, this cloud computing service delivers a set of basic, abstract practical infrastructure in addition distributed computing tools. One of these facilities is  Elastic Compute Cloud of Amazon, which permits users virtual cluster of computers at their disposal.

Difference Between AWS & Azure
| | | |
| --- | --- | --- |
| Feature | Azure | AWS |
| Cloud platform | Public platform used by Microsoft | On demand platform used by Amazon |
| Relation with open source circle | Not so friendly | Very friendly |
| Government cloud | Limited reach | Maximum reach for government cloud offering |
| Pricing model | Less flexible | Flexible |
| Big data | Requires premium storage for big data | Super storage for big data |
| Big data cloud environment | Less mature | More mature |
| Machine accessibility | Accessed as group | Individually accessed |
| Billing | Based on a monthly rate | Based on monthly usage |
Related Blogs