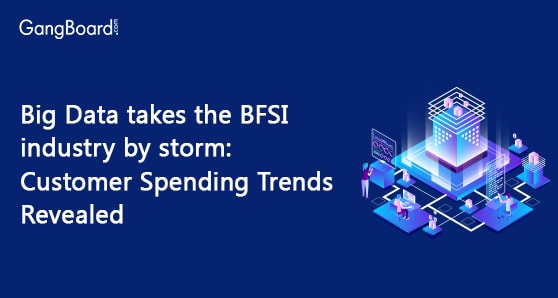 Big Data takes the BFSI industry by storm: Customer Spending Trends Revealed
Big data has been flashing in the news since the past few years; however, companies have started realizing its true potential only in the past decade. Big Data is a tool that has to be eventually adopted by companies to gain success and reach a new level of growth.
Understanding Big Data and its implications
Big data basically assembles and analyses large volumes of data into formatted data sets. This helps businesses understand the data much more clearly and also provides them with greater business insight. As a result, the top level executives are in a position to take smarter quicker business decisions. The analytical findings from big data can help organizations achieve greater profits and give them an edge over their competitors.
Traditional Program Sets Lose Relevance
The inherent flaw of traditional program sets lies is their inability to tap
While few companies are still determining the relevance and significance of the widely prevalent big data concept, a vast number of them have gone on to chalk out a pathway to big data analytics Training and its core implementations.
Track customer's spending pattern with big data
Big data analytics structures unstructured and random customer information, ranging from household and demographic data to psychographic data. This offers the BFSI professionals with unique insight into the customer's spending pattern.
It can identify how, where, when and with whom the customers are spending money. This not only helps the decision makers understand the customers' behavioral patterns but also offers insight into the credit worthiness of the customers i.e. whether they will be in a position to pay back the loans.
An entire log can be generated reflecting customer transactions made over a period of time. Depending on the customer's debit and credit transactions, financial companies can come up with various kinds of promotional offers and plans customized for a specific customer segment.
Big data analytics also determines the inflow and outflow of cash into a customer's accounts which in turn helps in identifying the nature of transactions that the customers have made over a period of time. With this information, customer behaviors can be analyzed, which can then be used to the advantage of the banks and financial services company.
Most BFSI companies now understand that if they get all the data generated by business activities and then apply analytics, they might get something of value and use to the business. However, sophisticated tools are needed to convert big data analytics into actionable insights.
Closing thoughts
A shift from immature sets of unstructured data to refined data sets requires humongous improvements in the overall capabilities of the business. A majority of the BFSI companies are still governed by traditional program systems. The big data analytics have to be embedded into the operational decisions on an enterprise-wide basis to achieve tangible results.
For a lot of financial and banking companies, the data and analytics systems are driven by regulatory and risk issues and not by growth motive. It is high time that the BFSI sector attempts to make a change in its outlook and inculcates big data analytics in its day-to-day operations. Currently, big data still remains an untapped opportunity that the BFSI companies are yet to discover and utilize completely.
Why GangBoard?
GangBoard offers Big Data training in very good Manner. They train students in practical way. Many students are getting benefits from here. Join with Us for the best career