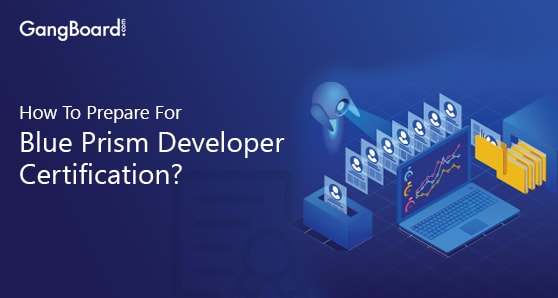 How to Prepare for Blue Prism Developer Certification?
How to Prepare for Blue Prism Developer Certification?
What is Blue Prism?
The future is headed towards Robotic Process Automation and before we know it, almost every company will be using it somehow or another. After the introduction of RPA, humans don't need to sit for hours doing monotonous tasks all day. There are various tools that help make our jobs easier and Blue Prism is one of them. Blue Prism is a software development company based in the UK. They also happen to be the pioneers in the field of RPA and came up with a tool that helps companies automate repetitive tasks. This tool can process large amounts of data in just a few minutes, thereby saving precious time and effort.
What is Blue Prism? | Features, Components, Benefits, PayScale
What are Blue Prism certifications?
If you want to excel in the field of RPA, then having a Blue Prism certification can help you immensely in moving one step closer. There are various Blue Prism certifications you can obtain to endorse your expertise and knowledge in the field of RPA. These certifications affirm that you are equipped with all the latest skills you need, in order to work in Blue Prism environments. With the world advancing digitally and technologically, companies can't tend to waste time taking a novice and training them. This is where blue prism certifications come to use. Employers will have an idea of the skills you already have, thereby increasing your chances of being employed. Here are the various Blue Prism certification exams one can give:
| Exam Code | Exam Name | Accreditation |
| --- | --- | --- |
| AD01 | Blue Prism Developer | Developer |
| APD01 | Blue Prism Professional Developer | Professional Developer |
| ASD01 | Designing Blue Prism Process Solutions | Solution Designer |
| ARA01 | Blue Prism ROM Architect | ROM Architect |
| ATA01 | Designing a Blue Prism (Version 5.0) Environment | Technical Architect |
| ATA02 | Designing a Blue Prism (Version 6.0) Environment | Technical Architect |
| AIE01 | Installing and Configuring a Blue Prism (Version 5.0) Environment | Installation Engineer |
| AIE02 | Installing and Configuring a Blue Prism (Version 6.0) Environment | Installation Engineer |
There are some requirements that need to be fulfilled before you can sit for certain exams. For attending a particular exam, you need to have passed the preceding exam in the table. Also, you cannot sit for a retest until after 7 days of you not clearing an exam. However, in this blog, we are going to talk about preparing for the Blue Prism Developer certification exam (AD01). Continue reading this blog to get tips and resources that would be helpful for cracking the AD01 exam.

What is a Blue Prism developer certification (AD01)?
This certification is for entry and associate level developers and can be given by anyone regardless of their technical background. A developer certification affirms that you have basic knowledge and are able to work in various Blue Prism platforms and environments.
Benefits of the Blue Prism Developer certification:
There's always a need for professionals in the job market and this certificate is just what you need to put yourself ahead of all the other aspiring developers.
Reports show that an employee with a Blue Prism certification gets a higher pay when compared to employees who don't have it.
This certification is accepted globally which means you can work as a certified Blue Prism professional anywhere in the world.
With the Blue Prism certification, you can add extremely valuable credibility to your resume.
Since the future is robots, professionals with a Blue Prism certification will never tend to run out of jobs.
As more people will be switching to automation in the future, you will be an experienced professional by then, thereby increasing your chances of a promotion.
This certification isn't only for a job, but for personal growth as well. Imagine how far ahead you would be than the rest of the people with the skills that you possess.
Who is this exam for?
Anyone who is passionate about automation and development can sit for the exam. Experience in software development and .NET environments is an added bonus. Digital marketers, people working in IT sectors as well as freshers can also apply for the exam. It mostly depends on one's interest because there is never a boundary for learning.
Blue Prism Developer exam overview
The Blue Prism developer exam (AD01) is offered in several languages: English, Chinese (simplified), Russian, Japanese, Spanish (modern). This exam comprises of 60 multiple choice questions which have to be attempted in a total time of 60 minutes. In order to obtain a certificate, you need to pass with 70% marks. You will pass with merit if you score more than 80% and pass with distinction if you score more than 90%. All the questions have an equal weight which is 1 mark each. The registration fee for this exam is 70 USD.
Blue Prism Developer Exam (AD01) Overview
No. of questions
60
Time
60 minutes
Pass percentage
70%
Marks weightage
1 mark each (equal weightage)
Languages
English, Chinese, Russian, Japanese, Spanish
Registration fee
70 USD
Registering for the Blue Prism Developer exam
Step 1: Firstly, go to the official Blue Prism portal on https://portal.blueprism.com/user/login?destination=/ and register there.
Step 2: Next, hover over the learning tab and you can see certification. Click on certification. Below, there will be important documents about the various certification exams available for download.
Step 3: To register for the exam, you have to click on the link provided there ( http://pearsonvue.com/blueprism ) which takes you to Pearson Vue.
Step 4: Sign up on the Pearson Vue website, select your exam and fill out the details along with paying the fee. You're done registering!
Preparing for the Blue Prism Developer exam
There are many ways in which one can prepare for the exam. One would need at least 3 months of proper preparation in order to secure a good percentile. Your focus should mainly be on two types of questions which are theory-based questions and diagrams. While theory-based questions take up time when you re-read them, questions with diagrams consume time as you need to understand the diagram in order to answer it. Listed below are all the various ways in which you can prepare for the Blue Prism Developer certification (AD01) exam:
Blue Prism AD01 Certification Dumps:
Dumps are basically large collections of bits and questions that can help while preparing for an exam or during a last-minute study. There are plenty of free Blue Prism AD01 certification exam dumps. You can find some of them below:
(Attach PDFs)
While preparing from AD01 dumps is very useful, there are only a limited number of free Blue Prism certification dumps that are available online. Although these dumps are helpful, it's always better to be trained than to completely rely on them.
Blue Prism portal:
If you log on to your Blue Prism account on the official website, under the learning tab, there are so many resources such as important PDFs that can be downloaded, self-tests and a lot more. These are of utmost importance as they've been uploaded by the professionals of Blue Prism themselves.
Forums:
The best way to learn is to ask as many questions as possible. This is exactly what forums are for. Forums are filled with discussions and answers to numerous questions. There will be answers to almost every Blue Prism certification question that may arise while preparing for your exam. Sometimes, users on these forums also upload Blue Prism certification material that might be of help for your exam. There is a forum on the Blue Prism website which you can find under the community tab once you log in to your account. Information about any new features or such are is added on the forum to make sure you stay updated. Another such forum is https://www.rpaforum.net/.
Practice tests:
As mentioned earlier, there are Blue Prism certification practice exams (self-tests) available on LMS under the learning tab in your Blue Prism account. Not only do they help enhance your learning, but AD01 mock tests also act as checkpoints to where you stand in your preparation. There are also a bunch of Blue Prism AD01 practice test questions available online, but be sure to check the answers as there may be some errors.
Blue Prism interview questions:
When you're trying for your job, you have to sit in a technical interview in which you will be asked questions. Based on what you answer, they decide whether to hire you or not, so it's essential to be clear with all the topics. We here at GangBoard have prepared answers to important questions that might be asked during the interview. Even people with no technical background can easily understand because of clear explanations. Take a look at Blue Prism interview questions here: (https://www.gangboard.com/blog/blue-prism-interview-questions-and-answers/).
What did you need to do on the day of the exam?
Don't try to study anything new on the day of the exam. You might get confused which will only make it more stressful. Two or three days before the exam, only revise the topics you already know. This will increase your confidence.
Make sure to reach the exam center 30 minutes prior to the commencement of the exam.
You will need to carry with you, two valid identification forms out of which one should be government issued (containing your name, photo, and signature).
There will mostly not be any distractions in the exam room, but try to concentrate while giving your exam. The exam is only for 60 minutes, so every minute is precious.
Read the question properly 2-3 times. The questions that might seem easy may actually be tricky.
After the exam is done, the exam instructor will tell you when you can take a print out of the results and when you may leave.
Results would be given to you right after the exam which is a print out of the percentile you've secured along with mentioning whether you've cleared your exam or not. This print out also contains section wise percentile that you've obtained.
The results will also be available on the portal within 7 days after the completion of your exam.
When do you know you're ready?
No one is ever ready. If you learn something today, there will always be something new to learn the next day. You'll know that you're ready for the AD01 exam once you're confident about your preparation. That's why it's essential to practice continuously and get trained from someone who's a professional. If you're a bit of an expert in the field, then online training will suffice.
Why it's important to choose a good training institute
Exams like the Blue Prism Developer Certification (AD01) is something that requires intense and effective training. Getting trained by a certified professional in a good institute like GangBoard can not only increase your chances of getting certified but will also polish your skills and help prepare you for what employers worldwide are seeking in an individual.
Conclusion
In the near future, almost everything will be operated by robots and employees in the field of automation will be the most sought after. This makes one more reason why you should be Blue Prism certified. Obtaining a Blue Prism Developer certification (AD01) isn't as tough as you think. It's all in your preparation and how you manage time during the exam. Don't try for this certification only for higher pay. Think of what you will be capable of in a few years with all the skills that you've obtained from your training and preparation.
Here in GangBoard, you're in perfectly good hands, with dedicated online training from certified professionals. We provide placement assistance to all our students and ensure they're satisfied even after they are placed. Other institutions may offer a lower price for the same course, but keep in mind, we never compromise education for money.
Related Blogs: