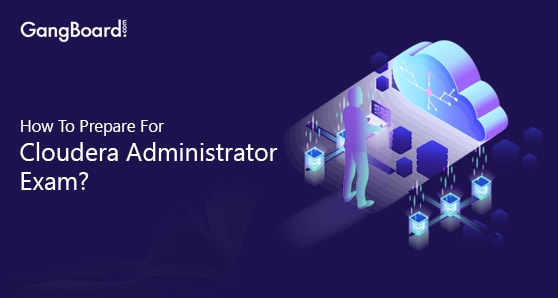 How to Prepare for Cloudera Administrator Exam?
Preparing for Cloudera Administrator Exam
The generation of data has seen exponential growth in the last few years in terms of velocity, volume, and variety. The increasing need to process information gathered from the Internet of Things (IoT) and big data (structured and unstructured data) for making decisions has raised the demand for building solutions to big data analytics.
Hadoop is a distributed processing technology providing quick and cost-effective data processing solutions compared to the traditional data analytics tools like RDMS. With the Hadoop market expanding at a significant rate, there is a need for people to learn and develop skills for managing and analyzing data effectively, thus helping organizations to enhance their decision-making capabilities.
Planning a career in the Big Data world requires completing a Hadoop certification from popular vendors like Cloudera, Map R or Hortonworks. Cloudera is a leading vendor in the big data market, in terms of both technology and innovation. The Administrator Certification exam (CCA 131) offered by Cloudera is an accreditation that validates a candidate's credentials and can definitely ease the process of getting into a Hadoop job.
What is Cloudera Certified Associate Administrator (CCA 131) Certification?
CCA Administrator certification is accreditation to access a professional's hands-on skills related to core systems and cluster administration.
It is a popular, practical and hands-on exam based on Cloudera technologies
It is a remote exam that can be taken from anywhere anytime
It aims to demonstrate a candidate's skills in a manner as required by organizations using Cloudera
It is a replacement of the old Cloudera Certified Apache Hadoop Administrator (CCA-500) certification exam and covers the following aspects of cluster administration-

Production
Installation
Configuration
Deployment
Maintenance
Security
What are the benefits of taking the exam?
The certification can help professionals in many ways, few of which are mentioned below-

Who should take the exam?
Big data has created a lot of buzz throughout the industry and has thus brought a lot of job opportunities in the Big data domain. Professionals with the following profiles can take up this certification if they are looking for a more relevant job or a career shift-
Technical architects
Software Developers
Data Scientists
Data Analytics
Business Intelligence
Testing professionals
Mainframe Professionals
Program/ Project Managers
Freshers looking to start a career in Big Data
What is the exam Pattern?
Criteria

Summary

Exam Code

CCA 131

Exam Duration

2 hrs (120 minutes)

Type of exam

Performance-based

Number of questions

8-12

Passing criteria

70%

Exam Fees

$295

Language

English

Type of Questions

Scenario-based in the form of tasks related to basics of Linux, Hadoop utilities and Cloudera Manager

Grading

Immediately graded with an email sent on the same day including

Score
Detailed report of the grades for each problem that the candidate attempted and failed

Achievements

Once the exam is cleared, the following achievements are sent in an email within few days of taking the exam-

Digital certificate
License Number
Link to CCA logos along with a LinkedIn update

How is the exam done?

A fully-functional cluster is provided and the candidates are asked questions related to its management including installation, configuration and troubleshooting the system
What are the prerequisites for taking the Exam?
There are no specific prerequisites for taking the exam. However, the following will be of great help in successfully clearing the exam-
Cloudera administration certification training
Basic knowledge and background of System Administration
A prior experience in Cloudera or Hadoop administration
Knowledge of basic Linux commands to work with shell
How to register for the exam?
Following are the registration steps-
Create an account on examslocal.com. Also, register on university.cloudera.com using the same email address.
Choose the exam that you wish to take from the drop-down list.
Select a suitable date and time for scheduling the exam. It is allowed to schedule an exam 24 hours in advance.
Choose an appropriate available time slot.
Pass the compatibility test and then complete the registration process by installing a google chrome extension for screen sharing.
Preparation Tips for the exam
The candidate can either take up a certification training or can refer to the certification material available online. The official Cloudera website contains all the information related to the exam. The aspirant has to be well-aware of the exam format and should use a different strategy for preparation, since it is a completely practical and hands-on exam.
The aspirant should train himself/herself on a test cluster, starting from installing, configuring and creating a cluster. The following skills are important for the certification exam and should be prepared thoroughly-
Area 1
Installation- This process deals with installing CDH and Cloudera Manager along with the Hadoop setup.
Configuration- Basic and advanced configuration settings are must for administrating Hadoop cluster.
Area 2
Cluster Management- This includes the everyday operations related to cluster maintenance and modifications.
Security Management- This is an important skill and includes configuring the cluster as per the security policies. Some important operations that the aspirant should be aware of are configuring HDFS, Hue authorization and Sentry.
Area 3
Troubleshooting- This skill is a must for handling any problems related to cluster operations.
Testing- This includes various testing operations including benchmarking the cluster and executing file system commands using HTTPFS.
Conclusion
The CCA-131 exam is an outstanding Cloudera platform used for validating the practical skillset of professionals related to core systems and cluster administration. The extensive reference material available on Cloudera University can be very helpful for an aspirant preparing for the certification exam. Once cleared, the certification will definitely be advantageous during the interviews and job searches.