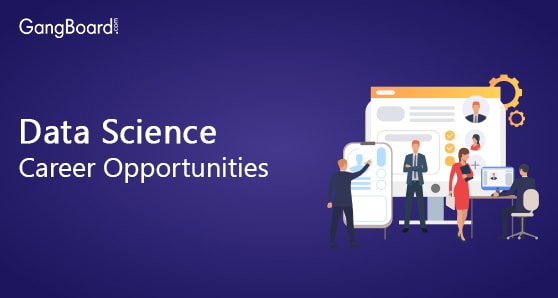 Data Science Career Opportunities
Data Science Career Opportunities
Big data wave is no way near to slowing down. Due to a lack of skilled professionals and a heavy dependence on 'Data Science' in startups and among global companies, the career opportunities only seem to be rising. In this era of automation, businesses rely strongly on data analytics for decision making and to plan out other IT strategies.
Data Scientists not only build data products and solve software related issues but also develop visualizations and are responsible for business analytics. They develop an insight from huge amounts of structured and unstructured data and end up meeting specific goals. Good coding skills, critical thinking with a thorough knowledge of statistics are a few aspects to be dealt with to be a successful Data Scientist.
The Sexiest Job?
Yes, you have read it right. According to Harvard University Review, Data Scientist is the sexiest job of 21st century. As data overrules our lives, Data Scientists will be continued to lead the career options for a long time to come. According to data from 'Indeed', jobs rose by 75 percent from January 2015 to January 2018. Also people are becoming more interested to know learn about data science.  A report shows that Data Scientists are offered best of the packages in America. In fact as per Glasssdoor's 50 best Jobs in America's report, data scientist recorded as the best job across every industry based on salary, openings, job satisfaction etc. In India the trend is almost the same.
Data Science today is used everywhere. Be it big Businesses, E- commerce, Government field, Science, Finance, Healthcare, Social networking, Telecommunications. Among all these, Banking and financial sector is the biggest creator of data science and analytics jobs. No field is untouched. So huge is the requirement and so less is the availability.
Job Prospects in India
If we talk particularly about India, this Country contributes about 10% of the job openings for data scientists, making it the largest data science hub outside the U.S. The number of new openings has increased by almost 75% from April 2017 to April 2018. The above study has been conducted by Analytics India Magazine and Edvancer, one of India's leading data science training institutes.
Some of the leading organizations with the most number of data science job offers are Microsoft, JPMorgan, Accenture, Wipro, Flipkart, Deloitte, Vodafone, and the list goes on. Business Intelligence Manager, Data Administrator, Analytics Manager, Data Scientist, Data Analyst, Analytics Consultant are some of the job designations that these big firms offer. Not to be forgotten, the median salaries offered by advertised data science jobs in India is 10 lakhs/annum making it one of the highest paying jobs.
After going through the available data from various reports we are halfway done with the fact that the career in data science is never going to disappoint us as this field is evolving offering so many amazing opportunities. If you are done with a proper training on data science, you can easily see a super bright future coming on your way. You can work on various projects from different Industries, join some reputed IT multinational firm and play with data. Artificial Intelligence is something which is so in trend these days supported even by Government, with A.I. influence the knowledge of data science will take you to the new heights. And, many such opportunities are knocking your door with just a little knowledge of Data Science.
A field that didn't even exist 20 years back is projected to grow by 30% by 2020 a report by IBM says. Thus leaving the old behind, data sciences are continually emerging as a new innovative market force. With such big growth numbers associated with data science, it can simply be chosen as the shining career option by people who are looking for a great, high paying, skilled way to groom their future.