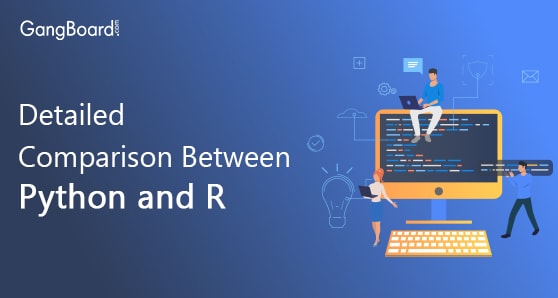 Detailed Comparison Between Python and R
Data analysis is a new rave in IT sector. It has become a crux of decision making in every organization today. Though its significance in decision making can't be doubted but which language works best for it is still debated in various developer's communities. Two major players in this segment are Python and R. Both these languages are imperative for Data analysis and give in-depth information that is required for an accurate decision making. In this article, we will compare both these languages to see if we can draw any conclusion on this topic.
Little History
Python: Created by Guido Van Rossem this language aims at improving code readability thereby enhancing programmers productivity. This language allows programmers to add statistical programs to data analysis to draw better conclusions. This language is flexible and easy to implement and has a massively growing library. For someone who is pursuing Data Science with Python Online Training these libraries can be of great help.
R: This programing language was created by Ross Ihaka and Robert Gentleman. The main aim behind its creation was to give programmers a user-friendly language for data analysis. It gives them good options in statistical analysis and graphical models. Though it was first used for only academic and research programs but soon it was adopted for enterprises and industrial analysis as well.
How it is Beneficial to Programmers
Python: This language offers 'nice' syntax, which makes coding and debugging easier for Python Training programmers. Another major thing in this language is that functionality of any sort is written the same way in Python making it for flexible to use. The good part is this language can be efficiently used by both the programmers and statisticians.
R: With this programing language you can write statistical models in just few lines. It offers impressive visuals which further make data comparisons easier and dynamic.
In Terms of Flexibility
Python: Since it was of created keeping the ease of the programmers in mind you can do anything with language. Python is not restricted to data analysis only, but you can also do websites and write applications using it.
R: If you are working with some complex formulas or want to run some kind of statistical tests this is your go to language. There are some great statistical models available in this language to best understand and analyse the data.
In Terms of Easiness
Python: If you are starting out with Data Science with Python Training you will not take long to become a pro in it. The learning curve of this language is not that hard and is easy to understand.
R: In comparison to Python, mastering R can take time. It involves some complex structures that can be little intimidating at start. However, once you pick up its basics it is smooth to follow and use.
Pay Checks
Python: Python developers are high in demand and are paid well for their skills in data analysis. If you are good with this language, you can easily take home around a salary of around $95,000 to $110,000.
R: The demand for R developers in recent few years has spiked up considerably. An average take home wage for a good R programmer is somewhere around $105,000 to $115,000.