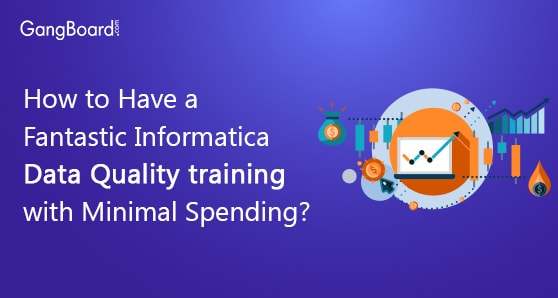 How to Have a Fantastic Informatica Data Quality training with Minimal Spending?
Today, most of the organizations rely heavily on digital data. For gaining success in business it is very important that the information present in the corporate systems is clear and accurate. This is leading the end users of almost every business to play a crucial role in the data quality process.
Organizations should invest in developing effective and crucial training programs. Such programs could be attended by almost everyone including database administrators, IT managers,  data analysts, and marketing managers. In short, anyone who uses and manages information and databases can do this training.
Informatica data quality online training – what you should know?
Informatica is a company that has pioneered data quality and data integration. It offers a full suite of data enrichment and quality analyses services. With its online training programs you will be able to handle and manage corporate and business data in the best possible manner. For more information on the training programs you can check Gangboard.
Basically, there are three training programs – Data Quality Administrator or Specialist, Data quality developer, and developer specialist certification. Given below is a short description on what each of these Informatica data quality Online Training comprises:
Data Quality Administrator: This Informatica training program is for people who are members of the project Implementation team. It will train them to administer and configure the IDQ or Informatica Data Quality, set up prebuilt content, IDQ Domain Security, Upgrade, Reporting, and Monitoring.
Data Quality Developer: It is a program that provides in-depth knowledge of the data quality processes. The trainees will learn everything from consolidation, matching, standardizations, to profiling.
Developer Specialist Certification: This program by Informatica also helps to provide an in-depth knowledge about data quality, profiling, matching, and consolidation.
How to opt for Informatica data quality online training at minimum cost?
Check out the GangBoard to learn about the offers and discounts that are on the online courses by Informatica. Here, there is lots of information on the courses that Informatica offers. You can check all the available options before choosing a program that matches with your specific requirements and budget for training. Through GangBoard you can login to the online classroom as well as enroll for one-to-one training program.
What do the data quality courses offer?
The course will let the trainees to work with the Developer Tool on tasks like profiling data and creating projects. In addition to that Informatica Data Quality Training will help to learn to develop mapplets, do mapping, and reusable components to be made useful for processes like data standardization, address validation, and to identify duplicate records.
Why should you choose Informatica Data Quality Training?
Given below is a list of benefits of data quality training program by Informatica:
With data quality training by Infomatica you will be able to detect and resolve risks. Thus, it will be beneficial to prevent expensive data problems.
With training IT productivity will increase and it will have a positive impact on the self-sufficiency of the business.
Overall cost of the business will decrease
ROI will improve as well as business outcomes will be better
With training by the experts from GangBoard you will be able to add value to your business in terms of quality of data.