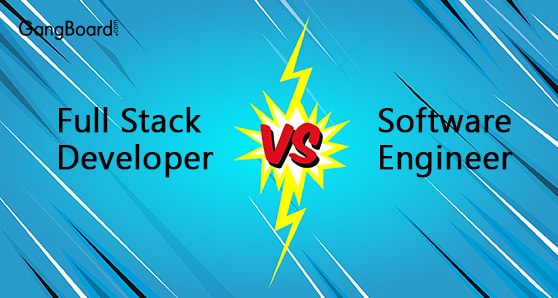 Full Stack Developer vs Software Engineer
Full Stack Developer vs Software Engineer
For a client side web development Full Stack web Developers are much needed. They have vast knowledge about programming language as well as both front end and back end knowledge. Software Engineer is generally a computer programmer. They only develop Software application for computer.
Why Need Full Stack Developer?
For handling database, servers, clients and system engineering, Full Stack Developer are mostly recommended one. On the basis of customers need they work on projects like mobile stack, a native application stack or a web stack. A full stack project needs many technological series to complete. Collected sub-modules are called Stack. Collected sub–modules are together combined for achieving project individually.
By there technical knowledge developer can create fast prototype design on the basis of products horizontal technical requirements. The developers are more focused on products and its techniques.  Developers have there own opinion about the product or design. Developer can reduce time and technical cost by helping teammates , that is why many start up companies hire Full Stack Developer as a technical partner. Full Stack Developers have to know multiple technical and functional knowledge. They have to be always concern about every details when a programme is building and capable of fixing all issues when necessary.

Why Need Software Engineer?
Software Engineers basically have tremendous knowledge and skills in there field. In professional field Software developers are highly demanded. Software developers have evaluate themselves due to necessity. In today's technical world upgrade version of software is coming every day, according to the situation software developers have to face many difficulties. But they have to be a quick on job learner for the solution. The more they spend time in the field the merrier the gain vast knowledge about . Gaining experience benefits both the employee and the company.
Difference Between Full Stack Developer vs Software Engineer
| | |
| --- | --- |
| Full Stack developer | Software Engineer |
| A Full Stack Developer is well versed about all steps of developing an application. They are prosperous with programming languages to develop client side application, both front end and back end knowledge, able to write APIs and backend application to create a powerful website. They are able to handle activities of a project like working with database, operating systems etc. | Software Engineers are creator of a software application to run only in a computer. They basically create codes by using a programming language and test it in a careful and thoroughly way to run it without any error and make get desired results. In an operating system a software developer is responsible for developing a step . |
| Because of there accessibility Full Stock Developers  can access a developed application in any time and resolve problems. Sometimes they help teammates to reduce time consumption and technical cost . | Software Engineers are only capable of access of any of the step created by them in a developed application. |
| They are the creator of fast prototype design on basis of product to give it a recognization in technical world. | In a developed application they create a step of the application .Software Engineers focuses on that particular step to make error free participation when the application is deploying. |
| Full Stack Developers maintain a collaboration between database, servers, clients  and system engineering. Sub- modules are collected and combined to built an individual project. They maintain all the process to make it happen. | For any application specific programming language is must for every step . Software Engineers are expert in programming languages. |
| Full Stack Developers work as head of a team and helps teammates to develop an application successfully. | Software Engineers are part of a team responsible for building every steps of an application. |
| They create applications which has multiple function and accessible by multiple users world wide. | They create software with limited functions and single user can use it at a time after downloaded in a device like computer or mobile phone. |
| In this field a professional is in high demand. They are recruited as Technical support and start up companies often recruit them as entrepreneurs or technical partner. | Software engineers are often recruited as software developers. Today we all use software either in a computer or a phone, for that demands of software engineers are increasing in technical world. Even non it sectors also aware about increasing demands of software engineers, because most of them use technologies to make there daily work simple and less time consumption. |