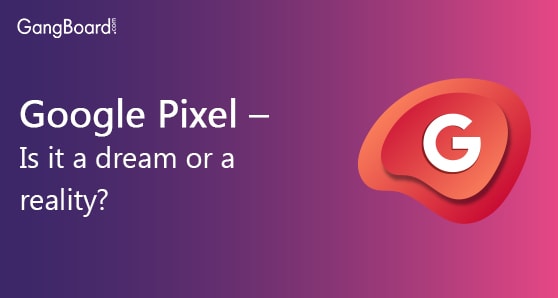 Google Pixel – Is it a dream or a reality?
Google recently announced the launch of its new smartphone, Pixel, which will offer both hardware and software from Google's umbrella of products. It is believed to be one of the most awaited events by Google.
Till date, Google has partnered with multiple mobile handset companies to offer its brilliant operating system, Android. Before that we should know why android is important? However, Google has now decided to step into the smartphone market to prove its mettle and dominate the Android OS.
It looks all new and shiny!
Pixel offers a plethora of attractive features, as the company looks to upgrade drastically from its current range of Nexus series. We can expect vast improvements both in terms of look as well as technology.
It flaunts a super sleek design and curvy edges, making one nostalgic of its competitor, the Apple iPhone. Like the iPhone, it is available in two sizes, the regular one and XL. Google Pixel comes in a variety of colours – black, silver, and electric blue.
Your own virtual assistant!
It claims to be the first phone with a built-in Google Assistant giving its counterpart Siri a run for its money. It is designed to act as the users' personal virtual assistant that helps them organize their schedules, make travel plans, play music, or just find out about the weather. It also doubles up as a navigator.
World Class Camera and Unlimited Storage
Google Pixel is equipped with one of the finest smartphone cameras ever built in the history of smartphones – a 12 MP camera, which is a result of years of intensive research. Google delights Pixel users with infinite storage of photos and videos on the cloud without messing up with the original picture quality.
Always supercharged
Today, even the best of phones in the market cannot offer a good battery life to their customers. Google Pixel offers a technology that enables not only faster charging but also a battery that lasts all day. Only 15 minutes of charging gives seven hours of battery life.
Google offers automatic software updates allowing users to carry on with their regular tasks while downloads run in the background. With the entire update system overhauled, it is much faster and convenient to use.
Will Google be a leader in the Android OS smartphones?
By combining software and hardware, Google has tried to adopt the path of Apple. Earlier, Google was only a provider of the software and used other hardware mobile sets as the primary device for its Android-based operating system. However, by taking this route, it has challenged its hardware partners and turned them into direct competitors. With the amalgamation of hardware and software, Google wants to let the world know what Android is capable of and the technology peak it can reach.
Word of caution
Google will have to be very careful while making its way into the hardware industry. There are alternatives to Android that the hardware companies might consider. For instance, Samsung has come up with its own operating system called Tizen, which might prove to be a serious threat to Google's Android OS.
Google Android is the leader in the smartphone industry. By taking the best Android Training you can familiar with this platform. However, its position might start to topple if it makes the wrong strategic moves. Google, even though at the top, still continues to need its hardware partners, unlike Apple. Even in the international markets, other hardware companies might just find variants and alternatives to Android that might turn out to be cheaper for them.
Google is still a novice when it comes to the hardware industry. Currently, it offers the best operating system, Android; however, its position is in threat and might fall if not handled tactfully. So Android is the evergreen technology and interested people take the training via Android Online Training and classroom training.