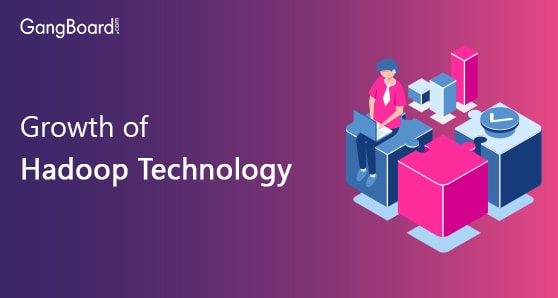 Growth of Hadoop Technology
With its phenomenal growth and steep escalation, Hadoop has been steadily making a name for itself in the IT world. It wouldn't be an exaggeration to say that Hadoop is an open source solution for the Big Data management suites. It has also become one of the most scalable cost effective partners of the maturing technology.
And wise men are already a part of this periphery to quench their thirst of irrefutable passion to rule their work territory. Here are some of good logical and practical reasons for you to learn Hadoop.
Rapid growth
Everyone wants to live on the top of world. But the growth of climbing towards the pinnacle occurs only to the ones, who are ready to keep themselves steady with the pace of the world's development. Such a fast developing platform is Hadoop
Its market has been impressively growing at the speed of a rocket since its launch. Cost effectiveness and speedy resolutions are the predominant reasons behind the notable growth of Hadoop market.
A research report by marketsandmarkets foresees that Hadoop will achieve its takings, close to 14 billion dollars in 2017. This is gradually becoming true as already Hadoop is the technology that is being leveraged comprehensively to strap up Big Data.
Having completed Hadoop training, a professional is entitled to host a job position as a Hadoop architect, Hadoop developer, Data Scientist, Hadoop administrator, and data analyst
Hadoop architect – A Hadoop Architect is a manager, an administrator and also an organiser. With Hadoop knowledge, he takes in charge of planning and executing an organization's big data manoeuvre.
Hadoop Developer – He is an avid programmer. A Hadoop developer is the heart of the big data handling process. He effectively communicates with the different levels and customers of the organization to successfully fulfil the big data operations.
Data Scientists – Data Scientists possess deep – seated knowledge of big business and data analysis. Designing and implementing machine learning algorithms, writing codes, working with data bases are their major work fields. These experts analyze data from more than one source.
So that Hadoop Training market is increases day by day.  Join GangBoard for the best Hadoop Online Training.