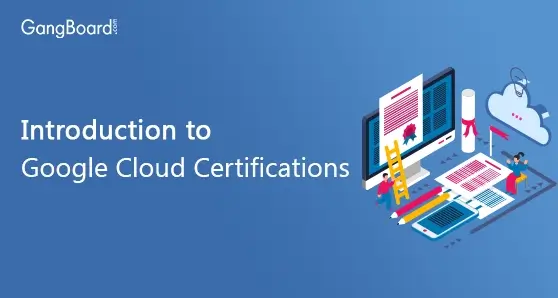 Introduction to Google Cloud Certifications
Google is one of the leading organizations that has reserved its place among the top 50 places to work for multiple years. This is not only because Google offers a comfortable working environment, number of employee perks but the organization also offers opportunities to further expand your career. Google also offers several certifications to validate the knowledge and skills of the IT professional who wants to work with Google cloud platforms and products. Having the Google cloud certification means students possess all the necessary knowledge and skills to utilize the Google technology to make an organization successful.
What is the total number of Google Cloud Certifications?
Google has made a few changes in its certification to make things far easier for IT candidates. Currently, Google is offering five professional certifications along with one associate-level credential and one specially designed to enhance the G suite productivity. The current certification includes:
Google Cloud – Associate Cloud Engineer
Google Cloud – Professional Cloud Architect
Google Cloud – Professional Data Engineer
Google Cloud – Professional Cloud Developer
Google Cloud – Professional Cloud Network Engineer
Google Cloud – Professional Cloud Security Engineer
G Suite certification
Read : How to Prepare for Google Certified Professional Cloud Architect Exam?
What are the main objectives of Google Cloud Certifications?
Pursuing the Google Cloud Certifications at GangBoard indicates that you are learning core concepts and skills that are necessary to design, develop, configure and administer the data and application infrastructure on Google Technology. Candidates who will pursue the Google cloud training and certification course will cover the following objectives:
Learn about key concepts of Google cloud
Deployment on the application on Google cloud
Concepts of Google cloud architectures
Implementation and management of Google cloud
Google cloud security and access configuration
How Google certifications are beneficial for my career?
Google Cloud has made some major changes in its cloud platform to give a close competition to the Amazon web service and Azure. Candidates cannot put a blind eye on the fact that Google Cloud platforms have gained popularity among the community of developers due to its latest features that are beating even Amazon cloud features. The growth of the Google cloud can be seen by the fact that it has covered some big brands like Spotify, Coca-Cola, Snap and Best Buy.
As more and more companies are shifting toward the Google cloud, there is an increased demand for certified professionals who can implement, manage and maintain data on Google cloud. In short, obtaining the Google cloud certifications can make you land on the desired six-figure job roles.
What are the prerequisites of the Google Cloud Certifications?
The prerequisites of the Google cloud depend on the certificate you are willing to pursue. As for the Associate Cloud Engineer, there are no formal prerequisites to be fulfilled. When it comes to the Professional Cloud Architect the candidates must have basic knowledge about the Google cloud platform or cloud computing.
Must Read: AWS VS Google Cloud
Advantage of learning from GangBoard
Certification is necessary to validate your knowledge and skills in an area where you want to build your career. There are numerous institutes that offer training courses for these certification and GangBoard is happened to be one of them. There are various advantages of taking the training and certification courses from GangBoard and some of them are given below:
On-demand courses
Placement guidance
Hands-on experience
Limited training batch
Corporate style training
Adopted fees
Get Google Cloud Associate Cloud Engineer Certification Training
Who should pursue Google Cloud Certifications?
The Google cloud certifications can be pursued by anyone who is willing to learn how to develop, implement, monitor and maintain data and applications on the Google technologies. As the certification is divided into different to make it job-oriented, candidates can pursue them as their desire.
For instance: – Candidates who want to learn core concepts of designing, developing, deploying and maintaining application of Google cloud can pursue Associate cloud engineer certification.
What salary I can expect after obtaining Google Cloud Certifications?
The salary of the Google cloud professionals depends upon their knowledge, skills and level of proficiency. The average salary obtained by the Google cloud associate engineer is $ 1,09,415 including the employee benefits. Whereas a Google Certified Professional cloud architect earns around $2,22,000 per annum. On the other side, Google Certified Professional Data Engineer respectively earn $132900 per annum.
Read: AWS Vs Azure Vs Google Cloud
What will I learn after completing Google cloud Professional Data Engineer training and certification course?
Upon the completion of the professional data engineer certification, students will be able to:
Implement the data structure on Google cloud
Implement the database on cloud
Optimise various business models
Design data policy
Future Trend in Cloud Computing
Is having Google analytics Certification worth it?
Google certification of any level including analytics, affiliate or AdWords worth to have. While considering Google analytics is a free certification that covers both basic and advance modules. Having this certificate will not only expand your area of expertise but also highlight your resume in front of the employers who are looking for a perfect candidate for the job.
How long is my Google Cloud Certification valid?
The Google cloud certifications you will obtain will be valid for 2 years from the date you certified. While acquiring the Google certifications, check if there is any explicitly mentioned as it can affect the validity of the certificate. In order to keep your certification status active, you have to recertify on time to time basis.
Do I need be a google partner to take the certification exam?
No, you don't have to be a Google partner to take this exam. Anyone who is interested can take this exam.
Choose one of these Top 5 Cloud Computing certifications
Can I take this exam with a group?
No, as the rules and regulations of the Google, the cloud certification exam must be taken independently without any external help. However, in case if you caught cheating or teaming up with other candidates during the exam, then you will be banned from taking any Google cloud certification for a whole year. The suspension restriction is also applicable on beta and pilot exams.
Is there any age requirement for the certification?
Yes, every candidate who is taking the Google cloud certification must be older than 13 years of age.
Get Google Cloud Certification Training with Expert