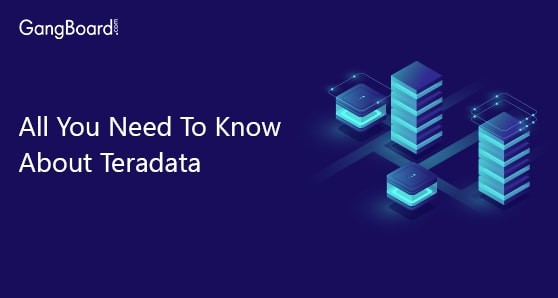 All You Need To Know About Teradata
To manage huge data warehousing operations Teradata Corp. produced a DMS or database management system, which is named Teradata. It is fully relational and scalable. Today, almost all big enterprises are opting for Teradata Online Training for fast and insightful analytics. A few of the benefits of Teradata could be summarized as in-database analytics, sophisticated management of workload within an organization, and high performance for facilitating management of workload.
Business benefits of Teradata
 Architecture flexibility: It is one of the most important benefits of Teradata systems. With it, your mission critical applications can run smoothly. Another benefit includes optimized workloads and choice of platforms to be able to meet performance, price, and scalability goals.
Management of Teradata data warehouse: With it, you will be able to tie all parts of Teradata data warehouse environment and provide end-to-end management. This will provide better insights into the ways your company's events will affect the end users and applications. Thus, you will be able to take steps for maximum customer satisfaction as well as company profits.
Complete solution for a company: The Teradata ecosystem can be kept tied together by company's products and implementation services. With it, a company will be able to boost the analytical capabilities and consolidate their core business objectives. So, you must opt for Teradata online training provided by Gangboard.
How is Teradata different from other analytical systems?
Teradata is based on systematic multiprocessing technology. Unlike other systems, it is a relational based database management system as discussed earlier.
The parallel processing system of Teradata that operates with a very high efficiency is formed by Teradata with new-age multiprocessing technology and communication networking.
The platform acts as a single data source that contains multiple requests simultaneously. It can deal with complex issues in the best possible manner as compared to other systems.

The best thing about Teradata is that when other analytical software fails when scaled in large volumes, Teradata remains fully scalable even when there are a large data and operation execution. It also provides load distribution facility between multiple users and parallel efficiency. It can execute tasks with unmatched efficiency even with a maximum of 265 joins!
How did Teradata evolve?
Since 1976 Teradata has grown gradually and steadily. The idea was actually born out of a research at the California Institute of Technology. In the year 1984 it launched the first ever parallel data warehousing system. It was 1992 when Teradata launched a system over 1 terabyte for Walmart. By the year 1996, it grew to become 11 terabytes and became the world's largest DBMS. Now, it is more than 130 terabytes and there are many big companies that are using the system for managing their huge databases.
If you are looking for a solution to get the best value out of your data, you should definitely contact Gangboard for Teradata Online Training. It is the company that will provide you with a new and strategically patterned way to look at your data warehouse environment. With the acquisition of companies like Aster Data Systems, Hadapt, and Aprimo, it is one of the largest database management tools available for your company. Try it!