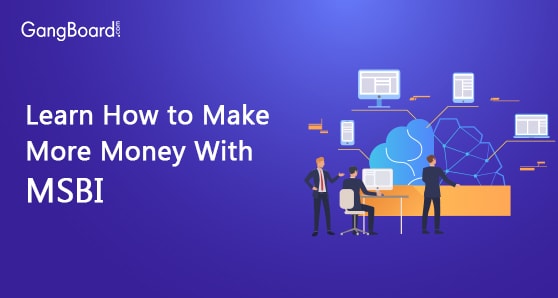 Learn How to Make More Money With MSBI
Microsoft Business Intelligence or popularly known as MSBI is quite popular nowadays. So, let us first understand what is it. Microsoft Business Intelligence is composed of effective tools which help in providing best solutions for all the data mining queries and business intelligence. It is a powerful suite which allows to users to gain access to up to date and accurate information which helps in better decision making in an organization. This tool mainly uses Visual Studio and SQL server and offers tools for various processes which are necessary for Business Intelligence solutions. MSBI is divided into three categories which are as follows:
SSIS – SQL Server Integration Services – which is an Integration tool.
SSAS – SQL Server Analytical Services – which is an Analysis tool.
SSRS – SQL Server Reporting Services – which is for Reporting tool.
Why should one learn Business Intelligence?
Microsoft Business Intelligence brings great job opportunity and the best part is that anyone can anyone start their career with Microsoft Business Intelligence. Anyone can learn Microsoft Business Intelligence easily with GangBoard because MSBI online training by gangboard does not require any pre-requisite except hunger to learn. This is best for software developers, data analyst, ETL, project managers and business intelligence professionals. Hence, if you are thinking of adding a new skill on your resume, then you should opt for this and above all this business intelligence technology comes second just after Oracle BI which itself shows how amazing it can be to learn this skill. You can opt for MSBI online training or even offline one if you have time travel and attend classes. There are companies like Accenture, Bank of America, Deloitte India Ltd, Barclays, Cognizant and the list is very long so you should not worry about the job much and choose to work upon learning this technology.
How much will a person earn?
When it comes to salary, a business intelligence (BI) developer can easily earn an average of Rs.4,58,706 per year in India. But, then as people get the experience, they move to other positions in the same field and this experience brings a lot with it. The salary increases drastically with experience. Some skills which are associated with higher pay are SSIS (SQL Server Integration Services), ETL (Extract, transform, load), Business Objects. Hence you can earn after having this skill on your resume.
Why learn with gangboard?
The biggest advantage is that it is completely online which makes it great for you as it saves your time from traveling and no tight schedules. One can learn any time of the day according to his or her preferences.  We make sure that the technology which is taught to you by experts from the industry which gives you access to best training. This is not all, we have won hearts of more than 10,000 students which makes us the best in what we do. In addition to all this, we know that intelligent people will always have many doubts which is why we came up with 24/7 support, we have a team of dedicated people to help you excel and get the best from us. We believe in quality work which is the secret of our success in the market.