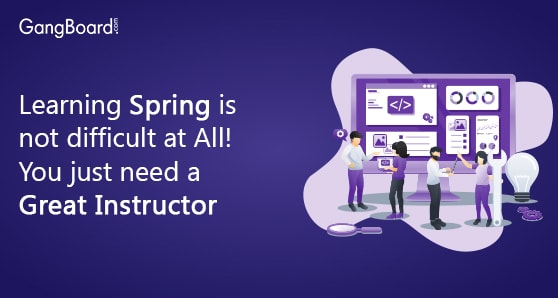 Learning Spring Is Not Difficult at All! You Just Need a Great Instructor
Spring framework is an application framework for Java platform which provides a basic structure to support the development of an application. This is the most popular framework in Java and if you are looking for the most popular server side framework, then you should start learning Spring and if you are looking for someone who can give you Spring Online Training, then GangBoard can help you immensely. One can choose to become java software engineer with spring, java developer(spring), programming led in spring framework or one can also opt for J2EE Mobile app developer using Spring. There are many options with you after completing a training in Spring.
Why should one plan to learn Spring framework?
Wizard- which is a set of screens which a user should go through before he saves the data can be easily built using spring. Spring web flow saves one from storing a lot of temporary data. Spring framework can also be used to handle external system or resources which you have to work with. In addition to it, it is used for testing purposes. In fact, it can also be used for testing. Spring framework can also be used to convert your application into an executable one. It can also be used to integrate social media such as Google Plus, LinkedIn, Facebook, or Twitter etc. with an application.
Gangboard takes an amazing approach towardsSpring Online Training. Coming up with a prototype becomes very easy when you learn Spring Framework using gangboard. Learning Spring framework makes it easy to expose to the RESTful services. When the advantages of learning Spring are discussed, there are many but these advantages can only be understood if you get proper guidance.
How much will be the pay?
When it comes to salary of an individual gets after learning Spring framework, it is quite an attractive number. One gets a starting median salary of Rs.3,59,034. In addition to this, with increasing years of experience and knowledge of Spring framework, one can expect to earn approximately Rs.7,66,601. Spring offers a great career prospect when it is compared to Struts, Tapestry, J2EE, Servlets and others in the list. Hence you can choose to master in this popular framework.
Conclusion
Spring is a framework which is worth learning because this framework has been in industry for more than thirteen years and when you get trained from one of the best training institutes, you can easily expect success. GangBoard provides you flexible timings, so you can learn on the go and whenever you are free. In addition to it, the 24/7 support of our dedicated team makes it quite special for you to get a quality education at your home. This is not all, we bring the technology to you from the industry experts and with this, we have won hearts of more than 10k students. It is not we who speak about the quality training which we provide, but the achievements of the students prove it. Technology is advancing every day and this is the reason because of which we also keep ourselves updated with all the new trends related to the technology which we teach. Hence, we also give you an edge over others by giving you all the latest updates in the industry too.