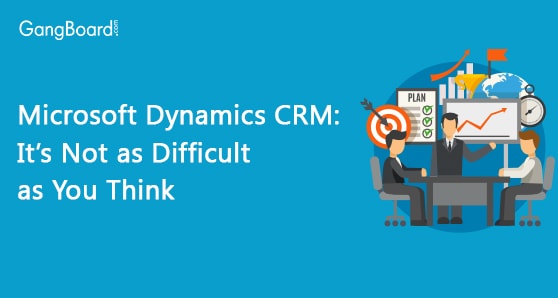 Microsoft Dynamics CRM: It's Not as Difficult as You Think
Customers are the biggest force for any business organization. They are the reason for both success and failure of business. Thus, it is highly essential that the existing customers are kept happy, and the new or potential ones are helped adequately. But there is a lack of knowledge among the current crop regarding customer relationship management. Organizations are in dire need for experts or certified candidates who are trained in CRM like Microsoft Dynamics. The CRM market is huge, and within that territory, Microsoft's software is giving a stiff competition to CRM software leader Salesforce. Although Microsoft Dynamic CRM Online Training market is rising upwards, there remains a hesitancy regarding its choice.
It's not as difficult as you may think
Microsoft's sole focus is on the relationship between the customers and the organization. Proficiency with this software makes an individual skilled in customer relationship. There are training courses available both online and offline which are beginner-centric, that helps them to understand the building blocks of the software quickly. Microsoft Dynamic is one of the leading CRM software which is competing with the other available software in the market namely Salesforce, Oracle, SAP, etc. It's easy to learn, and implementation nature separates it from its contemporaries.
Gangboard course on Microsoft Dynamic CRM is one such example which gives an acute idea regarding this application. Due to its expanding usability around the globe, its marketing value is rising high. No matter how feature-packed or useful a CRM application may be, its adoption is worth absolutely nothing unless a company has knowledgeable employees at their disposal. Tech savvy individuals are neglecting this sector, and it's plethora of opportunities. A preset notion that Microsoft Dynamic CRM is hard to learn is hampering the potential for them in this field.
Why Microsoft Dynamic CRM?
The following reasons highlight why you should start learning Microsoft Dynamic CRM:-
An increasing number of companies worldwide are now using Microsoft Dynamic as their preferred customer relationship management solution.
Microsoft Dynamic is the market leader for CRM software segment with a huge user base.
It is backed by one of the world's leading multinational technological company.
Upon completion of your training, you'll be able to do the following:-
Engage and interact with the customers to get their needs and requirements
Configuring the client relationship management based on their specific requirements
Convert the problems and requirements of the customers into fruitful solutions
Integrate the usage of other applications with Microsoft Dynamic CRM
Upon gaining the above knowledge, the following career opportunity will be up for grabs:-
CRM Developer
CRM Business Analyst
CRM Developer
Customer Service Representative
Marketing and Sales Consultant
Conclusion
Microsoft Dynamic CRM Online Training courses like in Gangboard trains you on how to install, deploy, customize, and configure the customer relationship management system to meet the growing needs of the business. Unlike other CRM based applications, MS Dynamic is one of the most efficient yet easy to understand software. Whether you have a certain idea about this technology or whether you are a newbie, the training courses are bound to improve your CRM skills.