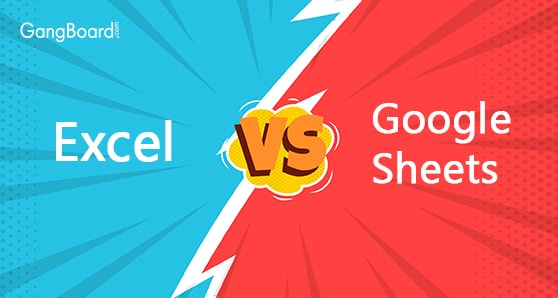 Excel vs Google Sheets
Excel Vs Google Sheets
Record Keeping, organizing personal works or even simple sort, analyse or filter data are majorly done using spreadsheets or Microsoft Excel. Google sheets came into existence creating a new online platform to share and create spreadsheets in a less complex way. Both are efficiently used and well -utilized by people all over the world, yet the dilemma exists on which is more beneficial or best? The peculiarities, real-time collaborations or even integration features are discrete, but each has a specific set of features that keep them bizarre and on demand.
Table of Contents
If you look for core features both Excel and Spreadsheets have much in common, like:
Autofill
Default Templates
Auto Save
Collaborations
Compatibility with various OS.
Even though there are many features that make the paid version of Excel much in demand, there are other minute differences that are the key differentiators.

Key Differences they contain are:
| | |
| --- | --- |
| Excel | Google Sheets |
| Pricey | Free |
| Unfavourable for Collaborations | Favourable for collaborations |
| Perfect for Statistical Analysis as well as data Visualization | Not perfect enough in creating charts as well as for statistical analysis. |
| Need to save manually each time | Auto save contents |
| No revision history maintained | Sheets maintain revision history |
| Can manage a huge amount of data | Sheets can manage but when it comes to data manipulation and analysis it is tough. |
| When dealing with multiple sheets, data on various details, then it is easier with Excel. | Managing data and connectivity among them using sheets is cumbersome. |
| Better Data Visualization | Data Visualization is limited |
| Offline Availability | Real time Editing not available |
| Only available online, else with certain offline extension. | Real-time editing and addition possible |
Free Vs Price
Definitely "FREE" takes it all, even if numerous features are missing.
Google Sheets are easy to obtain and work on. All you need is a Gmail account, and then you have it all free to use. It all comes with a Gmail subscription and it is a faster option too.
Whereas Microsoft Excel needs a paid version to be used. And the price is too high but worth investing.
Online Vs Offline
Excel is a native application that is being installed in the computer for umpteen number of accesses. Being available all the time, access is unlimited. Whereas in the case of Google Sheets, the sheets are accessible mostly online through internet. Google Spreadsheets lets access to a current sheet through specific offline extensions though.
With Excel saved on the system itself, one can observe the dormancy issues are probably lesser when the application is running on the computer directly compared to Sheets which are non-native apps and subjected to the internet speed.
Sync and Online Editing
Being available online, Google spreadsheet also has an imperative quality, that is sync and simultaneous editing.
A single Google Spreadsheet can be edited simultaneously with prospective users on sharing basis, as it mostly clouds based. All the files can be accessed and viewed and edited from the Google Drive, making it quickly available to anyone, you provide access to. A user can also create new files in his/her drive and provide extensive options for other users to access the same. The changes made by any number of users get reflected immediately.
In the case of Office Excel, the files can be accessible by sharing the file, but no spontaneous addition of data by other users is facilitated. But now the gap created, is being nullified using OneDrive, which is again making excel more cloud-based, providing incessant accessibility.
Functions and Formulas
Excel is precisely used to do various mathematical functions, calculation etc. Excel is far ahead in terms of functions and formulas, but Google Sheets are not a way behind. Google sheets are also adding up a few formulas to stand against Microsoft excel. Even then the functionalities are much on the higher side in the case of Microsoft Excel.
Crunch in a vast amount of data to make things look incredible, Excel is the best tool. But again, for modest use, users prefer to work conveniently, on google sheets from remote locations.
Collaborative Features
Real-time usage, with powerful collaboration and instantaneous access and editing, makes Google Sheets much powerful in terms of collaboration. For teams who want real-time collaboration can prefer Sheets compared to Excel. In the case of Excel, one need to update the name on every revision and mail it to the team, to let them know that the new one is a revised and updated one.  But with One Drive again, the real-time options with Excel are expanding and enabling users to edit sheets on real-time. The sharing options with Google Sheets work incredibly well and are extremely convenient.
This works fantastically when multiple users are co-authoring the document.
Handling the larger amount of Data
Again, if you have a huge amount of data to be analysed, then Excel is the only choice. Google Sheets has limited capability to handle a large amount of data for data analysis.  When you have multiples sheets, intricate calculations, graphs and transactions records, then Sheets might look a perfect purchase within the limit, but not truly applicable in such complex situations.
Excel has the calibre to handle data in a voluminous range and can quickly derive conclusions compared to the Google Sheets, which takes up a great deal of time to correlate. The vast data you use, the more you understand the virtue of using Excel.
Customization is grim
Excel has so many inbuilt features that are immense which will help the users customize the data accordingly. Umpteen number of shortcuts are available with Excel that let the users work on the sheets easily and quickly. Multiple quick toolbars are available in Excel to make work easier. Google Sheets, probably has nothing much to do in terms of Customization and no special feature o quick toolbar to support. Again, Certain Features keep the differences at par creating adrift in our thoughts on deciding which is a better option.
Macros
Google Sheets, is recently putting up its affinity for macros, whereas Excel has it inbuilt in it forever. Macros work well when your iterative functions to perform on a similar set of data. Like in the case of budget preparations etc. the budgeting task is mostly monotonous, only the data differs. With Macros, it is easy to record these activities and repeat it n number of times. In 2018, Google Sheets also launched Macros and are advancing quite well with it.
Charts and Pivot Table
With innumerable data to be analysis, Pivot Tables and Charts are ideal to use, a picture speaks more than words. Excel primes these innate features. In google sheets, one can see 3Dpie charts, columns and other charts etc, but not pivot Tables.
Conclusion
If you have vast data to be analysed and processed with the enormous depiction of it, then go for excel, which would be an ideal purchase. Google sheet is also commendably progressing in terms of functionalities and capabilities, which will soon let the public decide what is best for them.