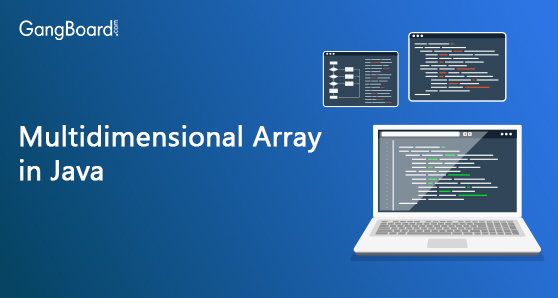 Multidimensional Array in Java
Multidimensional Array in Java
Array is a type of data types.
We are going for array to store multiple values to a single variable.
Where as in other data types like int,float,char etc. we can store only one value.
All the value in the array should be as same type. For example, if we diclare an array as int datatype we can store only integer values into it.
When array has arrays of values then it is called as multidimensional array.
Example:

int mulDim[][]= new int[4][5];
Example Program:

public class MultiDim {
public static void main(String[] args) {
int[][] multidimArray = { {1,2},{2,3}, {3,4} };
for(int i = 0 ; i < 3 ; i++){
for(int j = 0 ; j < 2; j++){
System.out.print(multidimArray[i][j] + " ");
}
}
}
}
Output:

1          2

2          3

3          4