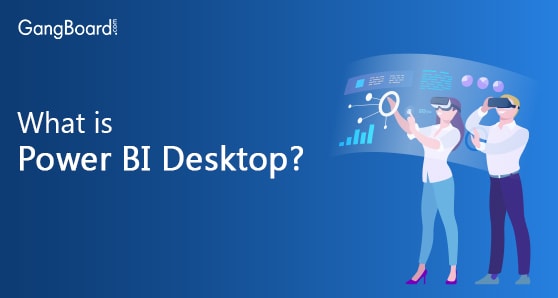 Power BI Desktop
What is Power BI Desktop?
Power BI Desktop is an essential component of Microsoft's Power Business Intelligence tool; it allows you to create queries, models, and reports in a very intuitive visual format. Hardly any business professionals have not heard off this beautiful cloud-based analytics platform.
However, what is Power BI Desktop? This is an application that is provided free by Microsoft to be installed on your computer; it provides you with the capability to access, transform, and visualize data. With the help of this platform, you can organize data from numerous sources to build visuals that you can share with the different departments across your organization. The primary purpose of Power BI Desktop is to build reports and share them with other people for efficient decision-making in an organization.
Uses of Power BI Desktop
People who are data analysts or business intelligence professionals most often use power BI. However, people who do not consider themselves as analysts or BI professionals can also use Power BI Desktop to generate intuitive visualizations that can be presented on a report. Here are the uses of Power BI Desktop:
Import Data From Various Sources
The first step towards using Power BI Desktop is connecting to data. The software allows you to connect to a wide range of data from Google Analytics, SharePoint Online List, Kusto, Salesforce Reports, Adobe Analytics to numerous more. In order to connect to data, follow the below steps:
Home > Get Data > More > Select Data Source > Click Connect
After you have selected the data source, the platform will prompt you for additional information such as login credentials to access and import the data from the source.
Transform, Clean, and Create Model of Data
Using the query editor, you can clean and transform data such as combining data from various sources, changing the format of data, or removing columns. This is similar to sculpting, where you can remove some section of clay (in this case data) and add more clay (data) until the data takes the form as desired. The Query Editor records every step taken in the process of modifying data such as the transformation of data, column deletion, renaming table, etc and each time the data source is connected to Query the same steps are carried out to transform the data.
Creative Visuals
After you have created a model of the data, you can use the report canvas to create appealing visuals. A visual is the graphical representation of data in the form of pie charts, tree graph, bar diagram, etc. Using the Visualization pane, you can choose from a wide range of graphical options to visualize the data.
Create Report
A report is the collection of visuals in Power BI Desktop file that represents the various aspects of data created in the model. A report can comprise a single page or multiple pages.
Share Reports with Others
Power BI Desktop allows you to create a report and share it with others within the organization or with anyone with Power BI license. If you have to publish a report, click on the Publish button from the Home ribbon.
What is the Difference between Power BI Desktop and Power BI?
| | |
| --- | --- |
| Power BI Desktop | Power BI |
| Power BI Desktop is a Windows operating system based application that runs on your local computer. The application helps you connect with different sources of data on your computer. | Power BI is a cloud-based solution that can be accessed using any modern browser. Both the platforms Power BI Desktop and Power BI offer the same functions. |
Frequently Asked Questions
Is Power BI Free?
Power BI is available free; however, there is a limitation on the data capacity, which is 1 GB, whereas, Pro – the paid version – allows 10 GB data per user. The free version is a stand-alone service and does not require the subscription of Office 365.
How do I Download Power BI Desktop?
Either you can download Power BI Desktop by visiting the official website and clicking on the download button or the download button in the online Office 365 located under the down-arrow tab.
How much is Power BI Desktop?
There are three pricing plans for Power BI:
Power BI Desktop: This is a completely free local computer application available to single users.
Power BI Pro: This plan is priced at $9.99 per user for one month. Features included in this version are dashboards with a real-time view, data collaboration, and report publishing. A free trial is provided which lasts a duration of 60 days.
Power BI Premium: The charges for this version are based on per node per month. This depends on the number of Pro users.