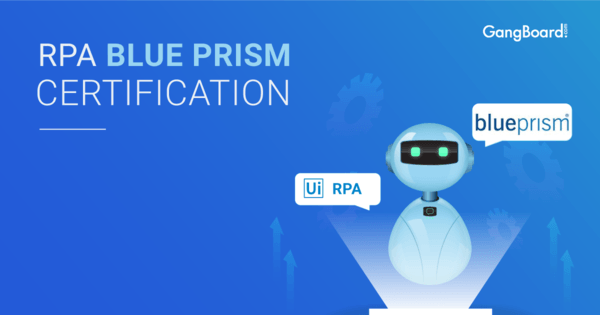 RPA Blue Prism Certification
RPA Blue Prism Certification
RPA Blue Prism Certification, something that is in trend these days all because of some pretty good reasons. Blue Prism is an RPA tool which comes in very handy in the task of Automation. Blue Prism allows the user to create bots that can do stuff like Drag and drop. But in order to earn something out of it, one should first get the RPA Blue Prism certificate. RPA is a new field and therefore, there are too many job opportunities in the market. Even freshers with Blue Prism certification can get a decent package and earn a lot of bucks. But the real question is 'what is an RPA Blue Prism Certification' which is asked by many prospective pursuers. If you too are in a similar dilemma then you have come to the right place. In order to get a better understanding to let us first discuss some basics about RPA and Blue Prism.
What is RPA?
RPA or Robotics Process Automation is a field of IT that helps the programmer to create bots. These bots can be used to carry out some simple tasks such as drag & drop and Macro Recording etc. RPA is currently the latest and most-popular field in information technology. Not just this but it has opened a plethora of job opportunities. These job opportunities are for those who are trained experts and have a properly recognized certification of it.
What is Blue Prism? | Features, Components, Benefits, PayScale
What is Blue Prism?
Blue Prism is one of the most popular RPA tools in the market as for now. It is cheap and a lot of companies prefer individuals that are trained for Blue Prism. But in order to use Blue Prism in your profession RPA career, proper training and certification are required.
How to get Blue Prism certification?
As mentioned Earlier, Blue Prism is something that is in demand. Thus, there are numerous institutes where you can get training and proper certification for these. For someone how is willing to get Blue Prism certification, getting enrolled in a training course is the first step. There are several exams that are held throughout the year. In order to become full-fledged professional one has to clear each one of them.
There are five certification exams for RPA Blue Prism. Each exam requires certain knowledge and skill-set in order to clear it. These 5 certification exams with their exam codes are:
AD01 Blue Prism Developer
APD01 Blue Prism Professional Developer
ARA01 Blue Prism ROM Architect
ASD01 Designing Blue Prism Process Solutions
ATA01 Designing a Blue Prism Environment
AIE01 Installing and configuring a Blue Prism Environment
All of these are in chronological order. It means that in order to sit on anyone exam you must first clear its preceding one. There are certain conditions for attempting these exams such as; there should be a 6-months gap between the two exams. For those who have failed in any of the exams, they can retake it only after 1 month period.
Blue Prism has recently launched a New Ecosystem certification program. Training in these programs and gaining a certification will make you eligible to work for several big companies. Giant Companies like EY, ISG, Accenture, IBM, NEOOPS and Symphony are offering job opportunities to Blue Prism experts.
Benefits of RPA Blue Prism Certifications
Pursuing something without any goal is not the best way to do things. Knowing what is in for you is really important to get motivation. You will find lots of good things about the Blue Prism Certification on the internet. But, knowing benefits of being certified Blue Prism professional firsthand is a totally different thing. Here are some of the benefits of pursuing RPA Blue Prism Certification exams:
Better Job opportunities: as told earlier, this certification is something that is the need of the hour. Companies have tons of job openings for experts as there is a deficiency of talented professionals
Increased pay: As reports say, an individual who is Blue Prism Certified Robotics Process automation experts can earn $30/ year. This is just an average amount, so there are fair chances for you to earn past this.
Faster growth: being blue prism certified would mean one thing that your growth in the industry will be swift. Promotions and better pay scale will be within your reach.