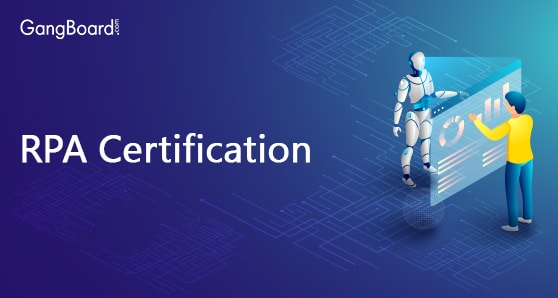 RPA Certification
RPA Certification
Popularly known as Robotic Process Automation, RPA can be defined as the technique that helps combine both Artificial Intelligence (AI) and Machine Learning (MI), which in turn, help to carry out complex tasks in an efficient manner. There is no arguing with the fact many multinationals these days are using the software, especially when it comes to offering customer service. Gone are the days when automated services weren't used with respect to customers but it can be said that nowadays many users are finding out an enhanced option.
For those who don't know, Robotic Process Automation helps in development process is generally based on full graphical configuration process that allows you to execute the process of development. Once the phase of development is successfully executed, it will be shown in a flowchart form. 
What are the Benefits of Doing RPA Certification?
When you get robotics automation certification, you'll likely to grasp profound knowledge about RPA and its associated tools. Following are the benefits of opting robotics process automation training:
It also imparts knowledge regarding the automation debugging and automation workflow.
It will help you a lot in improving knowledge about all the associated concepts of RPA.
It enhances your knowledge of understanding the primary tools of RPA.
After doing RPA certification, you would be able to face real-world challenges.
You will get to know regarding the automation of enterprise workflow.
Moreover, it makes you well-versed with the skills related to working on AI (Artificial Intelligence).
It also helps you in driving tactical and strategic knowledge in handling robotics automation challenges.
Why are Companies Looking Forward to Opting Certified RPA Experts?
Data management is something that matters a lot to every organization and plays a major role in Robotic Process Automation. As a matter of fact, even the slightest of mistake can lead to many problems. That's the reason, a lot of companies therefore organizations are always run after professionals RPA experts in order to carry out tasks related to data management.
Following are the reasons that many multinationals prefer RPA experts.
RPA experts can wisely manage data management tasks without getting perplexed in complex procedures.
RPA experts usually have knowledge of a techniques related to data handling that most organizations usually work on.
While working on real-time RPA projects, RPA experts can always implement the best automation solutions in the best way.
Through automation approach, they can also help in handling a huge amount of data.
Who Should Choose RPA Certification?
Always keep this in mind that being enrolled in robotics process automation training does not require a specialized degree. In addition, it doesn't require any additional skill. Having an interest in robotics alone and the strong desire to become the skilled RPS professional alone can get the job done.

Here is a list of people who can get RPA Certification and become an industry professional.
Job seekers
IT professionals
Industry experts
UG and PG holders
What types of jobs are ideal for RPA with UiPath Certified Professionals?
Robotic process automation certified professionals play an important role in comprehending the existing business process of an organization. Here is the list of possible job prospects that are ideal after doing RPA certification include:
RPA developer
RPA consultant
RPA architect
Process designer
UiPath developer

What is the Average Cost of RPA Certification?
The average cost of RPA Certification usually varies depending on the type of institute you choose. However, on average, it may cost you between10k-30k.

Related Blogs