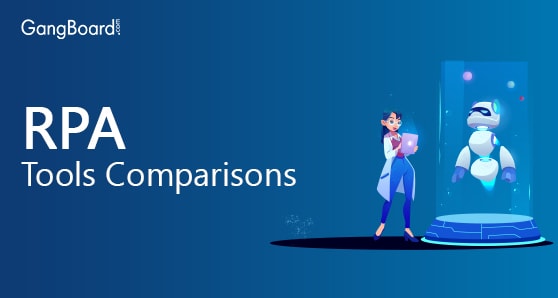 RPA Tools Comparisons
Don't Fret about which RPA tools are the best
The latest sensation in the world of Artificial Intelligence is RPA tools: Robotic Process Automation and the work it does truly justifies the name; it is a software tool designed to perform actions in a computerized manner without any interference from the human entity. The core purpose of this software tool is to interact with other systems and undertake decisions based on the inputs that is received from the other systems. Thus, functioning like a decision maker and determiner just like the human mental faculty. In simple words, let robots perform the tasks on behalf of humans.
A constant fear of the world taken over by robots is the prime essence of many memorable movie stories though it remains to be seen if these artificially smart beings would really pose a threat to our existence. There are robotic software and machines that actually help make our lives much more comfortable.
RPA tools are one such fruit of the advancement in this field. Several industries are benefiting with this amazing technology and several others are looking forward to a way of implementing it in the future. It is one of the most innovative contrivances in recent times.
What is RPA Tools ?
RPA is the abbreviated form of Robotic Process Automation, the full form aptly addressing what these tools are. RPA tools were developed with the basic intent of reducing the bulk of repetitive monotonous tasks that would just be time-consuming for a potential employee. These are office related tasks that are supposed to be done in proper order with zero error.
Almost all of these process is just manipulation of data over several platforms hence no physical entity is needed. Basic office tasks such as filling forms, spreadsheet manipulation, checking and verifying content and sending messages are examples of where RPA tools make their presence felt.
Types of RPA Tools
RPA tools can be categorized on the basis of its functionalities into three different domains – Operation, Cognitive Abilities, and Programming Options.
There are 3 types of RPA tools that render different requirements or needs, these are
Robotic Desktop Automation (Attended Automation)
Unattended automation
Hybrid Automation.
Attended Automation
Attended Automation are perfect for those industries that require employees to face customers such as Customer Care representatives. The representative will understand the needs of the customer and will have to do a set of operations to complete the transaction. With Attended automation, the intermediate steps can be neglected.
Unattended Automation
Unattended Automation tools generally automate background processes.
Hybrid automation
Hybrid automation tools are formed by combining both Attended and Unattended automation tools.
Cognitive automation (also known as Intelligent automation) is a relatively new form of the RPA tool that looks to bring in the cognitive capabilities of Artificial Intelligence. This helps in rendering services when the data input consists of unstructured text reports.
There are 3 types of RPA tools based on their cognitive abilities. There are tools with no cognitive abilities, which have built-in cognitive automation capabilities and marketplace supported tools.
The programming involving RPA tools are much simpler when compared to other kinds of programming. There are ways to program RPA tools without coding. The 5 basic ways to program RPA are Coding, Low coding, No coding, Recording and Self-learning bots. RPA tools programmed using coding certainly produces the most powerful interfaces, but no coding or low coding solutions are more suited for personnel without much coding experience.
Top RPA Tools Currently in Business
There are several factors that one has to keep in mind while selecting the most appropriate form of RPA tool. The right tool will depend upon the process that has to be automated, current software with the organization and price sensitivity. Take into account, Security provided transparency and ease of usage, support and total cost of ownership that includes all kinds of cost. Given below are the list of top RPA tools that are currently available on the market, make sure you research them and find the one that suits your organization the most.
It is good to remember that the usage and need for a good software tools depends on the personalized requirements of the candidate and for that let us look at some of the most popular RPA tools of today
Another Monday
Argo Labs
Automation Anywhere
Blue Prism
CloudStorm
Contextor
Datamatics RPA
Exilant Fusion
GIBots
Help Systems Automate
Ikarus
Jidoka
Jacada
Kyron Systems Leo
Olive AI
Rimilia
UiPath
Verint
WorkFusion
Let us compare and help you make the right comparison
Here by the name Robots don't imagine a human figured computerized form with hands and legs, it is in-fact a software that can be easily installed in your system.
Now, that we have formed a basic understanding of what RPA tools are? Let us look at what are the various types of RPA tools available in the market.
These RPA tools have different specializations based on the performance that they are expected to give and for this they can be segregated into different types.
Some of the basic types of RPA tools are –
RPA tools which have simple hacks and Excel automation.
Programmable solution bots, they require inputs from other systems
Self-learning tools, these tools have observational abilities and can understand the process and later can execute them on their own.
Tools with cognitive abilities and capability of undertaking complex decisions
Though there are several vendors that provide these tools, most of the market share is held by three leading firms – Automation Anywhere, Blue Prism and UiPath. We shall compare these three on the basis of several factors so that it helps you in choosing the best one for your organization.
From the above list, for the benefit of the user, let us compare the three leading RPS tools and their different aspects and these tools are – Automation Anywhere, UiPath and Blue Prism.
| | | | | |
| --- | --- | --- | --- | --- |
| S.No | Parameters | Automation Anywhere | Blue Prism | UiPath |
| 1. | Accuracy | Rational | Set for BPO optimization | Set for Web Automation |
| 2. | Architecture | Client Server | Client Server | Orchestrator |
| 3. | Cognitive Capability | Very High | High | High |
| 4. | Learning | Basic knowledge of programming required | Ability to develop and control | Visual Designer |
| 5. | Macro-Recorder | Present | Absent | Present |
| 6. | Price | High | Medium | High |
| 7. | Trial Version availability | Available | No | Free edition available |
| 8. | Scalability | Limited | High-speed execution | Medium speed execution |
| 9. | Re-Usability | Yes | Yes | Yes |
| 10. | Robots | Front & Back office | Front & Back office | Only Back office |
| 11. | Recorders | Yes | No | Yes |
| 12. | Access | App-based | App-based | Mobile Browsing |
| 13. | Process Designer | Script based | Visual Process-based | Visual Process-based |
| 14. | Base Technology | Microsoft | C# | Microsoft |
| 15. | Reliability | High | Very high | Moderate |
The choice of tool from the above mentioned tools will entirely depend on the user and the need for the RPA tools. But the importance of the RPA tool cannot be sidelined in any case as they have created a separate niche for themselves in the market.
It is the smart age of technological advancement and thus we should be smart enough to choose the best technology and make good use of it for both professional and personal aspects. A right decision now set you up on a right path for tomorrow.
Even though UiPath has found its place in the top three RPA tools, the competition mostly lies between Automation Anywhere and Blue Prism. You have to keep in mind that all of these products were designed to meet almost the same requirements. When we look at the table, we see a lot of factors that differentiate these products. Having said that let us look into some of the key difference factors between Automation Anywhere, Blue Prism, and UiPath.
When we think about learning the RPA tool, it is evident from the table that Automation Anywhere and UiPath are both rather simple to learn and easy to comprehend than the Blue Prism RPA tool. This is because the Blue Prism requires you to have a better knowledge and understanding of any programming language. Hence it will only suit those developers who are thorough with programming languages.
All of the three above mentioned tools have reusability abilities. Automation Anywhere falls short on adapting cognitive abilities as they majorly rely upon a much simpler approach to problems.
Macro recorders are features that you can choose to use or not that will help you boost speeds during process mapping. Blue Prism lacks this feature and the developers justify this by stating it as a security issue.
A client-server architecture is way better than UiPath's Orchestrator architecture. It brings more security and stability into the framework at the cost of decreased speed, which is minimal. Automation Anywhere and Blue Prism are better in this sense. It is important to notice that Blue Prism and Automation Anywhere have an application based access while UiPath is more open for mobile browsing.
Coming to the Pricing factor, it is evident that Blue Prism is the most economical. But that comes with a cost of investment in training and the tool from external businesses. UiPath requires a high initial investment while Automation Anywhere has a high running cost.
The final factor that you might want to consider when selecting an RPA tool, is its certification and education. In this sense, UiPath is the best as there are several free online certification courses available. The Automation Anywhere has recently launched a series of certificate courses that you may want to look into. Blue Prism has three types of certifications – delivery provider, capability provider, and service provider.
To select the correct RPA tool, you will have to research on the project you want to work on and its requirements and then reach on a concluding product that meets all of your key points. Also, an RPA solutions Architect can aid you in understanding these factors better and choosing the right tool for your industry.
Need for RPA Tools
An average human being can only do a set of monotonous jobs with precision for a small period of time, push him beyond the limit and the rate of error skyrockets. This is where robots come into the scene. RPA tools aid in clearing such tasks with clarity and accuracy. It nullifies human error while performing a mundane task and provide results with better efficiency. This leaves the skills of the particular employee to be utilized in a much better way while increasing productivity.
The RPA tools possess a much simpler process than Artificial Intelligent systems or Enterprise software hence making it a lot cheaper and accessible. This is a lucrative factor for several organizations particularly having a legacy system. There is usually a hefty initial investment but then the production increase should cover you and provide you with a better return on investment. Another major advantage is the reduction of the cost of an organization catering to employees with coding abilities.
Better security with the implementation of remote servers, lesser resistance from employees and increased compliance are other benefits that come with RPA tools. All of these factors will positively effect in providing your customers with better services and help you to put high-value resources on the front line.
How Does It Work?
RPA tools are essentially robots and robots replicate human effort with better precision and output. They work like white collar employees while manipulating and processing data over several platforms via integration techniques and screen scrapping methods.
RPA tools can be taught a process with the assistance of programmers and the targeted employees. Bots are a fundamental identity when it comes to RPA tools. Integrations and screen scraping are important to work with your organization applications but a lot of screen scraping can lead to error. Hence, it is more reliable to have a dedicated application based on integration along with bots working on screen scraping.
Along with that, you will have to look for a good managerial console for your bots. This allows you to analyze its activities and control its start and end. With RPA you can be certain that your business process will be carried out swiftly and efficiently.
Industries Implementing RPAs
The oldest and most affected industry by the use of RPA tools is the Financial Industry. Most of the jobs are now automated. Now, this happens as regular data entry and processing is an integral process of this industry and takes up the bulk of physical and repetitive work. Also, these organizations undergo constant changes in regulations. Bots can be taught to act on this quickly and deliver optimal results. The Insurance industry also has similar applications.
One other big industry that is looking forward to implementing RPA tools is the Telecommunication Industry. It can be used as a middle-ware automating customer feedbacks and updating customer details.
Nowadays, even healthcare organizations are relying on RPA tools to provide patients with better care. The reduction of repetitive and time-consuming processes leaves time for the employees to offer more time to patients. Better patient data management and customer services are few of the added benefits that come along with RPA tools.
Conclusion
RPA tools with better cognitive abilities and Artificial learning abilities are being developed. And these are sure to find its way into several other industries. In a way, they are the future. As for now, these tools will continue aiding industries to generate better profit and services. Artificial bots in the future may or may not take over the world in the future, but its certain that RPA tools and its AI bots are here to help you create a better future.