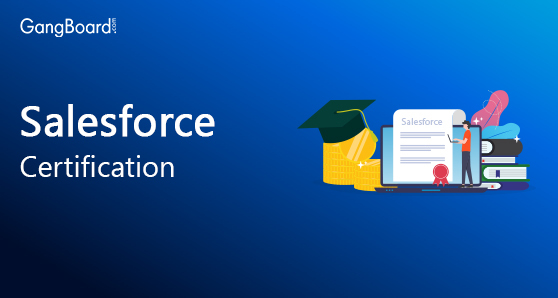 Salesforce Certification
Salesforce Certification
If you are a software administrator, application developer, sales analysts, sales executive, sales manager, a Salesforce course is ideal for you and will help you to climb the ladder in your company or find a better job. Since Salesforce CRM tool is used nowadays by many startups and medium- and large-sized companies as well as MNCs, your chances of getting a new job is also high.
Many sales managers, sales personnel, software engineers, job seekers and business administration graduates are nowadays very curious about Salesforce certification. Before explaining it, I'll tell you what is Salesforce.
CRM, or Customer Relationship Management, allows you to manage customer relationships and keep them satisfied. Although many people consider it as a sales software designed to help develop their customer base, it can do much more.
When you consider all the different ways in which a CRM can be implemented in a company and the fact that a "client" could be an employee or a partner, the situation becomes a little more complex.
What is Salesforce?
Salesforce is now the most popular platform for customer relationship management (CRM) all over the world. To make use of Salesforce, no IT experts are required to configure or manage their cloud-based applications for sales, support, marketing and many other activities: simply log in and start connecting with customers in a completely new way.

Salesforce is recommended to solve the following problems
"Inefficient sales activities"
"I cannot share customer information"
"I cannot manage where the necessary information is,"
There may be many companies that are having trouble with information management of a company.
Here I introduce the features, products, and benefits of Salesforce that support small and medium businesses and corporate operations.
Salesforce is the industry's largest share service that boasts the world's No. 1 share in the cloud computing market, sales, support and marketing solutions. Salesforce provides cloud-type business applications.
Salesforce can perform customer management, sales management, etc. on the cloud. Because it is a cloud type, there is no need for work such as troublesome server construction. As long as you have an Internet environment, you can use it anytime and anywhere in the same way as regular websites.
Software as a Service (SaaS) type application provides software as a service on the Web. In the past, the mainstream way was to install software as a packaged product on a PC, but the SaaS type can be used by selecting only the functions that user's need. Companies can minimize costs and risks by paying for the features and usage they choose. You can eliminate unnecessary functions, prevent operability and performance degradation, and flexibly expand functions in response to business changes.
To further enhance the convenience of SaaS, there is "Force.com" that has realized application development by "PaaS (Platform as a Service)". PaaS is a method of providing a platform for application development (OS running software and development environment) as a service on the Web. With Force.com, the database required for development, the definition of UI, the integration function of external linkage, etc. are prepared on the network, eliminating the need for construction work of the development environment that takes time, so you can concentrate on application development
Salesforce is a pay-as-you-go service that allows companies to choose only the features they need, so they can be used regardless of industry or business size. In fact, more than two-thirds of companies that use Salesforce are small- and medium-sized businesses, a service that even small businesses can use.

Salesforce has many products that help you run your business
Sales
Salesforce supports sales force and order rate improvement through management of customer information and deal details. The prospect management feature can help track prospects and increase sales by tracking the process from ad clicks to actual closing. Create reports on business conditions, view sales forecasts, and quickly share analysis results.
Service
Contact management and confirmation of customer information can be performed on one screen, and respond quickly to customer inquiries. Provides self-service for customers through knowledge management functions such as public knowledge base and FAQ construction. A platform that centrally manages customer service and field work in the call center can improve customer satisfaction and work efficiency.
Marketing
The Marketing Cloud feature centralized channel and device data to better understand customers. Marketing Cloud targets email, mobile, social media, web ads and more. Take advantage of features such as social campaign management, bulk email delivery, and other support for communicating with your customers.
Community
The Community Cloud feature enables you to integrate your business and share data from the community. Customize and enhance the community to reflect user needs and branding. In addition, members can be evaluated in the community, and badges can be displayed as a proof of the evaluation, leading to the activation of the community.
Analysis
Access real-time reports and dashboards (data charts and graphs) to collect and analyze the information you need. From the analysis results based on data across Salesforce, the following actions are quickly proposed, so they can be executed immediately. The actions that can be performed are built into Salesforce, and you can create tasks and update history.
Application
You can use the Salesforce development platform to develop cutting-edge mobile apps. Mobile apps developed by Salesforce can be used for operations in various industries, such as local operations, business management, IT project management, human resources, retail, and science. A rich set of APIs that can be linked with existing systems such as "SAP", "Oracle", "Microsoft," etc, is provided, enabling linking with other applications and devices.
"Salesforce Einstein" AI (Artificial Intelligence) is a service that predicts and recommends products corresponding to each customer. Einstein learns the data stored in Salesforce and provides content that helps customers. You can manage your online shopping in every way, from product order to deposit management to order management.
Productivity
With the "Qip" productivity tool, you can create and edit documents and task lists in one space. Chat and comment features are also included, allowing team members to share discussion content. Quip can be operated directly from your smartphone or tablet.
With Salesforce, you can centralize information for a wide range of services. Here I will introduce the Salesforce-integrated cloud service.
Integration with other systems is possible
Salesforce can work with products from other companies that are partners. For example, if you use the "Salesforce for Google Apps" feature, you can use Google Apps such as Google's Gmail (email) and Google Calendar (scheduler) in a coordinated manner from within the Salesforce application.
By linking, it will be possible to centrally manage information that was previously managed separately from other systems in Salesforce.
Introduction of cases
rakumo social scheduler (Salesforce version). It is an application that can manage the information of the company schedule and equipment reservation at one time. It saves you the time and effort involved in entering both Salesforce and your on-premises schedule, and gives you a clear visual presentation of your schedule.
In addition to managing the schedule in an easy-to-see manner, daily activities are analyzed by registering work content. You can understand how much time you spend on what kind of work, so you can use it for business improvement and efficiency.
If you use ASP, check in advance whether the features you really want to use are provided. The ASP service can be customized to a certain extent, but unlike the system developed in-house, the company's business will be matched to the decided system. Even if you don't regret that you don't have the function or standard you were looking for after actually using it, let's check in detail about the purpose you want to achieve by introducing ASP and the function you want to use.
SmartVisca (Smart Bisca)
A Salesforce integrated cloud business card management service that can digitize business card information and manage accounts on the Salesforce cloud. Not only can you save time and effort in entering business cards, you can also use business card information for sales activities and marketing by sharing registration information.

Salesforce Certification
Salesforce certification is a basic level requirement to deal with the Salesforce apps in an enterprise. Salesforce, USA, provides this certificate. This certificate authorizes you to handle CRM on a wider range in a more effective manner.
Salesforce Certifications are
Salesforce Certified Administrator
Salesforce Certified Platform Developer I
Salesforce Certified Platform Advanced Developer
Salesforce Certified Cloud Assistant
Salesforce Technical Architect

A Salesforce Certified Administrator certification course usually will have the following parts
Introduction to salesforce
Application configuration
Set up and manage users
Security and data access
Field customization
Data management
Reports and Dashboards
Automation

Salesforce Certified Administrator certification exam details
60 multiple choice questions to be answered within one-and-half hours
You have to secure 65% marks to get the certificate
You'll not be allowed to bring books, mobile phones, etc, to the exam hall
A Salesforce Certified Platform Developer I course will comprise
Development Using Apex and Visualforce
Objects and fields
Work effectively with custom objects and fields
Develop with Apex
Use SOQL to query your Org's data
Using the SOQL to describe a query on a relationship
Elements of DML
Trigger elements
Classes
The order of execution of the processes upon saving and Apex transactions
Test elements and strategies
Design strategies
Create Visualforce pages
Explore Visualforce Views and Controller Layers
Work with custom controllers and controller extensions
Working with List Controllers and SOSL Queries
Test the Visualforce Controllers
Salesforce Certified Platform Developer Exam details
60 multiple choice/select questions to be answered within one hour fifty minutes.
You have to secure 65% marks to get the certificate
You'll not be allowed to bring books, mobile phones, etc, to the exam hall.
Salesforce Certified Platform Advanced Developer Exam details
It is intended for an individual who has advanced level experience as a Salesforce administrator. Here are some examples of concepts you need to understand to pass the exam:
The Exam consists of
60 multiple choice/select questions to be answered within one hour fifty minutes.
You have to secure 65% marks to get the certificate
You'll not be allowed to bring books, mobile phones, etc, to the exam hall.
Salesforce Certified Cloud Consultant
If you're a certified Salesforce Administrator, you can attempt this exam. The course for this will comprise of basic concepts of Salesforce Cloud and how to configure the Lightning pages in the platform. You'll be taught to build various sales processes.
Salesforce Certified Technical Architect
To get this certification, you must have a profound understanding of native specialties and functionalities of Salesforce, and the capacity to create role hierarchies, data models, and suitable sharing mechanisms.
120 minutes for scenario review and solution preparation
45 minutes for scenario presentation
40 minutes for scenario Question and Answer session
You'll be given an imaginary issue and you've to review and solve it. You've to explain it to a group of judges and must answer their questions and clear their doubts.
Materials like desktops, pen, etc will be provided. Candidates are not allowed to bring their own materials.
 Other Salesforce Certifications include
Community Cloud Consultant
Field Service Lightning Consultant
Marketing Cloud Consultant
Pardot Consultant
Sales Cloud Consultant
Service Cloud Consultant
CPQ Specialist
Marketing Cloud Email Specialist
Marketing Cloud Social Specialist
GangBoard offers a comprehensive online training package to enable you to crack Salesforce certification tests. We'll make you to have a good command in all the facets of Salesforce platform.
In this course we'll teach you the following
CRM Basics of Salesforce
User interface, security, data model
How to design portals, prepare reports and dashboards
How to customize the app, validate data and to debug
MVC architecture and SOQL
Salesforce Cloud and Force.com
Standard List Controller