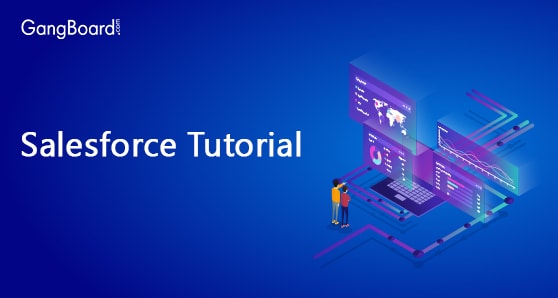 Salesforce Tutorial
Salesforce Tutorial
The advent of cloud computing can be considered as a boon in the world of technology. With the ever-increasing demand for storage, cloud computing came and took the entire technological industry by storm and has brought about significant changes, curbing the practices that were obsolete or were not economical to adapt.
Salesforce tutorial is one such prolific cloud computing technology that has managed to take a marginal lead amongst the notable counterparts.it offers one-stop solutions to all your storage-related queries. People who are somewhere connected to the business of sales and customer relationships will find this software of great use.
It consists of around 800 applications to facilitate various features like generating new leads, acquiring new leads, enhancing sales volumes and seizing deals. Its prime focus is on managing the organization's data focused on customer and sales information.
Services on offer from Salesforce

The Customer Relationship Management (CRM) which provides for all the prolific abilities and tools of Salesforce, is a combination of different cloud products that will help in unison to satisfy the needs of the user. Let's have a look at the services offered by Salesforce-
Salesforce sales cloud
It is the module that is responsible for the sales process that is being executed, and the generation of revenue as a result. It helps the institution to select the best possible deal and provides the chance to seize the deals faster. you can take conclusions from the entire sales data that it presents before you.
Salesforce service cloud
Service Cloud is responsible for the tasks that are in relation to the customer service and customer support team. It is a charge for the knowledge base the call center related details and many more.
Salesforce commerce cloud
It is dedicated to words the creation of better customer experience for the user. It takes the personal information of the user into consideration and tries to feed them with personalized information based on their past activities and trends. It focuses on improving the functional aspects of your website by taking appropriate care of the campaign content management, product pricing, and catalog management, etc.  Salesforce offers multiple functions at your disposal.
If it is the need for a business to interact with people they require a platform, for the transfer of such information to the intended users. Salesforce tutorial provides you with the facility to interact with the users at a predetermined platform. It creates a place where you can share your understanding of the product and other insights on it. In a short community, the cloud is responsible for finding solutions.
Salesforce analytics cloud
This tool is intended to provide large sums of data in an understandable format that can be interpreted further to conclude useful trends. It is also known as Salesforce wave analytics.
It performs the function of arranging haphazard data into a meaningful set of data that the intended user can use to its benefit. Analytics Cloud is designed in such a way that it can integrate with other clouds of Salesforce.
 Salesforce IOT cloud
If your business has a tendency to generate massive volumes of data regularly from different locations, such as applications, websites, sensors, patterns, and customers. then Salesforce can provide you with an efficient cloud format to store the bulk amount of information, this cloud is called as the IoT cloud. It not only stores information but it is also capable of performing several operations on it.
Salesforce Health cloud
In case your organization is from a health background, then this cloud is of great importance for your organization. It can perform functions such as patient prescription, health records, doctor-patient relationship data .it will help in all possible ways of providing efficient health-related services.
It was not only luck that was instrumental for Salesforce in gaining such immense popularity, but there are also numerous bright aspects about it that account for its well-deserved popularity.
Here's some of them-
Salesforce tutorial operations are based on cloud hence the user needs not to be present at any specific location, users can access it from anywhere around the world. The only requirement is an internet connection.
Salesforce will facilitate you to connect to several other third party applications of your choice. Not only will it let you integrate with those applications but to integrate with them. Most of these counterparts lack this facility.
It is equipped with a wide array of tools. Instead of developing infrastructure and tools on your own which is very cumbersome, you can focus on developing whatever you wish to. This results in a time-saving to a great extent.
Among other factors, the following three are the most desired ones
Fast:
Fast it provides hassle-free implementation, while the traditional CRM May take weeks or even months to get implemented.
Simplicity:
Simplicity Salesforce makes the complex processes easy for you. Thereby enabling a person with zero technical knowledge to use this application. You don't need to be a technical geek in order to use this, you just need to be familiar with the basics of the computer.
Effective:
Effective salesforce allows the user to modify it according to your wants. It will perfectly mold into your business requirements.

Features of Salesforce
Some vivid features of Salesforce that make it stand alone ahead of its competitors
Contact Management
Every possible detail related to a customer is taken on an account, It renders the services like viewing customer contact details, Customer communication details and the details regarding the customer internal accounts. In short, it takes care of every minute detail that is related to a customer or contact.
Opportunity management
It is responsible for the details of the stage in which a particular deal is. The product involved in the deal, and the estimate of the time it will take to complete, etc. To sum up it manages all the data that is required in identifying, progressing and closing a deal.
Salesforce collaboration
It is a unique feature added by Salesforce. It suggests the best expert for seizing a particular deal based on the customer feedback and review it aims at bringing some sort of collaboration with the experts to increase the chances of making the deal.

Architecture of Salesforce
Its time for us to get an insight into the architecture of the Salesforce tutorial. It has a multi-layered architecture which is quite complex to understand. Given below is the purpose for which it is used in the description of each of its layers.
Trusted multitenant cloud
It means-multiple instances of one or multiple applications that operate separately in a shared environment. Such instances are called as tenants and physically remaining in the same hardware. It is trusted on account of the fact that it is compatible with nature and high security.
Scalable met-data platform
This form makes the process of customization easier. The user can modify it as per their needs, without affecting scalability.
CRM and related functionality
It is the perfect embodiment of CRM, contains all the aspects that are required by a good CRM. It also extends the scope of CRM by providing the facilities such as modifying the application and implementing other changes in the application.
By now we have gone through a complete guide about what Salesforce is and what are the services offered by it. Now its time to make the required arrangements to use it. you are required to sign up for a free trial for the Salesforce tutorial for beginners. The free trial account possesses nearly all features that you need to get acquainted with the basics of the Salesforce platform.
Step 1:
Visit the website of Salesforce and click on Free Trial. It will direct you to a window where it will ask you to fill in some details about you and then sign up.
Step 2:
They will send you an activation mail for your account which will contain the credentials of your account and the duration the trial period will last for. You will have to click on the link in the email to verify and activate the account.
Step 3:
Now the signup procedure is done you just need to visit the site again and click on login. Enter the login credentials and that's it, you are all set to use it. Make the best use of the services offered by the Salesforce tutorial for beginners, to your greatest advantage. And once you are a pro you can subscribe to the premium version.

Related Blogs: