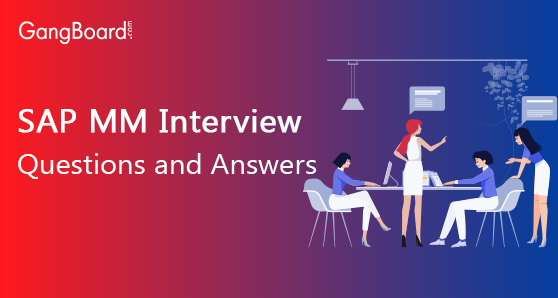 SAP MM Interview Questions and Answers
SAP MM Interview Questions and Answers
In case you're searching for SAP MM Interview Questions and answers for Experienced or Freshers, you are at the correct place.  Additionally Our SAP MM Online Training will prepare the learners for the profiles with the automotive industry, machinery industry and IT industry. In the SAP MM Online Course, learners will be given project oriented lectures for SAP MM module, SAP purchases, SAP pricing procedure, and SAP Inventory management. SAP MM is the logistics certification for which formal SAP MM Certification Training is very essential. Learn the SAP MM interview question answer to attend the head to head tightest interviews. These interview questions after SAP MM Online Certification Training will transform the learners towards job roles like SAP MM consultants, purchase executive, SAP MM plant maintenance analyst, SAP functional configurator, SAP functional analyst, SAP end user, SAP team leader and SAP material manager.
There is a parcel of chances from many presumed organizations on the planet. The SAP MM advertise is relied upon to develop to more than $5 billion by 2021, from just $180 million, as per SAP MM industry gauges. In this way, despite everything you have the chance to push forward in your vocation in SAP MM Development. Gangboard offers Advanced SAP MM Interview Questions and answers that assist you in splitting your SAP MM interview and procure dream vocation as Cloud Developer.
Best SAP MM Interview Questions and Answers
Do you believe that you have the right stuff to be a section in the advancement of future SAP MM, the GangBoard is here to control you to sustain your vocation. Various fortune 1000 organizations around the world are utilizing the innovation of SAP MM to meet the necessities of their customers. SAP MM is being utilized as a part of numerous businesses. To have a great development in SAP MM work, our page furnishes you with nitty-gritty data as SAP MM prospective employee meeting questions and answers. SAP MM Interview Questions and answers are prepared by 10+ years of experienced industry experts. SAP MM Interview Questions and answers are very useful to the Fresher or Experienced person who is looking for the new challenging job from the reputed company. Our SAP MM Questions and answers are very simple and have more examples for your better understanding.
Q1) What do you understand by SAP MM?
Answer: SAP MM is basically a functional module which handles the material management.
Q2) What does the module mainly consist of?
Answer: The module consists of three main functionalities…the master data, how the system is configured and transactions to complete the procurement for payment.
Q3) What is the full form of SAP and ERP?
Answer: The full form of SAP is Systems, Applications and Processing the data. ERP means enterprise resource planning.
Q4) When and where was ERP first introduced?
Answer: ERP was first launched in Mannheim, Germany in the year 1972.
Q5) Why is SAP utilized so extensively?
Answer: SAP is the most popular software application as it is the one widely used to provide business solutions for large, medium and small scale enterprises. This is done by absorbing and processing data quickly. Also if there are any problems, SAP is able to provide solutions on a time-sensitive basis.
Q6) State some of the components of SAP MM.
Answer: some of the components of SAP MM are as follows…defining the requirements, verifying bills, processing orders,  making sure clients are followed up with and reminders are sent, handling receipts and managing the existing inventory.
Q7) Which code is used for the extension of viewing the material?
Answer: The code that is used for the material view is MM50.
Q8) Which code is used to delete a specific batch?
Answer: The code that is used to delete a specific batch is MSC2N.
Q9) How can the batch record be deleted permanently?
Answer: In order to delete a batch record permanently, one needs to flag the batch of the master record.
Q10) What do you understand by source list?
Answer: In order to identify where the materials come from; the main supply home, a source list needs to be created.
Q11) Which code is used for creating the source list?
Answer: The code that is used for creating the source list is known as ME01.
Q12) What components are needed for making a record of the purchase?
Answer: The components that are needed are as follows… the material number, the manufacturer's part number, the vendor's number and the organization's level code.
Q13) What do you understand by planned delivery?
Answer: The number of business days during which the recipient would get the goods or materials which have been promised to them, is known as planned delivery.
Q14) What do you understand by GR processing time?
Answer: After receiving the goods and materials, the time a recipient has to inspect and put the said items in storage is considered to be GR processing time.
Q15) What does RFQ stand for?
Answer: RFQ stands for request for quotation.
Q16) When is RFQ used?
Answer: RFQ is generally used in vendor management. When the pricing quotes need to be given, or types of goods and materials need to be listed, or even for the delivery date of the items that have been procured, an RFQ is utilized at that time.
Q17) What do you understand by Reservation?
Answer: When the stock is blocked ahead of time so that it is available when required, it is known as Reservation.
Q18) Which code is used for Reservation?
Answer: The code that is used for Reservation is MMBE
Q19) What does CBP stand for ?
Answer: CBP denotes the consumption value of goods and materials so that future requirements can be forecasted on the basis of the same.
Q20) Which transactional type is used for the reversal of the issuing of goods?
Answer: The type that is used for the reversal of the issuing of goods is 262.
Q21) Which is the last stage in the procurement cycle?
Answer: The verifying of the invoice is the last step in the procurement cycle.
Q22) Which are some of the movement types for stock transport order.
Answer: Here are some of the movement types for stock transport order… 351, 641 and 643.
Q23) What is the main difference between purchase requisition and purchase order?
Answer: Purchase requisition is a request made to the organization to procure goods or materials or services which may enhance the products. A purchase order is the final list of items that the organization gives its approval and budgets for. Pi
A purchase order is what finally goes to any vendor.
Q24) State some of the different types of ERP's?
Answer: Some of the different types of ERP's are as follows…SAP, People Soft, Oracle, BAAN, etc.
Q25) Could SAP be termed as a database?
Answer: No, it cannot be termed as a database.
Q26) What do you understand by Meta Data?
Answer: The unit that gives information about where to look for in-depth information for a specific subject is known as MetaData.
Q27) What do you understand by transaction data?
Answer: The data that gives information about transactions that occur daily, weekly, monthly or on any predetermined time frame are known as transaction data.
Q28) What is Material Management in SAP?
In Material Management, the system provides company with materials, inventory and warehouse capabilities. Basically, it makes sure that materials will be available in proper quantities and without any restriction to use.
Q29) What are the fields in Purchasing View of Material Master?
Purchasing Group, Material Group, Source List, Mater Data (Conditions, Info Record, Vendors)
Q30) How does the system pick up Pricing Schema in Purchase Order?
The pricing procedure assigned to a vendor has a calculation schema attached to it. This schema defines the various conditions pre-requisite, calculation & sequence in the PO. Generally, only one type of pricing procedure is followed for all the vendors.
Q31) What are the different types of Special Stocks in MM?
Consignment Stock
Project Stocks
Orders on Hand
Pipeline Stocks
Subcontracting
Q32) What is the importance of Confirmation Key in a Purchase Order?
The confirmation control key regulates whether the confirmations are relevant for goods receipt or material planning and whether confirmations are expected for a specific purchase order.
Q33) To which object can you directly assign an account assignment category in SAP Materials Management?
Item Category in Purchase Order.
Q34) If you are using message determination with condition technique. What all the parameters you will specify in a condition record to trigger a message output type in Material Management?
To trigger an output type, we need to create an output type and define Partner Function and Output Type when will the be output will get trigger.
Q35) What are the different accounts gets created in SAP MM?
For Purchase Order, assignments of account are necessary to determines below things:
Account assignment type
Account that will be charged when you post the invoice or goods receipt
Account assignment data that you should provide
Q36) What is Consumption Based Planning (CBP) and how it is different from the Material Requirement Planning in SAP MM?
CBP is the past consumption values of stocks which is used to forecast future requirements. On the basis of the past consumption values, the net requirement of goods is calculated.
The difference between CBP and MRP is that when you plan materials using MRP, we have to predict the materials requirement based on sales and operations planning (SOP). While in CBP we have to predict the material, requirement based on historical demand for materials.
Q37) What is purchase requisition as related to SAP? Mention the document types that are used in purchase requisition?
Purchase requisition in SAP determines both stock and non-stock items to the purchasing department. It can be done either manually or automatically, the document types used in purchase requisition are
RFO (Request for Quotation)
Outline Agreement
PO (Purchasing Order)
Q38) Explain Source List and Transaction to create Source List in SAP MM?
Source List is basically a list of suppliers who is going to supply the respective material. We can create a Source List in ME01.
Q39) Can you change the Standard Price in Material Master? If No, please explain how will you do it?
The standard price for the material data cannot be updated or changed directly in material master. However, to change the standard price you can perform the following steps
Fill in the future fields price (MBEW-ZKPRS ) and the effective data ( MBEW-ZKDAT) for the materials
Select Logistics > Material Management > Valuation > Valuation Price Determination > Future Price
Q40) What are the differences between release procedure with classification and release procedure without classification? When are they used?
Release procedure with classification means the Purchase requisition can be released both at item level & at the header level. Release procedure without classification can also be used for PR which is used   for item level release only. all other external documents cannot be released with classification. The two procedures are mutually exclusive
Q41) Explain the difference between a contract and a scheduling agreement?
A Contracts is a type of procurement plan by which the release orders (releases) can be issued for materials or services agreed as necessary for a certain period overall.
The contracts are of two types:
Quantity Contracts – Use this type of contract if the total quantity to be ordered during the period of validity of the contract is known in advance.
Value Contracts – Use this type of contract, if the total value of all release orders issued against the contract shall not exceed a certain predefined value.
But Scheduling agreement is a form of procurement plan under which the materials are purchased on dates within a certain time.
Q42) What is Planned Delivery Time in SAP MM?
Planned Delivery is basically the number of calendar days required to obtain or deliver to customer.
Q43) What are the different Movement Types in MM?
101 Goods Receipt for Unrestricted Stocks
103 Goods Receipt for Blocked Stock
105 Release from Block to Unrestricted
122 Return to vendor from Unrestricted
124 Return to vendor from blocked stock
301 Plant to Plant transfer.
309 Material to Material transfer
311 Transfer from Storgae Location to Storage Location.
Q44) How a Purchase Order is different from Purchase Requisitions?
Purchase Requisitions is an internal document that sends notification to purchase department when some material service is required. Purchase Requisitions can be generated by department that needs any material or service.
Purchase Order is a document sent to vendor by purchaser which is an official request of mentioned material or services. Purchase Orders are generally binding on purchaser, though it depends on terms and conditions mentioned in Purchase Order.
Q45) Can we use a material if it is flagged for deletion in the system?
Yes, even after flagging a material for deletion, we can use it till it is actually deleted. It will just trigger a warning message whenever the material is used. If we want a material to be blocked for any use with immediate effect, we should use a material status which is there in Basic View 1 for general level or in MRP 1 view for plant level blocking in material master.
Q46) What is the different type of Stock Transfer Order?
The physical movement of stock between different physical locations is called as 'Stock transfer'. Stock transfer can be either a single step process or a two-step process. Various Stock transfers are:
Inter Company (Company to Company)
Inter Plant/Intra Company (Plant to Plant)
Intra Plant (Storage location to Storage location)
Q47) What is Shelf Life of a Material and how it is managed in MM?
In SAP MM, there are basically two types of shelf-life:
Total Shelf Life – In case the total shelf life is maintained in material master, then it's mandatory to enter the minimum shelf life also. During the process of Goods Receipt (GR), the user will have to enter the manufacturing date of the item so that the expiry date is automatically calculated by the system based on the maintenance of shelf life in material master.
Minimum Shelf Life – The date of minimum durability of the item are specified by using date markings like 'use-by' or 'best-before'. During the process of Goods Receipt (GR), the user will have to enter the date of GR so that the system can check if the material is usable according to the requirements in material master. If the minimum remaining shelf life condition is not satisfied, then the system will not accept the goods receipt.
Q48) What is the use of Partner Functions for a vendor?
Partner Function is used to define responsibilities and duties of other business partners. Few of the standard partner function in MM are AZ(Alternate payee), CR(Carrier), OA(Ordering address), GS(Goods supplier), PI(Invoice presented by).
Q49) What is Continuous Inventory in Physical Inventory?
All materials are counted at some point in the year, but that can be at any day appointed for. Sp that we can count some material in February, others in April and so on. A single material can be counted on a single date. This type of inventory is mainly utilized in warehouse management-based warehouses, but it can be done in inventory management too.
Q50) How will you create Inbound Delivery for a Purchase Order?
One of the mandatory things to create inbound delivery for a purchase order is the confirmation key which needs to be Inbound Delivery until unless you set this the system will throw error while creation of Inbound Delivery.
To Create an Inbound Delivery, you need to use Transaction VL31N.
Q51) What are the different Tables for Purchase Order, Delivery and Materials?
Purchase Order:
EKKO – Purchase Order Header
EKPO – Purchase Order Item
EKKN – Account Assignment In Purchasing Document
Material:
MARA – General Material Data
MARC – Plant Data for Material
MARD – Storage Location Data for a Material
Delivery :
LIKP – Delivery Header Data
LIPS – Delivery Item Data
Q52) Explain how you can create a vendor account group in SAP?
To create vendor account group in SAP we need to use the below path.
Select display IMG > Financial Accounting > Accounts Payable/Receivable >Vendor Accounts > Master Records > Preparation of creating vendor master records > Define Accounts groups with Screen Layout
Q53) What is movement in goods out (MIGO)?
MIGO or Movement in Goods Out is used for goods movement such as goods issue, goods receipt, plant to plant transfer, storage location to storage location transfer, etc. Basically, MIGO is booked by the logistics department where the goods are actually received.
Q54) Explain goods receipt and post goods receipt?
Goods receipt is the physical inbound transfer for goods or material into the warehouse. It is the transfer of goods which is used to post goods received from external vendors or from in-plant production. All goods receipts result in an increase in stock in the warehouse.
Post-Goods Receipt is used to post the receipt of goods with reference to the purchase order with which the goods were ordered. If the material is delivered for some purchase order, it is important for all the departments involved that the goods receipt entry in the system references this purchase order.
Q55) What is production order and purchase order?
A production order determines which material is to be prepared, at which location, and at what time and how much quantity is required. It also defines which components and sequence of operations are to be used and how the order costs are to be resolved.
A purchase order is a formal request or guidance from a purchasing organization to a vendor or a factory to supply or provide a certain quantity of goods or services at or by a certain point in time.
Q56) What is a release strategy? What are release groups and codes?
The release strategy defines the approval process for purchase requisitions or external purchasing documents. The strategy specifies the release codes necessary and the sequence in which releases have to be affected. You can define a maximum of eight release codes.
The release code is a two-character ID allowing a person to release (clear or approve) a requisition or an external purchasing document. Who may work with which release codes is basically controlled via a system of authorizations (authorization object M_EINK_FRG)
In addition, the assignment of release code to individual processor (processing staff member) is defined according to organizational requirements – that is to say, the various departments specify which users will be working with which release codes.
Q57) Mention what is the transaction code used to extend the material view?
Transaction Code is MM50.