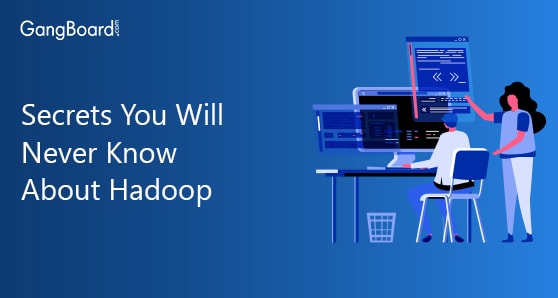 Secrets You Will Never Know About Hadoop
Are you planning to undertake Hadoop Online Training? Then, first, you need to get into the core of its basics. What is Hadoop and why would you require that are some of the questions that the trainees ask. The good news is, there are many reputable institute like Gangboard that offers comprehensive answers to all the queries regarding Hadoop and provide proper training to the aspirants so that they can handle and manage Hadoop projects and succeed in their career ventures.
The basics…
You must have an idea that Hadoop is a Java-based programming framework that is open source. It is generally used in a distributed environment where extremely large data sets are needed to be stored. Hadoop Apache is a part of the Apache project of the Apache Software Foundation. So, now you must be ready to learn certain secrets of Hadoop technology that no trainer would probably tell you!
Top secrets of Hadoop that you must know
Hadoop was created by Mike Cafarella and Doug Cutting, both renowned computer scientists, back in the year 2006. It was first created to support the distribution for the Nutch search engine. It was designed based on Google's MapReduce.
Hadoop was made available publicly from November 2012. Before this, there was persistent development going on within the open source community. The name "Hadoop" was inspired by Cutting's son's toy elephant! Today the large framework and the ecosystem of technologies of Hadoop are managed and maintained by the Apache Software Foundation.
Almost all the business organizations and companies willing to use Hadoop can deploy Hadoop components in their local data centers. There are also required software packages available. Public cloud service providers often use Hadoop components through basic services like Simple Storage Service and AWS Elastic Compute Cloud.  Hadoop comprises innumerable functional modules.
Why to undergo Hadoop Training?
Hadoop is a software package that can store and process a large volume of data quickly. It processes big data fast and that the increase in the processing power is directly proportional to the number of computing nodes you use.  As this is an open source framework, it is free and cost-effective to deploy by most companies. Moreover, it is scalable and with it you will be able to grow your system easily. It will be able to handle more data simply by adding nodes. There is also no strict administration required.
With the increased importance of Hadoop technology there is an increased demand for Hadoop professionals across the globe. With Hadoop Online Training by a reputable institute like Gangboard you will be able to find your place as a successful data scientist. You must know that it has been estimated by The Hindu that by the year 2018, there will be a shortage of 2, 00, 000 data scientists in India alone. Thus, it is the perfect time to opt for online training in the technology so that you are ready to grab every opportunity that come by! With proper certificates you will be able to apply in reputable companies and get hired by big recruiters.