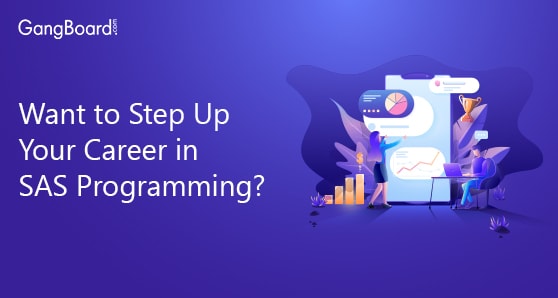 Want to Step Up Your Career in SAS Programming?
The internet is ruling world, and almost everybody is trying to do as much work as possible on the Internet. Hence, a lot of data is generated and this data is a waste if not used correctly and a great asset if someone utilizes it in an efficient way. Data plays a crucial role for a business to grow and to take future decisions like business strategies. There are many other places where analysis of data plays a very important role. There are many tools which help in carrying out analysis of the data which is available online. As we go on further, we'll try to explore what is SAS and what makes it so unique.
What is SAS?
SAS is one of the best skills one can have in the field of business analysis. It uses innovative analytics techniques to cater data management and business intelligence services and software. It helps by transforming the data into insights which can assist in developing business and have a new perspective towards business. It is not like other traditional Business Intelligence tools which are available in the market, SAS takes programming approach which is extensive which makes it stand outside the crowd. You can learn this if you want to become a successful data scientist and data analyst.
Why should you learn this?
One of the 4th generation programming language is SAS and it is quite easy to learn. The most important application of SAS is that one can have multiple application like it can be used to read records of data which are made by other genuine packs. In addition to this, it also allows information records created by Excel, SPSS, and the list is long. SAS is quite adaptable and intense enough to address issues in the examination of information. It has different methodologies for graphic, inferential factual investigation which makes it very popular in the industry.
What are the things you must know before you start learning SAS?
SAS Online Training is quite common, but the best study material and the most updated information is there with the GangBoard regarding SAS Online Training. Before you get into learning SAS, you must have some basic knowledge of any one programming language because it will help you in understanding SAS programming concepts and one should also be familiar with SQL to learn it as fast as possible.
Conclusion
Data analysis has a great market all over the world because of the amount of data which is produced every day. This data is imperative for any business to grow effectively online. SAS is an important part of data analysis and the insights given by it are quite amazing, and hence one should aim to learn this skill. You can take help from GangBoard as they provide SAS Online Training which is quite better and is kept keeping the current and future needs of industry. In fact, the salary is quite handsome, and thus don't waste much time if you are interested in making career in Data Science, you can go for this skill.