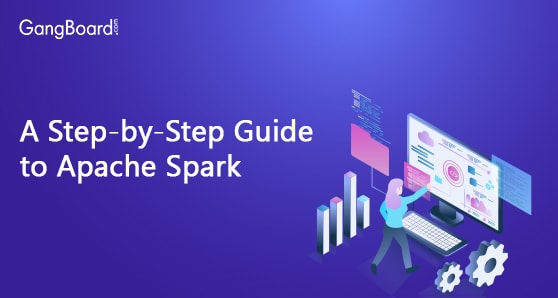 A Step-by-Step Guide to Apache Spark
Apache is a general engine which is fast and can be used for large-scale data processing. It is a general engine which is used by the industry because of its speed, generality, ease of use, and the feature to run everywhere. There are so many reasons which will lure you to learn Apache Spark . Hence, if you are interested in learning Apache Spark by doing Apache Spark Online Training, you must learn it systematically at Gangboard, but before that one should know why and what are the reasons which make it so useful.
Why Apache Spark?
According to a survey done by the creators of Apache Spark and the results made it clear why one should go for learning Apache Spark. Around 91% companies use Apache Spark because of its performance, and roughly 77% companies use Apache Spark because it is quite easy to use it. Some other results are as follows:
52% of the companies use Apache Spark for real-time streaming.
71% of the companies use Apache Spark due to ease of deployment.
Around 64% of the companies use Apache Spark for advanced analytics.
Where is Apache Spark used?
Apache Spark is a now ruling the industry and because of its application in various sectors. Apache Spark is used in the healthcare industry, media industries, Finance, retail industries, travel industries and the list can be very long. In fact, startups which are there in the Fortune 500s are also using Apache Spark to scale, build, and innovate applications of Big Data. To describe a few, Spark is being employed by the banks to access and analysis call recordings, social media profiles, emails, complaints logs, forum discussions, etc. to gain all the insights about individuals which can help them to make right decisions for their business decisions for targeted advertising and customer segmentation. There are many such applications like this where Apache Spark plays a vital role in almost all the fields industry.
How to start?
Initially one should get the basics correct, and one should also know what Spark is and what is the need to learn it. There should be no doubt because it is of no use to learn a technology if one does not know utilization and application of the technology. Then, the second step is to know about SparkR. Once a person is done with these two steps, then one can set up your machine installing the necessary software. Data Exploration with SparkR and SQL will be the next step in learning followed by building predictive models on SparkR. One can go for integration of SparkR with Hive in order to carry out faster computation.
Conclusion
Big data and data analysis are the technologies which are going to rule the world in future, and Spark Apache is part of it. Hence, it will be wise to have this as a skill on a resume. A systematic Apache Spark Online Training is offered by Gangboard. This Apache Spark Online Training by Gangboard is quite helpful and made in a very efficient way by the people from the corporate world. Hence, it will give you an idea about the requirements of the corporate world.