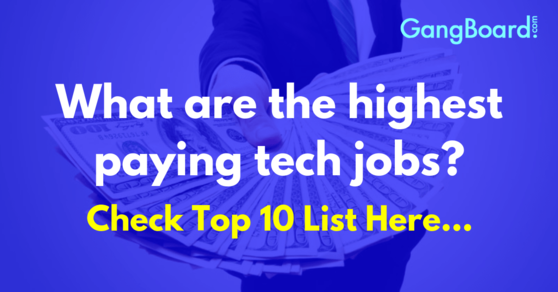 Top 10 Highest Paying Tech Jobs in India
What are the Highest Paying Tech Jobs?
The 21st century has all been about development in the tech center which has now advanced what used to be one or two fields with a limited number of jobs to many fields and numerous jobs. However, like any other field out there, there are different grades of salaries when it comes to tech and knowing the right job for you out there can really help in choosing a career path. Tech is at its best right now and any technical skills that you acquire can prove to be helpful in the future since irrespective of your academic major field, there are tech departments in every department so learning such skills can result in worthy rewards. 
Top 10 Highest Paying Tech Jobs are Listed Here
Python Developer
With the newly acquired reputation of Python and its ever-growing importance in the tech industry, Python developers are more in demand than ever with their average salary being $116,379. Python is the most wanted technology of 2019 and is now the most popular programming language to learn and is now becoming an important skill to have. Python developers are currently the best paid software engineers in the tech industry. 
If you want to become a Python Developer? Click Here!
AWS Certification Holders
Amazon Web Services certifications also gained quite a reputation in a short span of time. With a handsome average salary of $112,984 more and more IT developers are now interested in the program to get AWS Certification.
Acquiring the AWS certification opens many other pathways with equally amazing opportunities and even better salary options. From a solutions architect to SysOps Administrator, there are many options to choose from.
Data Scientist
Data scientists are IT professionals with vast knowledge in statistics, they have the ability to shape the most complicated data from various sources to make sense of it. In addition to that, data scientists require good communication skills and business savvy to make good bucks. With the development of certain extra skills their midpoint salary is around $121,500 and knowledge of strong programming languages like Python, R and Java are crucial for success being a data scientist.
Software Engineering Manager
With a gross income of $163,500, Software Engineering managers are so far the highest paid tech professionals out there. Their job requires leading a team with goals to develop, test and research the company's software. This is a significant role in the maintenance of the software or for any company in general. 
Big Data Engineer
Big data engineers have the skills to transform huge amounts of raw data into useful information that could be easily used for planning, strategy setting, innovation and decision making for businesses to flourish. This is a highly valuable skill that is always in demand and big data engineers are paid well by the business.  The median salary for big data engineers is around $155,500 and they play a vital role in creating a company's hardware architecture and software. These individuals have majored in computer science and bear expertise in databases and mathematics. 
Data Warehouse Architect
With a midpoint salary of $154,800, data warehouse architects specialize in numerous skills since the work of a data warehouse architect changes depending on the current stage of development that the data warehouse is in. They oversee a company's data and help it prepare for its analysis. However, their job is not just limited to technical knowledge but they also have to be good with political management since they end up communicating to many people and their respective departments in order to ensure their satisfaction.
Software Development Manager
Their median salary is around $153,300 and they are responsible to lead and manage a team that is responsible for the development and testing of certain systems or applications of a company. They also play a role in managing the commercial side of the development along with administering everything according to the customers' request and the law. The job requires many other skills along with the basic developer's skill.
Business Intelligence Analyst
Business Intelligence analysts are well versed with database technology, reporting tools and analytics. To become one, businesses usually offer this position to people who majored in computer science, engineering or information systems. These individuals are required to understand unique data or different organizations and must be able to communicate that to stakeholders to make sense of it all.  Their salary ranges from $85,750 to $178,000 depending on your location and level of expertise.
DevOps Engineer
With an impressive salary ranging from $90,250 to $178,250, their jobs aren't easy at all. DevOps engineers are high in demand since they practice faster code deployment so companies require such experts to oversee process development, coding and scripting. These engineers are also responsible to manage provision resources, IT infrastructure and they oversee software testing. They also simplify code updates which enable the companies to alter the process in terms of improving it.
Digital Marketing Manager
Digital marketing field is booming now with huge job opportunities. As per the survey was taken from glassdoor Digital marketing manager can make $96,597, as of January 01, 2019. this salary can depend on various factors and job roles.