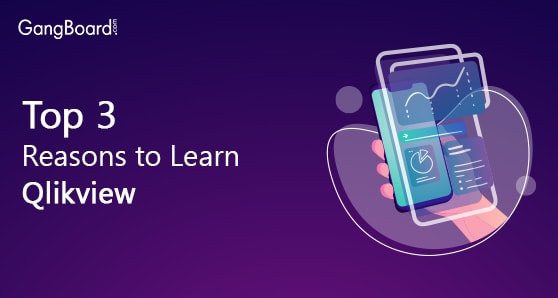 Top 3 Reasons to Learn Qlikview
There has been a great evolution in decision support systems in the last 15 years, and Qlikview is at the forefront of the movement. The wealth of structured and unstructured data has only added to its success, and it's going to continue to grow in the years to come. In fact, every 2.5 years we're seeing a doubling of the data that is boosting the support system. This is phenomenal growth. If anyone interested to know more details about this technique learn Qlikview Online Training at GangBoard.
With the increased influence of Qlikview through data from social media, it's becoming clear that enterprises now have a new and exciting way of not only gathering data but also enhancing the decision-making process. This tool is available to executives in real-time, poising Qlikview to be a major game changer. So why should you get onboard?
Smarter Analytics lead to Better Business
The landscape right now for businesses is brutally competitive. Too many businesses are falling short with reports that are lacking the intelligence that they need to adapt to global and dynamic changes that turn on a dime.
When your business can find and share insight more openly, quickly, and freely, you will outperform the competition in revenue and EBITDA growth. Qlikview is the tool that offers this to your business and so much more.
Qlikview is also the bridge between inadequate and inaccurate data and programs like Excel which allow you to explore data in a more complex and meaningful way. Basically, it's the future of data analysis.
Qlikview Community
The Qlikview community of developers is at the forefront of sharing knowledge in a selfless and timely manner. This, in turn, makes you an awesome developer by default. When you're learning anything new, it simply takes time, but the Qlikview community makes this process much faster and more efficient. With the help of their community, learning is collaboration, where you can get your questions answered pertaining to what you're specifically working on.
Big Data is the Blood of your Business
Your business needs data, and trusts me; it's out there in awesome quantities. When you can leverage big data from Zettabyte, Facebook, and Twitter, you're building smart intelligence which gives your business a leg to stand on. Qlikview is the tool that takes you a step beyond data collection to data optimization, allowing you to make smart decisions with the numbers that are in front of you. Thanks to its in-memory, associative architecture, Qlikview is dominating the niche, and if you're not yet onboard, then you're seriously missing out.
GangBoard offer this Qlikview Training course by industry expert. For details feel free to call – 7550080081. Our technical expert will give you a excellent career guidance.