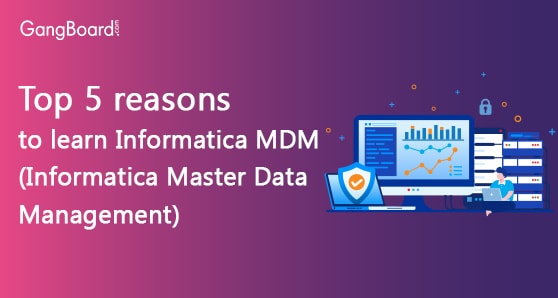 Top 5 reasons to learn Informatica MDM (Informatica Master Data Management)
For professionals as well as aspirants who want to build their career software industry, learning Informatica MDM is certainly the best way to do it. However, as a newbie, you will have a lot of questions in mind, like what is Informatica MDM? How much has it in the current job market? Well, this write-up will answer all your questions and reasons why should learn Informatica MDM.
What is MDM?
Informatica MDM is a methodology that helps organizations to analyze, understand and leverage relationships with the customers, places, and other aspects that are essential for their businesses. MDM involves several technology solutions that include data quality, data integration and business process management (BPM).
How Informatica MDM helps you in the current job market?
In current market trend, there is a lot of demand for Informatica MDM professionals, as it is considered to be a hot skill in the IT sector. Further, it is easy to deploy, as it doesn't require any coding, testing and maintenance headaches. Also, MDM can also compute different applications, platforms, and architectures. As Informatica MDM helps in improving overall UI, scalability, data security, database agnostic, business user access etc, it is on demand in job market. Besides, it also provides access to view social relationships and social feeds. According to a recent survey, many IT companies are now hiring more Informatica MDM professionals that software developers. With Informatica MDM, companies will grow fast with only less percentage of risk involved.
Here are the 5 reasons to learn Informatica MDM,
On considering the current market trend, Get Informatica MDM Training from the best institute to move next step in your career.
Easy to learn – When compared to other courses, Informatica MDM can be learned pretty easily and quickly. It will take just three months for one to get proficiency in this course.
Your resume will have a good reach: As most of the MNCs are showing a keen interest in hiring Informatica MDM professionals, it is good to have this course mentioned in your resume. Also, if you are looking to develop your career in MNCs then learning Informatica MDM is an ideal choice.
Career Boost: According to Linkedin data, number of employers has been searching for professional who have this hot skill.
Higher Pay: The demand for Informatica MDM professionals is increasing rapidly in recent times. According to the current job market scenario, it is considered to be one of the highest-paying sectors. Further, there is no constraint in salary by corporate companies for the right candidates.
Multiple Choices in the Job Titles: The Multinational companies are looking for various job roles that include;

Informatica MDM Consultant
Informatica MDM Developer
MDM Consultant
Master Data Management Technical Lead
Informatica MDM Architect
With these good reasons, learning Informatica MDM  is certainly a good choice to boost your career in the software industry. If you are planning to learn this course, we(GangBoard) are here to support you..