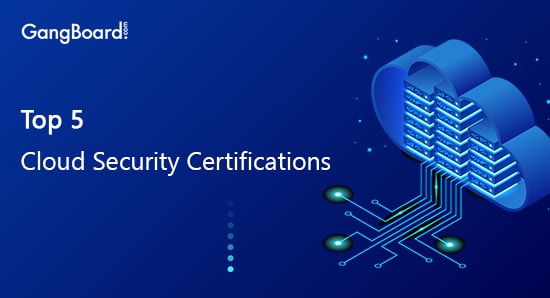 Top 5 Cloud Security Certifications in 2019
Top 5 Cloud Security Certifications in 2019
Are you overwhelmed with cloud computing technology and want to skyrocket your career with the best cloud security certification course?
If yes, then end your search here! Your answer is just a few scrolls away.
In this blog, we will discuss the Best 5 Cloud Security Certifications of 2019 that will surely help upgrade your IT career!
Over the past few years, the cloud security domain of the IT industry has generated enormous hype, interest, and investment. For global IT organizations, cloud computing has become a permanent fixture for storage-related problems. Because of this reason, cloud computing attracts valuable coverage and attention from its certification providers as well as companies that offer cloud technology products; it includes Amazon Web Service, Google, Microsoft, VM ware, etc.
The popularity of cloud technology is growing faster than ever due to its endless storage space as mentioned above. Almost every organization from small to large is shifting to cloud technology to ensure hassle-free business operation. Three things that made this awesome technology unbeatable are its-
Scalability
Efficiency and
Speed
As the cloud is considered as an open solution it has some serious security issues, which if not addressed properly may become a threat to the organizations. Hence it is crucial to establish a platform that is secure and free from easy threats. Multi-layered protection is required along with encryption and Identity Access Management (IAM). A 24/7 monitoring is essential to combat security threat.
According to the International Data Corporation (IDC) cloud has grown much faster than it was originally predicted by the market professionals. Under such circumstances, a certification in any field of cloud technology will be a genuine validation for potential IT professionals. Best cloud security certification includes both vendor's specific and vendor-neutral certification options.
Hence hiring potential IT professionals with the best cloud security certification has become mandatory in the 21st century. Organizations that impart special emphasis on quality control always hire certified cloud security personals to maintain the cognizant level of the employees along with their efficiency.
Why You Need Cloud Security Certifications Anyway?
The Gartner estimation reports a 20% faster growth rate of the organizations that use cloud security storage than others who do not use it yet. The recent changes and modifications of cloud adoption make it more agile that it is expected to reach higher levels in the near future.
Let's take a look at the data published by market research about an organization's overall usage of application-
36% of cloud application
9-10% is a collaboration
15-17% are sharing services
12-13% are content/ matter sharing services
According to the above-mentioned calculation, more than 18% of applications belong to a cloud platform which is expected to increase more in the upcoming time. Increasing usage will require increased protection. So a full proof cloud security will be required and here comes the challenge.
IT professionals with cloud security certification can expect to earn higher than others. The average salary of a certified cloud security professional is 5-6 lakh per annum which will be higher in the near future.
So what are the probable reasons behind the scene?
Well, there can be many reasons or a combination of reason which may result in security threats to an organization. The predominant reasons maybe
Lack of information about storage data
Poor cloud strategy
Improper knowledge about security features
Mishandling
Hiring ill-informed professional
Due to the above mentioned sensitive reasons, in cloud security field organizations only hire professionals holding the best cloud security certificate irrespective of vendor-specific or vendor-neutral. Hence with the best cloud security certification, it is possible to hold a precious position in an organization.
The cloud security is going to introduce a whole lot of new changes in their respective domain which will not only increase its uses but will also require a higher number of professionals to get hired in reputed companies. Those who can foresee the booming technological field are shifting to cloud security technology without wasting much time.
Must Read: Beginner's Guide to Cloud Security
Best 5 Cloud Security Certifications Checklist
Today there are numerous cloud security certifications available in the IT domain with the help of which an IT individual can achieve 360-degree knowledge on different aspects of the cloud security platform. There are three categories of the cloud security certifications, these are
Vendor-specific
Vendor-neutral
General category
In this blog, we have jotted down the best cloud security certifications of 2019-20.
1. Certificate of Cloud Security Knowledge (CCSK)
This is our top picked cloud security certification because the Certificate of Cloud Security Knowledge (CCSK) is among the pioneer certificate introduced by Cloud Security Alliance in the year 2010. From the very time, it was enormously acknowledged and used among IT industries and it has become one of the favorites among IT professionals.
It is listed among the Top Cloud Security Certification (for interlinking with other pages) because it covers a vast area of cloud security application as reported by CSA Security Guidance.
The training of the certification is aimed to impart job oriented knowledge to the skilled professionals so that they can get a clear picture of real-life cloud security projects. Starting from running the applications to executing and troubleshooting everything is included under this certification.
Provider:
Cloud Security Alliance
Certification Exam Pattern:
Number of questions to be answered: 60
Duration: 90 minutes
Question pattern: MCQ
How to Prepare: Small Guide
CSA Security Guidance is helpful for Critical Areas of Focus in Cloud Computing
ENISA Report
Preparation materials from CSA to clear the fundamentals of Cloud Security
E-learning material

2. Certified Cloud Security Specialist (CCSS)
The CSS training is a classroom training which takes 4-5 days with hands-on knowledge on a real-life project. The entire training program will focus on knowledge and skills in cloud security risks. You will learn about risk assessment and risk analysis there. In addition, the participants also learn how to manage a cloud platform along with mitigating any security issue of a cloud environment.
The best part of the certification is it leverages the knowledge of cloud security features from a cloud architectural point of view. You will learn about the taxonomy details related to taxonomy details.
The certification course covers a vast topic which includes security service, security management, risk management, cloud security administration, infrastructure defense process, etc. Moreover, you will also learn about prominent case studies from large-scale industries.
Provider:
Global Science and Technology Forum (GSTF)
Pre-requisite:
There are certain pre-requisites for that certification course these are-
Certification of GSTF Certified Cloud Computing Associate (CCCA)
Certification of GSTF Certified Cloud Computing Specialist (CCCS)
Advanced certification of EXIN Cloud Technologies.
Any of the above-mentioned certifications will be helpful prior to CCSS certification. Individuals with prior certification will learn faster in CCSS certification.
Exam pattern:
Module 1: Writing examination
Number of questions to be answered: 30
Duration: 45 minutes
Exam pattern: open book and MCQ
Qualifying score: 65%
Module 2: Project Work Component or PWC
Individual project
Duration: 14 days from the course completion date
Qualifying score: 65%
3. Certified Cloud Security Professional (CCSP)
Certified Cloud Security Professional is one of the must-have course for IT individuals who want to upgrade their career in this cloud security domain. CCSP Certification is recognized globally and considered the highest standard for cloud security expertise. The certification is designed by the Cloud Security Alliance hand in hand with (ISC)². The certification validates that the individual has a deep understanding and hands-on experience in cloud security architecture, design, operations, and other domains.
Provider:
Cloud Security Alliance and (ISC)2
Pre-requisite:
There are certain pre-requisite for this certification course. To qualify for the Certified Security Professional exam, the individual must any of the below-mentioned prerequisites.
4-5 years full time working experience in IT company with architectural concepts and designing along with one year experience in cloud data and application security.
5 years of full-time experience in an IT Company with at least 3 years of working experience in information security.
Accreditation of (ISC)2 CISSP
Exam pattern:
 Number of questions to be answered: 125
Duration: 4 hours
Exam pattern: Multiple Choice Questions
Qualifying score: 70%
4. Certified Integrator Secure Cloud Services
This is a free certification from Cloud computing and this certification is a combination of three primary certificates- IT service management, Information Security and Cloud Computing.
Pre-requisite:
Foundational certificates
Exam Pattern: No of Questions to be answered: 40
Duration: 60 Minutes
Pattern: Multiple Choice Questions
Passing score: 65%
5. Professional Cloud Security Manager
The Professional Cloud Security Manager certification is designed to prepare IT individuals to take care of the compliance issue risk and cloud security because these are an integral part of cloud computing.
The certification imparts knowledge of technical and business-related challenges in an organization managed by the cloud computing environment.
A certified Professional Cloud Security Manager is required to perform the below-mentioned task seamlessly-
Secure cloud computing services
Must have an idea on deployment models, irrespective of vendors
Work on best cloud security practices
Manage cloud infrastructure
Manage and access cloud computing system
Secure data, applications, operating system
Must have control on overall cloud computing infrastructure
Troubleshooting all problems regarding cloud computing
Pre-requisite:
There are no pre-requisites from a technical point of view, but the applicant must be a full-time employee of an IT company. Having more than 4 years of experience will be beneficial.
Exam Pattern:
No of Questions to be answered: 40
Duration: 60 Minutes
Exam Pattern: Multiple Choices Questions
How Different Cloud Computing Certificates Will Nurture Your Career?
With fast-growing technological changes cloud computing adoption is getting a higher pace day by day, which will increase more in the upcoming future. As an IT professional this would be a golden opportunity to upscale your career in this field.
Not only cloud certified professionals get a higher salary package but also they hold a precious position in every organization. In India, there are thousands of IT companies looking for Cloud security professionals so getting a better job with the desired hike will be easier than never before.
In a nutshell, the certified cloud security professional will get the following advantages-
The certificate validates your knowledge and skills in the cloud domain.
You can easily minimize the market competition from the rest of the IT professionals.
You can relocate to any other place than India as the demand for Cloud security certified professional will be higher in upcoming years.
A vendor-neutral certification will add an extra feather in your resume with which you can fly high with your secured dream job.
Few words before wrapping up
Apart from the above-mentioned certification in cloud security, there are many other certifications that are available on the same domain. You will find many certification training centers around you who provide certifications on different cloud security platforms.
If you are looking for the best Cloud Security Certification Training Institute near me, then you can end your search here. GangBoard is considered as the best Cloud Certification Online Training Institute because of their outstanding knowledge and performance in every certification courses.
They have 10+ years of experience in imparting job-oriented certification training to freshers and professionals. Their Cloud Security Certification Training is a perfect blend of theory and practical classes.
Each and every course is specially tailored for the different requirements of individuals. They work hand in hand with mark professionals who are experts in their domain. After completion of the course, an individual can be placed in any reputed IT company.
So, if you are looking to upgrade your career by sitting in these certification exams get in touch with us now and let our faculty to guide you throughout the certification course.
All the best!