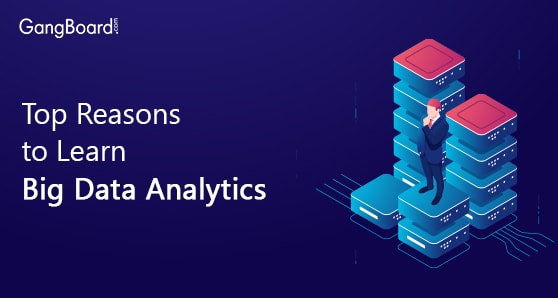 Top Reasons to Learn Big Data Analytics
There is a wise saying: 'Seize the moment because some opportunities don't come twice'. This is absolutely true; especially if you are looking to go in for Big data analytics training. Yes, big data analysis, as experts rightly call it is the next big thing. It is already growing big in many sectors and industries and in coming years it will rule the roost. In this blog we will cover some key elements that will help you understand why this learning is talk of the town these days.
Rapid Demand: In last few years, if there is one job that has soared high in demand it is a job of a big data analyst. Today, every sector needs a Data analytic expert in their office or team to take accurate and profitable decisions. The demand of skilled employees in this sector had already jumped homogeneously from 2014 to 2016 and is expected to rise even higher in 2017. So, if you are planning to enrol in Big data Hadoop Online Training, this is the right time.
High Pay Checks: Now who doesn't want a higher pay check? As they say every skill has a price and in today's market this skill is in high demand. Salary of an expert in this field is 20% more than that of a software engineer. As per the survey done in 2016, in India, Big data analytical expert is paid 50% more than a software developer. So, it is not hard to understand where the big money is.
Demand in Big Organisations: If you are wondering that who is hiring these experts, we have a clear answer for you: Everyone. Yes, the demand of these experts is coming from every corner and why it wouldn't. After all these people are responsible for analysing and predicting what will work or fail in the market. They study the reasons and behaviours of people to analyse what will be the next big thing to work in the market. So it gives all the more reason for you to enrol in for a good Big data analytics online training and get started in it.
Helps in Decision Making: The strength of any business decision depends upon how accurately it has been analysed. Big organizations yearn for such kind of data information. Their decision or products cost them in millions. To ensure they get fair return on their investment they need to accurately study the trends and moods in the market. A proper analysis of data gives them a true picture of the market, which in turn help them to plan their moves better.
Different Roles and Titles: It is not that after completing Big data Hadoop training you will be confined to a particular job position or title, rather you are presented with different positions and titles to choose and select from. You can opt for any of the titles depending upon your interest and skills and can make a good fortune out of it.