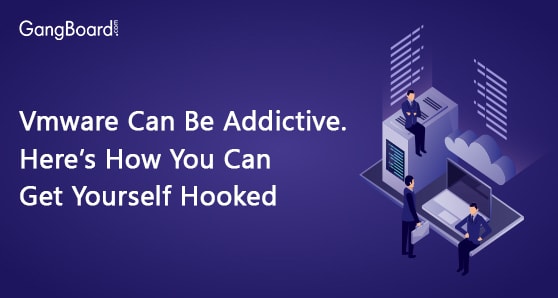 Vmware Can Be Addictive. Here's How You Can Get Yourself Hooked
Virtual Machine software like VMware is making people addicted to it by its immense usage. It not only helps in running multiple virtual environments on the host system but also allows the creation and configuration of the machines based on one's requirements. In fact, VMware are designed keeping in view high-end usage requirements. This is the primary reason why such applications get complete control over all the installed software and hardware components.
Already craving to know more about Vmware? Let's first understand the simplest way for converting a local machine into virtual machine.  After that, it can be configured and run on other systems using virtualization software.
Out of the various virtualization softwares available in the market, VMware Workstation is certianly the most powerful machine virtualization application. Why is it considered so? The main reason is that it enables users to run both the OS editions x86 and x64 as guest machines. Apart from this, it also offers free VMware Player for running the pre-configured guest systems on host computer. Now, let's understand the process of creating a VMware Disk of local machine, and then learn how to use it on VMware, Virtual PC and VirtualBox.
The first thing you need is a conversion to turn your local machine into virtual machine. VMware offers a free utility called VMware vCenter Converter which helps in physical to virtual machine conversions. Not only this, it is also enabled to create a VMware Disk image of the entire system which includes installed drives, configured hardware, local drives, installed applications, software components and more.
After the local machine gets converted into VMDK file, it can be used on other operating systems including Mac OS X and Linux variants. This application is basically a simple conversion wizard which guides through the selection of the local system components, target locations and target VMware workstation/player on which one wants to run the converted VMDK file.
It supports a number of third-party images like Microsoft Hyper-V, Virtual Server, Virtual PC, Norton Ghost, Parallels, Acronis, Storage Craft and various others. It also gives a central conversion management console which helps in organizing and monitoring local and remote machine conversion instances. Apart from this, it also does sector-by-sector data copy operations for cloning the selected disks. As the disk cloning process is self-effacing, it doesn't give any confirmation to the users about the copying actions during the conversion of the local machine into virtual VMware disk image.
Really interested to get hooked to Vmware? Then, opt for the best VMWare Online Training and what better than choosing GangBoardcertification.
To start with, you need to first launch the VMware vCenter Converter.
After beginning the Conversion wizard, the first step is to choose the source type of machine which will be either physical or virtual based on what you want to make. So, as you want to convert the current machine to virtual machine, the next step should be to enable the local machine option.
You can view the details of selected machine by hitting View source details. It shows name of the selected machine, machine type (virtual or physical), installed OS on selected machine, RAM size, Volumes layout, Total system size and other system-related information. After verifying the target physical machine, click Close followed by Next button.
In the next step, the destination type and VMware product are specified. After the preliminary settings are configured, a local machine explorer helps you in choosing the folders and drives that are to be included in VMDK file.
Once the physical machine is converted into virtual machine, move to system where you want to run the converted physical machine. By following these basic steps, one can easily get hooked to Vmware. So, what are you waiting for? Get enrolled for VMWare Online Training through the most trustedGangBoard certifications.