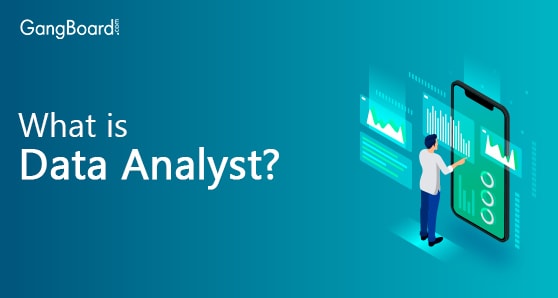 What is Data Analyst?
All you need to know about becoming a Data Analyst
Data Analysts are becoming the most sought after profiles year after year. The reason? Explosion of data , its presence, usage and distribution.
With the increasing dependence and penetration of digital medium of transfer of data in our day to day lives  in the form of emails, SMSs, social media posts and shares, online browsing habits, online transactions such as shopping, banking, purchasing movie tickets, booking flights and travel options, hotel bookings , the list of tasks that we do on Internet and smart devices these days is just endless, producing endless data each second across the globe.
No wonder experts such as Hal Varian Ronald, the world renowned Economist term data analyst role as "the sexiest job of the 21st century".
As you dive into this blog post, you will understand in detail what is a data analyst, the skills needed and the future of this career option.
What is Data Analyst?
Data analysts mainly focus on addressing various business needs using the data available. They collect, process and make an in-depth analysis of data using many statistical tools and methods. Often, the outcome submitted by the data analysts becomes crucial in making business decisions. To Know What is Data Science? Refer this Blog.
What does a Data Analyst do?
A data analyst often does the following tasks:
Scrutinize all possible channels of data origin and separate distortions, if any.
Collect data from primary and secondary sources.
Maintaining the databases for further analysis of data.
Choose statistically efficient method to analyse the data and optimize the gathered data for analysis.
Interpret the data using statistical tools, analyse the results and submit the reports.
Work hand in hand with business management teams to establish business needs.
Identify newer data collection and analysis processes to match business goals.
Which industries prefer Data Analyst?
Data is everywhere and data analysts are just being in demand increasingly in many fields. Currently, the industries that have a peak demand data analysts are Retail marketing, banking and finance, healthcare, insurance, transport and tourism.
What skills are needed to become a Data Analyst?
As we have seen so far, the job of a data analyst revolves around dealing with data, numbers and statistical methods. Thus, it is a basic implication that a probable candidate aspiring to become a data analyst should have good propensity in working with numbers and thus should be comfortable in mathematics, especially statistics. It is also equally desirable for the candidate to have knowledge on humanities.
Besides these basic skills, a data analyst is expected to have programming and analytical skills as mentioned here:
Programming Languages: Python and Matlab
Statistical Language: R and SAS
Analytics tools: Adobe Analytics and Google Analytics
Campaign Management: Adobe Campaign
Data Visualization Software
Microsoft Excel at an advanced Level
Structured Query Language (SQL) in depth
To be clear, data analyst is a role that suits anyone who has strong interest in mathematics, computer science, statistics and economics. Besides, these technical skills, a potential candidate should have analytical and creative bent of mind.
The data and analytics industry is one of such businesses where one needs to be a good team player. So it is equally important that team player skills, attention to detail, problem solving and communications skills are a must to become a good data analyst.
The future of Data Analyst career
World Economic Forum predicts that by 2020, the data analysts would be the one among the top five in demand jobs across the world.
Another report by LinkedIn showed a high margined difference in the hiring of data analysts now compared to six years ago.
IBM's report predicted that another 7,00,000 new job openings would be created in data stream alone, by 2020.
Reports found that this profession is also equally attractive for women professionals and currently the industry across the globe has 41% of women force.
The career is equally in demand by start-ups and big MNCs across the world. The entry level salaries are in between $50,000 – $75,000 per annum, which just increase with experience and skills.
So why wait? If you are enthusiastic about grabbing a good paying role as data scientist, get training in Data Analysis from GangBoard, the experts in IT trainings and certification in Chennai and Bangalore. Their expert and experienced team would guide you right from clarifying your doubts about career in data analysis till you grab that dream job as Data Analyst. All the best!