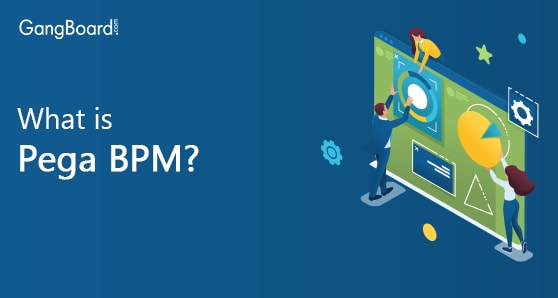 What is Pega BPM?
BPM or Business Process Management helps in managing workflows and processes in an organization. It generally includes steps like analysis, design, modelling, execution, monitoring and optimisation.
Pega is a business process management tool that simplifies operational processes and provides end to end solutions. It integrates with the CRM software of the organization to make the business journey smooth.
The biggest advantage of Pega BPM is that you don't have to put a new system in place for it. It is basically developed on Java using OOP and Java concepts. It is mostly used by organizations in the finance and banking sector.
How is Indian BPM market growing?
NASSCOM, the supreme body of information technology, says that Indian BPM is growing at the rate of 8-9% yearly. NASSCOM believes that Indian BPM market is expected to be a 54 billion dollar industry by the end of 2025. In the last five years, this sector has grown by 1.7 times. Though America and Europe are the main powerhouses in BPM, organizations are expanding in the Asia-Pacific region as well.
Due to low operating cost in India, the country has 37.6% share in BPM offshoring market. Cities such as Jaipur, Kolkata, Ahmedabad, and Kochi are setting the benchmarks in providing exceptional services. These cities still have to overcome challenges such as the lack of skilled professionals, training costs and the paucity of soft skills. But according to the CEO of WNS and chairman of NASSCOM BPM Council, Mr Keshav Murugesh, India is ready to meet the projected 11-12% growth rate in BPM sector in spite of the challenges.
How is Pega BPM leading the market?
In today's world, Pega BPM is the ideal platform for businesses looking to improve the operational efficiency. This tool comes under a niche category due to the licensing cost and the requirement of certified developers and designers to create an application in Pega.
The tool thrives for customer centricity and focuses only on the needs of the organization. Leading organizations of the world use Pega BPM to improve customer experience and upgrade the efficiency of their operations. Mostly, this product has been used for CRM solutions and platform support. Despite that, Pega BPM is popular among top organizations due to its flexibility to support various aspects of business requirements.
Pega certified developers in demand
According to a survey, the demand for Pega-certified developers is expected to rise by 200%. It is true that certified Pega resources make more money than average Java developers. Currently, Pega-certified developers are in huge demand with better billing rates. For certified developers, it's an open market of opportunities. If you want to be an expert in a niche skill like Pega, you need to know that Pega BPM is growing exponentially right now. It is the right time to grasp the workings of this by joining with the best Pega Online Training with leading software providers.
Growth of Pega ecosystem in India
Though the Indian Business Process Management (BPM) is still growing and diversifying, the country is adding more customers and is able to deliver upon their needs. Clients from all across the globe are expecting financial outcomes along with specialized talent and innovative techniques. Pega BPM has changed several priorities in an organization making them more outcome-driven than before.
Pega BPM and Indian BPM industry are growing consistently. They are looking forward to broadening the developer community in the country. Hyderabad is the largest IT hub of the country and is home to the regional headquarters of Pega Systems in India. Today, Pega Training is encouraging more developers in India to become certified Pega developers.
Interesting numbers from Indian BPM industry
Indian BPM players have transformed their approach to providing high-quality solutions. Instead of execution, they are focusing on meeting customer and offering value addition. The statistics from the BPM industry is mind blowing. Over 60% recruitment has been done in India from tier 2 and tier 3 cities. India is the fastest growing knowledge service hub in the world. It has evolved amazingly in the last five years. BFSI and telecom sectors were serviced by Indian BPM industry in the last fiscal year.
The revenue has reached an all-time high of USD 26 billion with a growth of 12% in last five years. Over 40% employees in the BPM industry are females. Needless to say that India is the largest market of CIS services which has grown aggressively in the past few years. There is a collective effort from the big BPM companies to focus on high-end technology and analytics.
Leader in the industry
The US, UK and Germany are leading countries in the BPM industry right now. But India is widely considered as the key region to focus upon and will continue to be so in the future. Several Indian companies are providing high-end services to international clients. The industry is growing at a very fast pace even though it is facing certain barriers and challenges.
The Indian BPM industry has traveled a long way in the last ten years and will be the leader in this space soon. The shift is transforming from BPO industry to BPM industry. The industry is also shifting gears from a steady movement in early 2000 to more technology-enabled platforms in 2016. It is true that several countries are offering different delivery models to their clients but India will continue to remain ahead of the stiff competition by providing more domain-centric solutions.