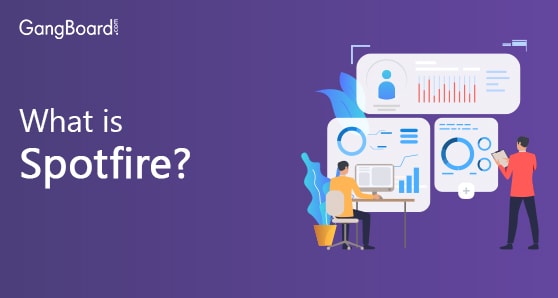 What is Spotfire?
What is Spotfire?
We all know how powerful and important avatar that data has donned these days. Every company is relying on data, data and data. Be it for making market decisions, or for designing new products that meet customer requirements, or to analyse how better they are compared to their competitors, this age is definitely data driven. While dealing with tons of data, visualising it is an equally hectic task as its collection and analysis. With Spotfire, this just could not get much simpler.
Spotfire is an AI driven enterprise range analytical platform for combining data into a single analysis and gives an all-inclusive visualization of data with top-notch interactivities.
Features of Spotfire
Spotfire is a data visualization tool that offers amazing benefits and simplifies the work for anyone those who deal with data and its visualization. Spotfire helps in playing with right from the scratch – collect, analyse and visualize it.  With Spotfire's unique features, you can perform the following tasks with an amazing ease:
Data Search and Discovery
A main problem that many companies face today are collecting meaningful data in a simpler form. Often data is mostly available in both structured and unstructured format depending on the source form which it is gathered. Spotfire uses AI and machine learning techniques that all together give a new trend of collecting and working with data.

Spotfire's interactive data discovery environment is so designed that finding the insights of any data within a sniff. It just means you are a step ahead of your competitors in finding the threats and opportunities for your business. A bonus? Using this tool for data discovery is pretty easier and you do not need expert IT help at all.
Data Visualization
Spotfire is rich in graphs and 3d charts that provide the graphical representation of your data. The tool offers an all-inclusive platform for visualization, interaction and sharing of data. The team at Spotfire is humbly proud that the tool's visualization features are an outcome of their intense experience for over 18 years in bringing out the best human-computer interaction, while taking into account the data visualization needs of various groups of users, ranging from academic to industry.
Analytical Applications and Dashboards
Dashboard creation can often be the first step in visualization of data. Spotfire eases dashboard creation and publishing of data onto any device – mobile or desktop. And all this is done through zero-footprint web client. Besides, the collaboration between all the team involved is done in a secured mode and by giving an exciting data display.
Predictive Analysis
Spotfire's data analysis is based on machine learning, data mining and predictive modelling. These statistical techniques study the given data and analyse it by comparing with the historical data and give the predictions. Spotfire offers 3 predictive analytics platforms for meeting the needs of wider range of users:
TIBCO Spotfire Statistics Services
TIBCO Enterprise Runtime for R
Spotfire Predictive Modeling Tools
Ease of Collaboration
Spotfire's collaborative business intelligence offers extremely comfortable collaboration among all the teams involved at all the stages involved – from brainstorming to final trend analysis. The insights it offers are transparent and makes it easier for bringing out ideas and hypotheses.
Spotfire is rich in stored libraries, scripts and annotations and threaded discussions, that maximize the productivity for everyone working on the same data in a collaborative environment.
Enterprise-grade Analytics
Spotfire is designed to cater the needs of small scale data analytics needs to large enterprise grade analytics. Irrespective of its scale of usage, the performance is cutting edge and more than required. The tool contains all capabilities required for smoother distribution of work, to note down and track SLAs, inclusion and deletion of service instances and routing and pooling the resources in a smart way.
The Power of AI at its best
Spotfire uses natural language query to perform data discovery and insights for its users. In other words, searching for data is as simple as a web search, with Spotfire. All that a user has to do to search for the source of data. The AI of Spotfire easily offers data relationships and recommendations much to the comfort of the user.

Benefits and Drawbacks of Spotfire
Like all other tools and software, Spotfire has its own advantages and limitations. Fortunately, the drawbacks are very less for this powerful data visualising tool.
Benefits
Beginner friendly and user friendly
Visual data clusters for ease of analysis
Collaborative and all customizable dashboard.
Ability to deal with any type of data from any type of source.
Identification of outliers in data is easier.
Charts and diagrams are easy to comprehend and analyse.
Accessible from anywhere; all that a user needs is an internet connectivity to connect to their cloud.
Drawbacks
Manual training and support documentation can be improvised.
Advanced infrastructure may be infused into external domain authentication process.
How good is Spotfire for Data science?
Spotfire is compatible and provides smoother working experience with all forms of data sources that a data scientist need to work with. This include, but not limited to, Apache, Hadoop, Spark and relational databases. Besides, Spotfire provides the best in industry features for machine learning and predictive analytics that are safe and secure to be shared and collaboratively worked upon.
How to select the Spotfire form that suits you?
A main feature that benefits Spotfire's users is its scalability. If you are a budding business, you can pick the one that just caters your business needs and then keep adding the features as your business grows.
Spotfire is available in three different forms and each form serves different needs.
Desktop – For single user who want to create dashboards and analyse data on their standalone computers.
Cloud – This version contains features such as creation of dashboards, sharing the results and analyses, and other environment that suits best for those teams that collaborate in the cloud.
Platform – This is designed for big companies and hosts a high level of features in everything – ranging from creation of dashboard to big data analytics applications.
Learn Spotfire from the experts
Spotfire is increasingly being preferred by IT and banking giants such as Bank of Montreal and Arab Banking Corporation. For those who master Spotfire, the career is promising. Learn Spotfire from trainers at GangBoard, which boasts of its wide experience in IT and Software certification and move up in your career! All the best!