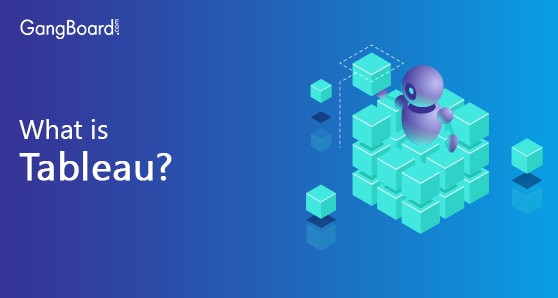 What is Tableau
What is Tableau?
Do you know what is Tableau? Tableau is a wonderful data visualization tool which is more commanding and wildest concept utilized in the industry called Business Intelligence. Using this effective tool, you can simplify the uncooked data into the effortlessly logical format with null coding familiarity and technical skills.
You can make a very quick analysis of data using Tableau and the visualizations created are displayed in the form worksheets and dashboards. Any level of professional in a company can understand the data through Tableau. Even a non-technical user can simply create a customized dashboard. Tableau permits the users to deploy data, alter calculations and modify situations in actual time.
We can see three major differences in Tableau when compared to Excel which is modifying the source of data when functioning, enabling to manage boundless data, and allowing to create collaborative dashboards.
Introduction to Tableau
Have you ever been intrigued by the magnificence of the data science field?  Have you ever wanted to master the art of data visualizing techniques? You might want to learn about Tableau.
Tableau is one of the and Business intelligence and data visualization tools which basically helps us to view and analyze data. Any data analyst or data scientist would work with Tableau to help business people understand data. Let us see about Tableau.
A tableau is a tool that helps you to convert your textual and numerical information to beautiful visualizations through interactive dashboards. It is so popular, fast, interactive, dynamic, simple, user-friendly and has a huge fan base in public and enterprise world. It has a very active knowledge base i.e. documentation for each issue, how to do steps and an active community of people who help each other. The support team of Tableau helps you if you reach them.
Tableau Introduction | Tableau Tutorial For Beginners
Data Visualization in Tableau
Data visualization handled through Tableau is most important because we as human beings are good at understanding the concepts and things when described visually. A flawless combination of appealing elements like magnitudes, colors, and markers can produce a visual masterwork and such work would help any business to come up with an idea and end up in knowledgeable verdicts.
Easily digestible visuals will enable you to access any amount of data. I hope you all are aware that fine-tuned and designed graphics are typically the meekest and the most influential method for presenting any kind of data.
We can see more data sources are getting exposed in today's trend, and that is why most of the business managers are looking for commendable data visualization software to examine trends visually. Many data analysis experts are recommending the beginners to follow this method consistently to get more and more Tableau job opportunities in 2020.
Why Tableau?
A Tableau is a  software that helps to understand the patterns in the data and provide a visual representation of them. This idea itself is fascinating because the human brain is wired in a way to understand visual patterns better than any boring, old statistical data or lengthy presentations.
Tableau analysts need to understand the patterns in the data and derive meaningful insights from the data and use statistics to represent data and clarify their findings to the business people who do not have much technical knowledge. This needs a variety of skills such as Data Analytics, Statistics, Communication, and Business, etc.
Tableau helps nontechnical people to understand data and make data-driven business decisions to help in their organization 's growth. Tableau is the leader among the data visualization tools and there is an increasing need for Tableau professionals across the globe. According to Gartner Magic Quadrant 2017, Tableau is the gold leader that rules the whole data visualization market.
People can easily observe visually presented things than written reports. Also, everyone has their own need for some analysis and analytics. Tableau software helps them with that. It is one of the leading data visualization software in the universe and key element in the data science galaxy for the presentation of output.
It is part of the analytics world, business intelligence and reporting too. Its job is simple, to visualize things but it does it well and for the attention it deserved. No hero introduction needed for a hero. LoL.
It is well known for its performance, visually simple and appealing charts. They conduct many conferences, user group meetings so often. They add small features often that are truly helpful.
Advantages of Tableau
To acquire the Tableau job opportunities in 2020, primarily you should know all the benefits and drawbacks of Tableau. The below table provides you the advantages of Tableau:
| | | |
| --- | --- | --- |
| S. No. | Category | Description |
| 1. | Ease of Implementation | Users can get many types of visualization options in Tableau that enhances the user experience. When compared to other tools like Business Objects, Domo and Python, Tableau is very simple to learn and implement the ideas in your business or private projects. You are not expected to have any prior experience in coding to learn this tool. |
| 2. | Mobile Support and Approachable Dashboard | For devices like laptops or mobile phones, Tableau dashboard is affording you a prodigious reporting feature through which you can create a customize the dashboard. There is an automatic process happening in Tableau where it automatically recognizes the device that uses the report view and accordingly adjusts for a perfect view on that device. |
| 3. | Data Visualization | As already discussed, the first and foremost benefit of using Tableau is its data visualization concept. To enable the user to understand the complicated calculations, data blending and dashboards techniques in Tableau is very much helpful. |
| 4. | Rapid construction of collaborative visualization | Users can create a wonderful cooperative visual within a few minutes using the drag-drop functionalities of Tableau. Many remarkable visuals can be created at Tableau Gallery and the interface is able to handle infinite discrepancies. |
| 5. | A large amount of data | Though we have a million of data, it is quite easy for a Tableau user to handle any amount of data without any impact on dashboard performance. Various types of visualizations are accessible to present your 'n' quantity of data in an effective manner. |
| 6. | Tableau Business Approach | Tableau is in the market for more than 6 years and serving as a leader for businesses dealing with millions of data. Although we have many other technologies like Machine Learning, Data Science, etc, we can still see many companies or businesses running behind Tableau tools. This is a great chance for Tableau to stand as a unique technology in many industries and never give up its importance. |
| 7. | Other languages in Tableau | To perform complicated table calculations and evade the performance issues, you can integrate R or Python. If incorporating a Python script, data cleansing tasks can be performed by importing packages. |
Disadvantages of Tableau
The below table provides you the disadvantages of Tableau.
| | | |
| --- | --- | --- |
| S. No. | Category | Description |
| 1. | Custom Formatting | The table columns are limited to 16 and Tableau's conditional formatting is a great trouble for the users. If implementing similar formatting to numerous fields, directly it is not possible to perform for all fields. Only manual entry for each field is possible which is a laborious task. |
| 2. | Screen Resolution on Dashboards | The dashboard layout gets bothered when the resolution of the Tableau developer's screen is different. For example, higher the developer screen resolution, lesser the clarity when viewed in a screen with lesser resolution. This makes the dashboard insensitive for the view. Hence, for mobiles and laptops, you need to create separate dashboards. |
| 3. | Automatic Report Scheduling | Automatic refreshing of data is not possible in Tableau reports using scheduling as we don't have such an option. We need to do some manual processes in the backend to update the report whenever required. |
| 4. | Tableau Price | Tableau is an expensive product if using in a bigger organization. Tableau software surely requires a proper operation, deployment, maintenance, and staff training. Most of the small and medium-sized companies feel difficult to get the license. |
| 5. | Security Issues | Tableau does not provide unified data-level security. You can expect only row-level security and not with the entire report. Most of the vendors are looking for secured tools and technologies. In that case, Tableau is one step behind with the security process. |
| 6. | Bad Versioning process | Revision history is available only for the latest Tableau version and not for the old ones. |
Versions in Tableau
Professional and Personal are the two (2) versions in Tableau. The difference between these two versions are professional allows the users to create and store data sets in their own system, whereas in personal version, you are not allowed to store data in the local system.
Features of Tableau
We can see many features in Tableau which makes it very popular and important for a business. Below are some of the key features that are highly utilized in most of the companies. You need to check in what ways the below-mentioned features can help you in increasing your Tableau job opportunities in 2020.
Dashboard commenting
Dashboard Sharing
Data Notifications
Metadata Management
Server Rest API
Automatic Updates
Translating queries to visualizations
Mobile-friendly dashboards
Creation of no-code data queries
Embed dashboards
Drag-drop and Toggle view
Security Permissions at any point of the level
Features Embedded in Tableau
If you are ready to proceed with your career in Tableau technology, you need to know the below features embedded in Tableau for better opportunities in 2020.
Subscribe to others:
Users can select the names from their wish list and provide the subscription to view their dashboards with a single click.
Document API:
To operate the files like .tds and .twb, a new document API in Tableau affording a supported path. You can create a template book and deploy it across multiple databases and servers.
Licensing View:
A new body view is included in Tableau where you can view the licensing and practice of Tableau Desktop.
Internet Information Connotation Two:
Build supplementary multipurpose and influential connectors with the online information connotation two. This version supports numerous joins and tables.
Rest API Enhancements:
REST API in Tableau has been inflamed with additional data decisions, and the volume to return the Tableau Server version.
List of Tableau tools
We all are aware that Tableau is the quickest method for data analysis. To make the operations easier with Tableau, we need to focus on different Tableau tools as well. There are two categories of tools based on the Data Analytics concept namely Sharing Tools and Developer Tools. Tools used for development purposes like the creation of dashboards, charts, visualization, and report generation are called Developer's tools. Sharing tools are used to share dashboards, reports, and visualization which are created with the help of Developer Tools. Below is a list of Tableau tools that helps you to work more professionally every single day with Tableau.
Tableau Desktop:
This is the software version that has developed features that involve connecting to a data source, creating charts and enhancing data sets.
Tableau Desktop permits the users to code and customizes the reports with rich features. Starting from report and chart creation, ending with dashboard formation, the entire mandatory tasks are handled in Tableau Desktop. Tableau Desktop creates a connection between the innumerable types of files and Data Warehouse for live data examination.
The workbooks and dashboards created in Tableau Desktop can be shared in public or local. Tableau Desktop is further classified into two parts namely Professional and Personal, depending on the data source and publishing option connectivity.
The workbook is made private and limited access is provided in Tableau Desktop Personal, whereas the workbooks are made public through online or within Tableau server in Tableau Desktop Professional. Professional is the best option if the user desire to publish their workbook in Tableau server.
Tableau Public:
Workbooks can be saved in the Tableau public but it is accessible to everyone in the public. Tableau Public is particularly constructed for profitable users. You cannot save the workbooks in your local system if created in Public. The workbook can be stored in Tableau's public cloud that can be opened and read by anyone.
We cannot expect the privacy on the files, hence anyone can access, view, read and download the data. Users who are willing to share their data with the universal public can use this Tableau tool and for the individuals who are willing to learn Tableau.
Tableau Server:
This is for licensed users and can be used to store organization-specific data in the server. This has to be purchased and provides data privacy. Publish the workbook in the Tableau Desktop to share dashboards in the Tableau Server. When the uploading is successful to the server, only the authorized users can access the workbook.
Tableau Server is not required to be installed on the authorized user's machine and only login authorizations are required as they can simply verify reports through the web browser. For speedy and active data sharing, Tableau server is very useful the security is also high. Organization admin is holding the whole control of the server and hence preserves the software and hardware.
Tableau Online:
This can be used to share content online and has been integrated with a lot of cloud data sources. Through Tableau Online tool, Data get stored on servers that are hosted on the cloud and maintained by Tableau group. Data published in Tableau Online has no storage limit and a direct link is created over 35 data sources such as MySQL, Amazon Aurora, Hive, Spark SQL, and so on. Data that comes out of Tableau Online or Tableau Server supports Salesforce.com and Google Analytics.
Tableau Reader:
Though we cannot modify or change the data, we can view or filter the existing workbooks using Tableau reader. Using Tableau Reader, a free tool, you can view the workbooks and visualizations created through Tableau Public or Tableau Desktop. In this reader tool, you can filter data, but cannot edit or modify. Anyone can view the workbook and hence we cannot expect security in Tableau Reader. The receiver must have Tableau Reader to read or view the documents shared by the other user.
The data analytics of Tableau can be described in two ways and they are
Sharing Tool
As the name suggests, this sophisticated tool helps in sharing dashboards, reports, visualizations, etc. that are designed by using the Developer Tool. Tableau Reader, Tableau Online, and Tableau Server are the primary Tableau products.
Developer Tool
These are the tools used for developing designs of dashboards, charts, visualizations, reports etc. Tableau Desktop and Tableau Public are the primary Tableau products.
There are diverse online institutions offering proper training to use the diverse products of Tableau. Aspiring careerists should gather information on the same and reach their career goals.
Architecture of Tableau
Tableau server is helpful in connecting numerous data tiers and truly it is possible to connect the client from various devices like Desktop, Web, and Mobile. Tableau is a multi-user, multi-process and multi-thread system that can run on both virtual and physical machines. For such a wonderful system, we need to have a unique architecture. Yes, Tableau Architecture is very powerful and contains various influential features. Below are the components of Tableau Architecture.
Data Server:
The data server is the chief component of Tableau Architecture. Multiple data sources can be connected by Tableau and blend data. Connecting databases excel files, and web application is possible at the same time.
Data Connector:
An interface is provided by Data Connector to connect Tableau Data Server with peripheral data sources. SQL/ODBC is an in-built connector of Tableau. Without the help of a native connector, any database can be connected to the ODBC connector.
Components:
There are three types of components in Tableau Server which are VizQL Server, Application Server, and Data server. VizQL server is to change the queries into visualization from the data source. An application server is helpful in providing authentications and authorizations. The data server is a central data management system, which is useful in managing and storing data from external data sources. Metadata Management, Data Storage, Data Security, Driver requirements and Data Connection are the services provided by the Data Server component.
Gateway:
Directing the requests to Tableau components from users is the process handled through Gateway. The requests are forwarded to the external load balancer while receiving client requests. If there is no external load balancer, Gateway by itself works as a load balancer.
Clients:
With the help of various clients, users can view and edit the dashboards and visualization in Tableau server. Tableau Desktop, Mobile applications, and web browsers are the different clients used over here.
What makes Tableau different from the other visualization tools?
A tableau is a powerful tool that can connect to any type of database. It generates its own queries to work with huge data sets, so we can make patterns in just a few seconds, while the same would take minutes or hours with excel.
Tableau has an intelligent dashboard that provides a quick solution for most commonly asked questions by the users. It provides a better user experience since it is easier to learn and use. It provides better integration functionalities with most third-party solutions. Deployment is also comparatively easier. It's a flexible and elegant tool. Hence, Tableau is the best choice when it comes to data visualization although it comes with a cost.
Working with Tableau
There are two versions with Tableau
Personal
Professional version.
The personal version does not allow you to store your data locally, but the professional version allows you to create and store data sets in your own system.
It involves connecting with any data source, whether it is excel or database or cloud application. Then, it involves creating a visualization from the data sets and creates a customized dashboard. These dashboards are very user-friendly and interactive. Finally, the user can tell stories in the form of a picture.
Data views can be changed accordingly. The user can also apply a lot of calculations such as numeric, string, date-related, etc. Data can be sorted, filtered according to various parameters. Data can be visualized in various forms such as Pie chart, bar chart, treemap, histograms, geographical maps, bubble graphs and so on and can be saved as workbooks. This is an exquisite tool that gives the best experience among all the visualization tools.
The BI Industry is Indebted to Tableau – Know How?
Today, data is power. For a smoother analytical journey, professionals incline towards the most potential data visualization tool- Tableau. The Business Intelligence industry is indebted to the software launched to ensure a smoother flow of analysis, data preparation, and collaboration. By adopting Tableau, experience a winning business by boosting the data collection and reach your ultimate goals.
Quickly, the fast-growing data visualization tool is capable of transforming the raw data into an easily understandable form and for that, the doer doesn't need to have any prior technical skills or coding knowledge.
Before we know more about tableau and its contribution to strengthening the BI industry, let's know about the importance of Data Visualization
People understand things easily if they can see it clearly in front of them. Tools like Tableau, without creating much hassle showcase the data easily in front of users for which, it becomes easily understandable. Tableau helps to understand data easily with digestible visuals created with finely-designed data graphics.
Things to know about Tableau
Tableau is highly appreciated for quick data analysis and the visualizations are also showcased both as dashboards as well as worksheets. Businesses are taken forward as the Tableau supports creating the dashboards equipped with actionable insights. All the products of Tableau can only be operated in visualized environments after they are configured with a suitable operating system along with the exact hardware. Tableau has made a place of its own for giving the opportunity to explore data even with very limited visual analytics.
Here are some of the features of Tableau
Blending of data
Data collaboration
Real-time analysis
Zero technical knowledge required
What are the Advantages of using Tableau?
Outstanding visualizations
Users are indebted to the in-built features of Tableau that helps in creating visualizations showcasing uniqueness. By exploring data at various levels or drilling them down, you, being the user will have the option to switch in between diverse visualizations for creating a greater context. You now have the freedom to work with diverse data without any specific order and develop various ranges of visualizations.
A user-friendly attribute
Perhaps the best feature of Tableau is that the technology doesn't demand any prior technical expertise from users. This feature has made the software more powerful and easily acceptable to millions of users across the globe looking forward to enhancing their data visualization works. People belonging at the ground level can easily learn and use the software without any technical background. The visualizations are given an extra shade with the simple drag and drop format of Tableau.
Add on data sets
Adding new data sets in Tableau is not a big deal. Whether it's an Excel worksheet or a database Tableau can readily add new data sets that sooner get adjusted with Tableau and work accordingly without taking much time. Option to switch in between various visualizations It's convenient to switch between visualizations for bringing out a bigger context.
Working with diverse data sources
Working with Tableau can make the company powerful as it gives the opportunity to utilize the data from various disparate sources. In today's data-driven world, collecting data from reliable sources with the help of Tableau is definitely appreciable. Tableau helps you in connecting with diverse data sources such as data banks, files, data warehouses, spreadsheets existing in the cloud or in any other data tank. Tableau seamlessly blends each and every type of data to support companies/entities to get the expected visualizations.
Scope of Tableau in the Future

Data Science is one of the top-most fields using Tableau for data management. So, yes, the scope of Tableau is very high in the upcoming years. The irresistible evolution level of the existing amount of data and demanding requirement of accurate decision making in all business domains of business, the Tableau tools increases the scope for data visualization. The time consumed to create, and maintain the graphic packages is momentously abridged with the help of Tableau.
The climbing demand on Tableau for business is not a sudden requirement, and we can see some logic behind the need. A few years ago, we have not dealt with a larger amount of data, but that is not the case in the current days. Currently, producing a larger amount of data and performing a few analyses is not a big deal as we have numerous tools to handle such scenarios.
Tableau is having all the features and characters to fulfill his data analysis process with outstanding visualization, and hence Tableau has gained enormous popularity. As per Gartner's research, Tableau's popularity is going to touch the sky and we can be assured of Tableau job opportunities in 2020.
When trying to find the jobs in Tableau, there are more than 500 companies hiring for Tableau experts. Sony, Facebook, KPMG, Capgemini, General Motors, Bank of America, Dell are some of the renowned companies looking for Tableau Talents, both in India and abroad countries.
On completing Tableau certifications, you can get more and more job roles to pick from. Data Analyst, Business Intelligence Developer, Tableau Consultant, Business Analyst, Tableau Consultant, Business intelligence Manager are some of the most wanted roles in this field.
Now it is sure that Tableau is a very promising opportunity at present and in the year 2020, many open avenues can be seen to enhance your skills. The process of working with multiple databases, a dense knowledge of Statistics, and to work on multi-storage databases are the additional skills that you can acquire through Tableau learning.
It is always good to have the enthusiasm to learn, develop and be intrusive in this specific field to receive a number of Tableau job opportunities in 2020. The starting salary for a Tableau expert would be $87,000 and up to $160,000 can be expected as the highest salary in 2020.
Tableau Job Opportunities in 2020
Though there are many technologies, software, and tools available in today's market, few industries are targeting visualization tools and hence Tableau takes place as an important tool. Dealing with huge data has become a challenge these days and hence, many professionals are looking for extraordinary technologies. Tableau plays a major role in the Data Visualization field and hence Tableau Job Opportunities in 2020 will hit the roof. Before we check out for the job opportunities, roles, and salary range, let us discuss what is Tableau, its features, advantages and disadvantages, architecture and many more.
Why should I learn Tableau?
The scope for Tableau is growing. It is used everywhere – Engineering, education, finance, film, healthcare, insurance and you name a sector, it is covered. It is becoming an integral part of life just like Microsoft Excel. It is so easy to learn and the basics are too intuitive. If you were able to master it, you could make awesome visualizations that will get its appreciation itself.
Who can learn Tableau?
A data analyst who worked with Microsoft Excel can easily learn Tableau and boost up his/her career. SQL knowledge is a good-to-have skill, but not a mandatory prerequisite. Tableau is an easy to use tool which does not need any specific technical knowledge to learn, although some passion and good analytical skills can help you grow as a data expert.
What is the prerequisite to learn Tableau?
There is no prerequisite really. Anyone can learn Tableau. If you really press me, I will say one requirement – the learner should know to drag and drop, type formula and think a little logical. Knowing SQL, Database, Python, and R is an added advantage but it is not mandatory and never was a show stopper for some to learn Tableau. Most Tableau users don't know SQL or Python or R. All they know is to make their imagination into charts. That's all is really needed. See you on the other side.
Certifications in Tableau
| | | |
| --- | --- | --- |
| S. No | Certification Name | Description |
| 1.      | Desktop Specialist | Desktop Specialist is for the individuals who need to get basic knowledge on Tableau Desktop. No pre-requisites are required to enroll in this exam. eLearning, in-person training, and live virtual courses are different training modes. The course cost would be around $100, and the duration of the exam is 60 minutes. You should score 70% to get certified at this level. |
|  2. | Desktop Certified Associate | Individuals who need to get a wide-ranging understanding of Tableau Desktop functionalities and be an expert in the product can opt for this certification. The cost of this course is $250, and 2 hours is the approximate duration for completing this exam. 75% is the passing score for this level. |
|  3. | Desktop Certified Professional | This particular course mainly focuses on advanced functionalities and visual applications. To get this certification done, you need to complete the Desktop Certified Associate. Three hours is the exam duration and $600 is the cost of this certification course. Live virtual and in-person training is available. |
| 4. | Tableau Server Certified Associate | You can get pure knowledge of administrative functionalities and various platform concepts. The fee for this course is $250, and 90 minutes is the duration of this exam. 75% is the passing score and there is no specific pre-requisite expected. |
|  5. | Tableau Server Certified Professional | To get knowledge of Tableau architecture and become an expert in platform integration, you need to get this certification. The cost of this course would be around $800, 7 hours is the exam duration. You must get the certification on Server Certified Associate to get certified on this. |
Related Blogs: