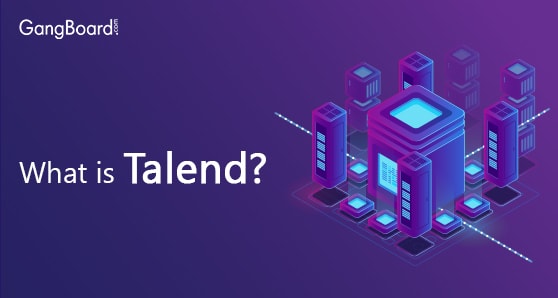 What is Talend?
The Importance of Talend in Today's Market
In this data driven scenario of today's industrial world, it is of paramount importance not just to have data but to make the best use of it to draw meaningful conclusions or Business Insights. However, it was also observed that two thirds of the data in big businesses is left unutilized, as it remains locked in rarely used applications or other non-utilizable storages. The need of the hour is thus Extract, Transform and Load, abbreviated as ETL. Talend is a tool that makes ETL process simple and profitable.
Talend is essentially an open source data integration platform, also available in a premium version. Its Data integration capabilities which essentially involve merging of data from multiple sources on to a single view, are highly advanced and of a great utility. The necessary steps in data integration include; ingestion, ETL mapping, cleansing and transformation. This data integration has immensely helped analysts in producing definitive business insights, which have culminated into action plans. Thus, the importance of a powerful data integration tool such as Talend cannot be stressed enough.
A Closer Look at What Talend Can Do
Talend's specialty is Big Data integration and the company was founded to serve this purpose of modernizing data integration in 2005. A leader in cloud and big data integration, targeted towards the future, Talend has helped companies by improving access to data and its quality, also helping these organizations in making on-spot business decisions by enabling real-time data transfer to where the data is needed.

What are the various Talend Products?
Talend's Open Studio
open Studio is its most popular product, and the most powerful open-source data integration tool being used. It was launched in 2006 and has the following three applications which make it the tool of choice for data integration: Business Modeler, Job Designer, and Metadata Manager. Its GUI environment enables the user to easily perform operations such as file transformation, loading data and transfer of data to desired location for on-line and real-time decision making.
Talend Big Data
Automation can be achieved with Big Data integration through this specialized talend product. Using wizards and visualization tools, it allows the customer to effectively work with Hadoop, Apache Spark, NoSQL, etc. Data warehousing is significantly eased using this product with the added advantages of scalability and improved data quality.
Talend Cloud
Using its cloud integration platform as a service (iPaas), cloud integration as well as on premise data integration can be improved and accelerated in efficiency. Provision of native support for the latest cloud technology is a highlighting feature of Talend Cloud Integration.

Companies who have benefited from Talend
Through the effective use of Talend, many companies have achieved astounding results in diverse aspects of their functioning including operations, marketing, customer reach, feedback, product delivery etc. Some of these esteemed companies that have benefited from using Talend include; Lenovo, Domino's Pizza, GE Healthcare, Groupon, Astra Zeneca, Bayer Pharmaceuticals, Capgemini
A diverse array of tasks have been accomplished using the Talend advantage such as;
Human resource management optimization to become more competitive.
Ensuring a better and more intense customer engagement.
Usage of Big Data to drive better decision making.
Automatic solutions to tax issues faced by Multi-national companies.
Improving efficiency in supply chain management.
Accurate deliverance of product data leading to a boost in sales.
Achieving 360 degree view of the customer.
Talend Careers for Professionals
Some of the roles frequently offered to those with an experience in Talend include:
Salesforce Business Analyst
Cloud Account Executive
Data Integrity Specialist
Channel Marketing Manager
Marketing Director Data Integration
Senior Data Quality Analyst
Looking at the growing usage and the versatility of Talend, the Talend certified professionals are seeing a rising demand for their specialized skills. Career opportunities with Talend have never been better and are all set to keep growing, with the increasing application of Cloud and Big Data.