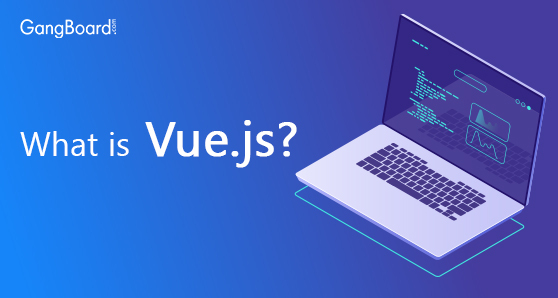 What is Vue.js?
What is Vue.js?
Vue js is used for building an interaction between human and computer.  Vue js is an open source Java Scripted Progressive Framework. For building a single page application vue js is very much capable of by combining with Modern tools and supported libraries. It basically focuses on the last layer of the application called 'view layer 'where the used data is stored by the application. Vue js is a simple constructed and easy to use framework by java . It is easy to blend with other libraries and frameworks also.
Vue.js does not work as usual as other frameworks. It is designed from its base to adopt featuers on its growth. Vue.js is fully new, lightweight, and it is less or no difficulties to understand. Vue is flexible and simple but offers an input and output data binding feature and powerful also. Vue js gives options to construct a structure with client's way because it is option flexible.
Vue.js is highly progressive and cross-platform framework. That is why many developers prefer Vue.js when it comes to create a single page application. When it comes to a Model-View-Controller architecture development for web application, Veu is used to display the data portion of the application for user.

Features of  Vue.js
There are also numbers of features in Vue js
Easily Adoptable:
It is easy to blend Vue js with other existing framework by the user because Veu js central library is mainly focuses on the data portion display layer. That is why user can take Veu js library and easily collaborate with the other framework libraries in a running project.
Lightweight:
Vue is basically provides the input and output data binding or a data portion display of the application to the user with justified basic documents and it is lightweight also. User can use it to provide light feature in pages and a better option than fully constructed Single Page Application because of its interface layer.
Lower Learning Curves:
Developers who are working with HTML observes that Vue is easy to adopt. So it gains a mass response in between the beginners as well as between the developers who are fresher in the app development field.

Two way binding:
Vue provides both input and output data binding by the v-model directive to form texture elements and inputs. Vue can update the elements in a proper way as the input types need.
Virtual DOM:
The performance is much higher than any other platform of Vue because of its lightweight virtual-DOM process for putting effective plans which is based on Snabbdom. It is fully a new feature among all other features in Virtual DOM. The feature makes the computer hardware and software system less expensive and time consuming because user can update the application directly using the feature. When user wants to change the actual DOM user can use the process to change in just no time.
HTML based Template Syntax:
User can directly bind the provided DOM to the root of Vue oriented programmed data. This is also one of the useful features because user can have an extension of basic HTML elements and can save its reusable codes.
Reactivity:
Vue has a feature which creates reactivity system by using simple Java Script objects to improve efficiency of re-rendering. Every part of the application keep an eye on which it depends its reactivation at the time of render, for that the system is always get an update about when and which component to re-render.
Transitions:
When it comes to insert, update, or remove items from DOM Vue provides many ways for applying a transition effect. This effects need some tool are
For CSS transition and animation Vue automatically apply classes.
It forms a third party CSS animation library like Animate.css
Vue uses Java Script to control the DOM directly when it comes to transition hooks.
It forms third party Java Script animation libraries called Velocity.js.
Routine :
Vue itself doesn't support front-end routine but vue –router an open source package of Vue is supported with the API for updating the application's URL, and creates an authenticated URL parameters .
Vue was created by former Google developer named Evan You. It was first released on February 2014. It is basically java script framework and it is like AngularJS but much lighter and fasterthan that. Because it is a newly created platform it is evolving gradually. Developers are working hard to make it a stable platform for both computer and mobile app development. Vue js is becoming a demanding platform for its small size, easy to learn, easy to collaborate with other apps and developer friendly because it saves both time and expense also for the developer.