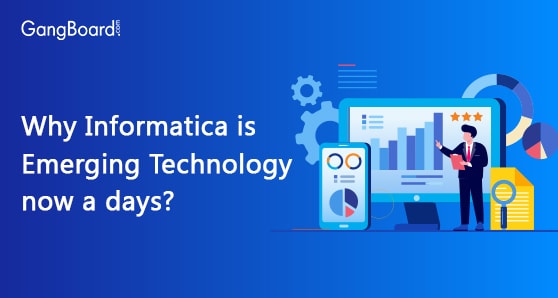 Why Informatica is Emerging Technology now a days?
Why Informatica?
The IT world has seen very drastic changes in the recent years that majorly includes new technologies and the internet. Now, each one of us can do banking/shopping/ticket booking, Ummm…. Most of the things in a mobile phone with the internet. With the online business, we are swiftly moving to digital world where everything and anything that goes in/out of the organization matters and it becomes the key source for the organizations to run the business. Also, the data handled by each organization growing at rapid rate every day.
According to the survey,
There is 30 billion of data shared on Facebook every month.
Over 100 hours of video content is uploaded to YouTube every minute.
Over 300000 tweets is shared to Twitter every day.
Well, it's very huge. Isn't it? You may think that why do we require these data to be stored in some place. Let's consider a scenario, you are viewing a video of your rock star in YouTube and you enjoyed the video. After some days, if you go back to the YouTube, you will be notified similar rock star videos as recommended videos. How did YouTube notified about your favorite rock star videos? Has there any software installed in your machine to watch all your online activities? Hmmm, certainly not. Whatever inputs you had provided in YouTube became the key information about your likeness. By storing it, it helped YouTube to provide best customer experience and exceeding customer's satisfaction.
In the digital world, the organization needs to store each and every piece of organization data which would help them to run a successful business and it was never easy for an organization to capture all of the data and shape them into required information.
With the Informatica PowerCenter, an organization can build the solutions to store the complete organization data in a data warehouse and help business to get valuable information from data warehouse at any time.
The Informatica PowerCenter is a data integration tool which help you to extract information from heterogeneous systems like Relational tables, flat files, Big Data, etc., apply the business logic (i.e. how the source data is transformed to desirable format) and store it in data warehouse. The features such as parallel processing, load balancing, incremental load which would help organizations to build the robust solutions and it enables the data migration process at faster rate.
Our Informatica Training is helpful to know the real world experience. From our Training you can capture from the basic to the advanced level..