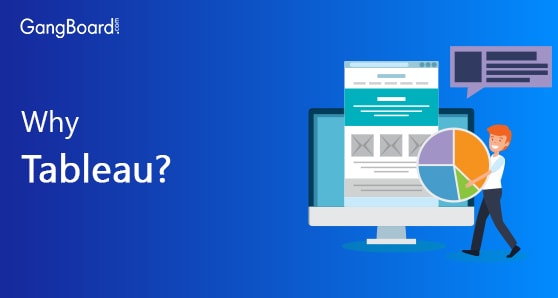 Why Tableau?
Every organization maintains their historical data and enter them into Database or Excel. Why do they have data analytics / Visual analytics team? Consider the following scenario:
You are the CEO of an organization. You have a meeting with your future client tomorrow morning. You want to prove them that your company did great in the past and will do great work in the future too. What will you do to prove them?
You can prove them with the data you have
You can sit with the accounts department to study the revenues and profits
You can discuss with the Project Managers to study how the team has increased and how it has performed
You can study the feedbacks of previous clients
You can do them but can you do that in a shorter time. All the data are in excel files and database. How can you study everything? How will you present the data to the clients? How will you show the best things happened in your organization with that huge data? Will the presentation be interesting if you show them in tables and text? If you create few charts using excel, will that say all stories of your company?
The best solution is Data analytics. Tableau is the leader, very easy to learn and best tool to create interactive, dynamic dashboards
It takes ideas and few minutes to hours for creating the best dashboard
Visualizing data into charts is the best way to interpret data. Tableau allows you to filter data and dynamically try different combinations of things.
Viewing the data in Tableau dashboard can save lots of time for the people. It saves your time on reading but attract people with short and simple visualizations.
It strikes the viewers with exact picture of data you want them to view
We can create dashboard on any data from accounts to Personal Daily expenditure/fitness tracker
We are the best
Tableau Training
to train all the students. We specially concentrating each student to develop the career.