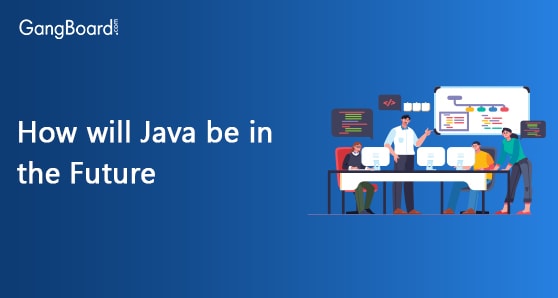 How Will Java Be In The Future
Being one of the most popular programming languages, Java has had an enormous impact on how users navigate in the digital world. This renowned Internet programming language has been the standard bearer for building dynamic applications. With a rich history spanning over two decades, Java is still the preferred language for creating applications in modern mobile platforms like the Android Play store. It comes as no surprise that Java Online Training is the most enrolled course among the vast software learning field. Java is a robust, flexible and powerful programming language that develops applications for desktop, mobile devices, embedded devices and the world wide web.
Developers from all around the globe use its rich vein of unique features for app development purposes. The career opportunities, as always has been the case, is incomparable for any aspiring Java newbie learner. One doesn't require to be a developer to recognize the influence Java has had on the tech industry. But with the rapid digital transformation in the world, Java is quickly adjusting to the winds of change to stay relevant in the marketplace. With this constant evolution, the future of Java seems unlikely to falter.
Going back in time
James Gosling, an immensely talented programmer, along with the duo of Mike Sheridan and Patrick Naughton where the masterminds as well as the creators of the Java language. They conceptualized, conceived and took forward their idea of "Write Once, Run Anywhere." This core idea went on to become the backbone of the success of Java in the long term. It took three long years worth of tiresome work to complete the Java project. In 1994, the first true consumable version of Java programming language was launched.
The coming years saw the evolution and development of Java which primarily focused on three essential areas – Functioning, Safety, and Performance. Java continued to add new features and replenished the old evident issues in the subsequent launches. Initially named as Oak, it symbolized the strength of the oak tree, but the name was changed later on.
The future of Java
Despite its rich and documented history, Java is not a legacy programming language. With new deployment tools in the market, there is a slight revolving theory in people's mind that Java is outdated, but it is far from the truth. Despite its scope of improvement and stiff competition from industry rivals, the future looks bright for Java. With loyal support and backing from Oracle, Java is predicted to continue its surge in popularity among the developer community. 2017 will see the release of Java EE – the eight version of the programming language.
India's 150 billion dollar IT outsourcing industry is constantly in search of Java certified professionals. There has been consistent result in each of the recent surveys conducted in programming languages – Java and JavaScript are still ruling the roost. The opportunity available for Java programmers is immense for ambitious individuals due to the continued growth of Java programming. Gangboard is one such institution which provides expert Java Online Training services to reap benefits in the long haul.