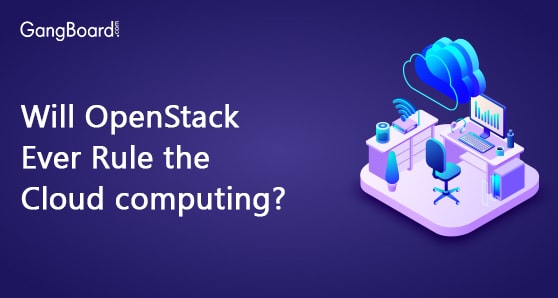 Will OpenStack Ever Rule the cloud computing?
OpenStack launched by Rackspace, NASA and some other around dozen developers. It is an open source project which was designed to provide a joint approach to cloud computing. This project is setfor a large share of enterprise usage. OpenStack is a platform for the cloud which facilitates the distribution of computing power. It is used to have control over the resources of the data center. There are many individuals who think that it is some rocket science to learn OpenStack, but it is quite easy to learn if you get someone to guide you in a correct way and if there is a knack to learn. OpenStack Online Training by GangBoard can help you to master this skill easily. Now, the question which arises why should one learn OpenStack.
Why should one learn OpenStack?
Scaling becomes very easy than ever with OpenStack. Scaling, which can also be termed as elasticity or flexibility can be described to adjust the computing capacity to the demands related to a task. OpenStack is designed keeping scaling in mind, and it does not matter whether the scaling is up or down. It also makes the job of admins easy, and it also makes it very easy to create and delete instances. It does not matter to OpenStack whether the company wants to run seven or seven thousand instances, it can carry out all. Hence it becomes a very popular choice of the industry today.
In the world of atomization, OpenStack is no way behind. It brings powerful tools for the admins which can be used to manage a cloud. It allows automating much of the usual hassles. It provides with complete control over the cloud using its API or the Application Program Interface through other programs. This feature makes it very easy for anyone to build an own app and can be used to instance fire up another virtual machine.
Since it is an open platform, it allows fast development. Top companies of IT industry like Dell or IBM are also contributing to the development of OpenStack. In addition to this, OpenStack can be inexpensive which makes it very popular in the industry.
Salary matters
If you are planning to become OpenStack engineers, then you will be getting an average salary of around $145,556 per year. The salary may range for the post of development operation engineer from roughly $135,607 per year to roughly $156,863 per year for the post of a software architect in the region of Mountain View. The salary may vary from region to region.
Conclusion
OpenStack is an amazing open source project which can be online with the help of Gangboard. OpenStack Online Training with GangBoard is quite flexible as you can learn anywhere whenever you are free. The placement oriented courses, corporate style of training and the syllabus which we design keeping all the updates in the industry is what keep us ahead of others. We believe in hands-on practical training along with theoretical knowledge. Flexible timings of learning which add to your advantages as you can learn whenever you are free or want to switch from your routine.We don't like to see our students under tension of placements, and hence we provide with job assistance and can schedule interviews after the completion of the course