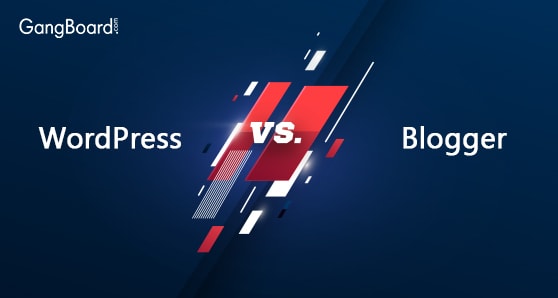 WordPress Vs Blogger
WordPress Vs Blogger – What's Best For You?
While most of the world is inclined towards using WordPress as one of the prime mediums to influence people through blogs, other free blogging platforms such as Blogger is giving WordPress a run for its money. People often get confused between using Blogger or WordPress for creating personalized blogs using minimal efforts.
In this article, we will be taking a closer look at key differences between both the best blogging platforms and provide you with a detailed description of the features so that you could make an informed decision and choose the one which suits your preferences the most.
Difference Between WordPress and Blogger
So you have decided to start with the good habit of writing blogs, the first major hurdle is to select a platform that would suit your style of blogging. This is often one of the most crucial and toughest decision-making points for a blogger who is just starting out. The major players in the blogging service providers are Blogger vs WordPress, both of which would be suggested by numerous blogging enthusiasts over the internet, often biased towards one product.

We are here to point out all the key points and help you with an unbiased point of view on these products. Without much ado, let's get on with the subject. Below we have provided the explanation of all of the major difference between Blogger vs WordPress highlighted in our comparison table.
WordPress

Blogger

Ownership :

You own the blogs!


With WordPress, you have complete control over your site. It is you who decide what information is shared and when to shut down the site. This is because they use a web hosting provider to assist you in hosting your personal website.

 

Ownership :

Google owns the blogs!

On the other hand, Google-owned Blogger along with Blogspot takes away this right from you. Google has the authority to shut down or prevent you from accessing your site. With WordPress, it is more like buying a house while with Blogger it is similar to renting a house.

Open Source :

Yes!

If you are planning to create a business blog, then WordPress is the way for you to go. This is because the service provider has open source roots and allows you better flexibility. WordPress being open source also brings along other benefits such as better support and customization of your blogs according to your needs.

Open Source :

No!

Blogger or Blogspot is not open source and is primarily owned by Google. You could still control all the actions happening on your blog posts, but you won't ever be in full control of the system. On WordPress, there are thousands of plugins available for you to extend its application while it is different for Blogger as there is a limited amount of extensions available, which is a significant difference between Blogspot vs WordPress.

Layout Templates :

Plenty !

As mentioned earlier, being open source WordPress allows more freedom in creating extensive templates. There are almost a hundred different templates for every blog you can think of. You could customize these templates according to your will and make it better to suit your articles.

Layout Templates :

Limited !

Blogger is a platform that is more suited for beginners and it doesn't allow you to create your own templates or layouts. Though there are a few of them for you to choose from and all of these layouts can be modified using built-in functions for changing their color and orientation.

Support :

Community-based !

This feature of the blogger service is also dependant on the fact that WordPress is open source. This allows the user to be in touch with a wide array of developers who are willing to share their experience with the software. Apart from the online community, there are several companies and organizations that offer premium WordPress support.

Support :

Limited !

Blogger's support is limited and has just necessary user's forms and documentation of troubleshooting methods. As a user, you will be much more comfortable with your queries if you are using WordPress than Blogger.

Security :

Plug in based security !

This is something that WordPress lags behind Blogger. Though WordPress is still secure and reliable, you are responsible for all the backups and security. You can find a plethora of security plugins to make your life easier.

Security :

Robust Google protection !

Blogger is backed by Google's robust security system. Of course, it comes with its limitation but if security is your top priority then Blogger is the right way to go. All the backups and server resources are managed by Google so that you don't have to worry about anything else than creating.

 

Customization :

WordPress is a platform that allows a lot of freedom to the user in order to play with thousands of different layout templates. These templates can be changed and modified according to the needs of the blog. Along with that, you receive hundreds of plug-ins that will assist you in building the perfect blog.

Customization :

On the other hand, Blogger has comparatively a fewer number of templates. If that doesn't feel like a drawback then the lack in modification features will certainly do. If you are someone who wants more freedom for creativity then it is better you go with WordPress.
Key features of WordPress and Blogger 
The key features of both Blogger vs WordPress are listed below. See what these best free blog sites have in package for you.
WordPress
Adaptable
Multiple Themes
Multiple Plug-ins
Open Source
Better-ranked websites
Community Support
Blogger
User-Friendly
Google-Backed security
The EndNote
When it comes to choosing WordPress or Blogger for your website, you have to assess yourself. With WordPress, you will have to spend a bit more time and money to get your website running while with Blogger you can be up and away in no time. WordPress does offer a lot of plugins that serve almost all purposes but you cannot compete with a Google-backed security feature.
It all comes down to your preference and comfort; you could choose WordPress for a more professional and robust website, however, if you just want to start blogging as a hobby, go for Blogger.